WORKSHOP: A Shed at Shatwell Farm (deadline PASSED)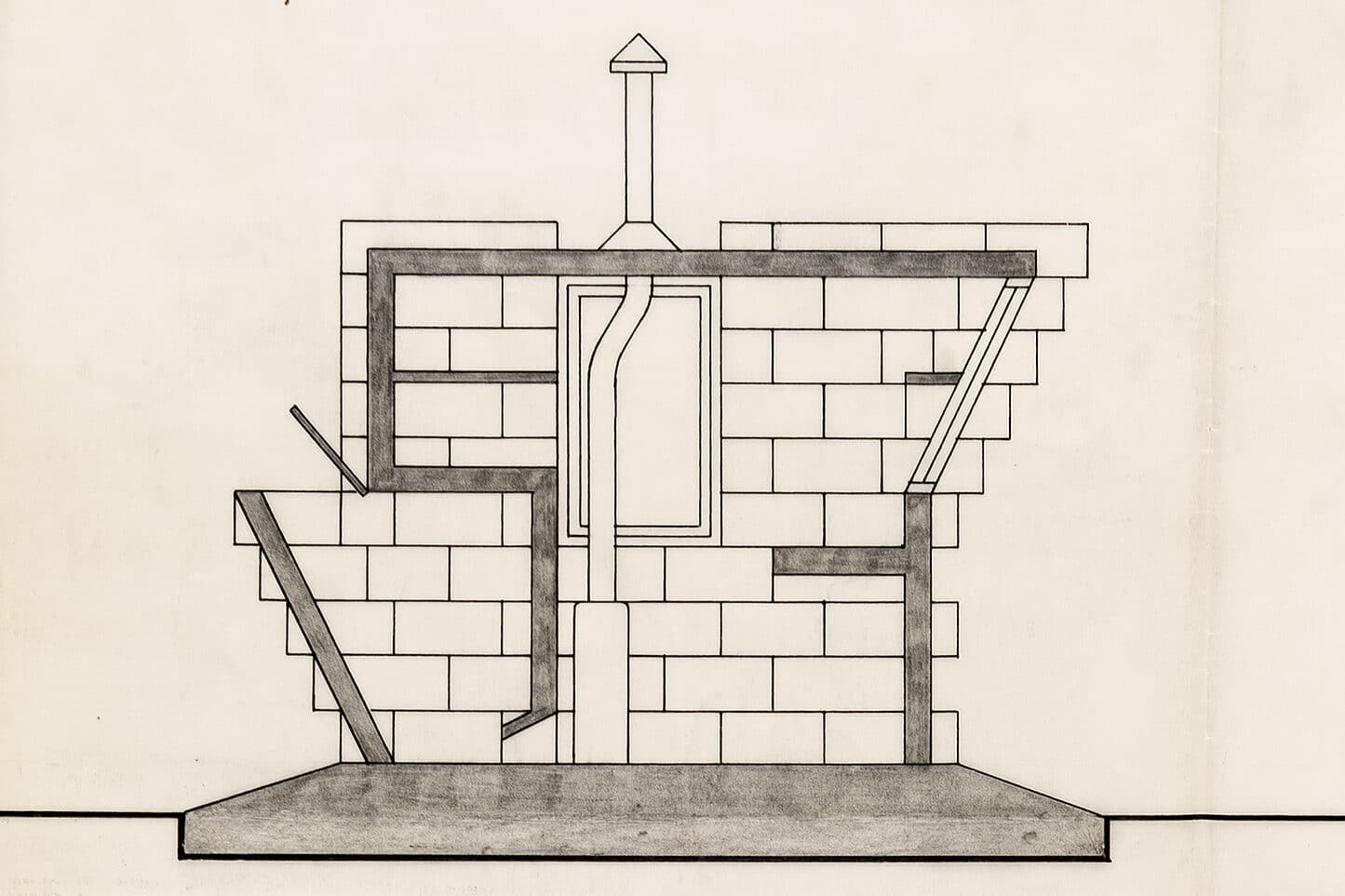 Click here for a film made during the construction of the shed, and here for a recent presentation by workshop leaders Maria-Chiara Piccinelli and Corinna Dean, which was delivered at the the Design as Collective Improvisation seminar organised by UC Louvain (Belgium) and PUC Valparaíso (Chile) (starts at 1.05.30).
A Shed at Shatwell Farm is a collaborative workshop in which participants are invited to reimagine and construct the 'Tool Shed', an original design by James Gowan (1923–2015), at Shatwell Farm in Somerset, the home of Drawing Matter and the Drawing Matter Collection. The workshop will be led by Maria-Chiara Piccinelli of PiM.studio and Corinna Dean of ARCA.
Gowan designed the tool shed as his own contribution to a student project when teaching in the early 1970s. The original drawing was found last year in Gowan's archive, which was donated to Drawing Matter by his family in 2015. During the workshop, participants will redesign the shed using contemporary materials and select an appropriate site within the field of existing architectural interventions at Shatwell. The structure will have a new use as a writing retreat for visiting scholars to the Drawing Matter Collection.
Maria-Chiara writes about the initiative: I'm very excited about the possibility of this project: we will approach architecture as an ecosystem, a community of interacting organisms, introducing new elements into Gowan's architecture like rainwater, animals, plants, soil.
The workshop will be an opportunity to integrate natural elements and living things into a small architecture, building a space of encounter between species of different natures and a place of enjoyment, desire and contemplation.
Programme
8 May 2021: All-day online studio to explore materials and construction techniques
12 June 2021: All-day in-person studio at Shatwell Farm on siting and construction logistics (Covid-19 restrictions permitting)
12–17 July 2021: All participants will gather in Somerset to construct the shed. The topping-off will be celebrated on the evening of Saturday 17 July.
A programme of evening talks, and seminars by invited scholars and architects, will accompany the workshop. The on-site workshop will be catered by Lucas Hollweg and Lucie Reader (On the Spoon) – they will also run a bread-making workshop during the construction week in July.
How to Apply
The workshop is open to anyone with a background in design or construction from the UK or abroad. Participation in the workshop is limited to 15 places, each at a cost of £500 (inc. VAT). (We will ask for a deposit of £100, refundable in the event that the workshop cannot take place, or on evidence of a compelling need to cancel.)
The Drawing Matter Trust is offering full bursaries, including the cost of travel within the UK, to up to two applicants who offer evidence of need. Please mention on your application if you wish to be considered for a bursary.
Participants are asked to bring a tent, but all meals, facilities and social spaces, together with access to the extensive architectural library at Shatwell, will be provided throughout. Participants may also to come with their partners – as long as they are prepared to share a tent! Partners of participants will be asked to pay £100 to cover their meals for the week. Please let us know in your application if you plan to come with a partner.
All building supplies, and on-site technical back up, will be made available by Drawing Matter.
To make an application email a CV (max. 2 pages), a brief Statement of Interest (c.150 words) and a drawing inspired by the 'Tool Shed' original design to workshops@drawingmatter.org. Your CV and Statement of Interest should be attached as a word document or pdf. Your drawing should be attached to the email and formatted as a JPEG – please do not send Wetransfer or Google Drive download links.
The deadline for applications has been extended to Midnight (BST) on 30 April 2021.
For information about other building projects at Shatwell Farm, see The Shatwell Project.