Oscar Niemeyer's Cathedral in Brasília
For the past two years, our Writing Prize has attracted a large number of thoughtful texts from participants all over the world. This year we partnered with the Architecture Foundation to sponsor one of their three writing prize categories. The Drawing Matter category, titled 'Architecture and Representation', invited entrants to submit a short piece of writing on a drawing or series of drawings that they had studied or made.
At the end of the 1950s, Brasília was a multimedia event. The interest in the new capital captivated not only the specialised architectural media but also photographic press agencies and high-circulation illustrated magazines. To capture the genesis of Brasília, inaugurated in 1960, many journalists, artists, photographers, photojournalists, and filmmakers flocked to the interior of Brazil in search of images.
Seventeen years after its construction, the initial euphoria for Brasília turned into melancholy. As architect and critic Carlos Ferreira dos Santos noted in 1978: 'Brasília is a beautiful, ideological dream that became a practical nightmare'. [1] Instead of naïve, utopian promises of the so-called 'capital of hope' or 'city of the future', Brasília was now a striking example of the country's underdevelopment and the main stage of a military totalitarian regime, which abruptly interrupted the Brazilian democratic project in 1964.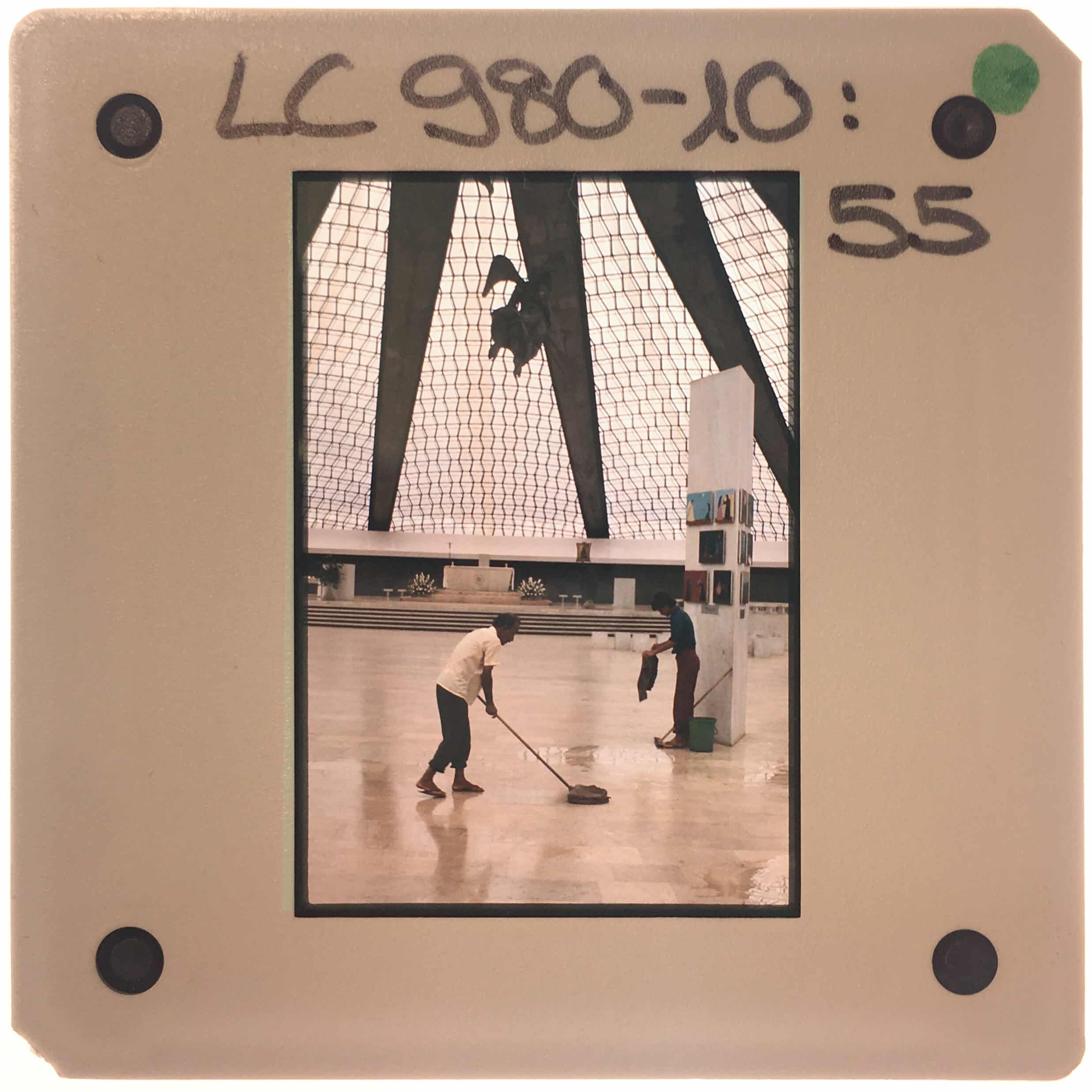 By the late 1970s Brasília was no longer an extraordinary experiment, but a normal city that shared all the fragilities of Brazilian modernisation. Problems, such as the emergence of satellite cities and the architecture's costly maintenance revealed the limits of the project's original ambitions.
The artefact shown here, a 35mm Kodak Ektachrome, was found in the archive of Comet AG, a Zurich based photo agency founded in 1952 by three press photographers: Björn Lindroos, Jack Metzger, and Hans Gerber. Shot in 1977, it depicts an everyday scene inside Oscar Niemeyer's cathedral: two men mop the floor, probably due to a water leak in the glass ceiling, a recurring issue since the building's inauguration. This seemingly ordinary scene presents a critical shift in which modern architecture tends to be represented. Instead of shiny photographs with buildings portrayed in a continual state of newness, this image presents the material reality of construction, exposing maintenance as a continuous ritual necessary to keep the building's monumentality. Debunking the modernist purity myth, the photograph juxtaposes, like a photomontage, architecture and its invisible dark-skinned caretakers.
The image also corroborates Niemeyer's modus operandi and his disdain for practicalities, which is described by South African architect Hellmut Stauch in a 1969 discussion with Niemeyer about the Pampulha Chapel in Belo Horizonte: 'When [the chapel] was completed it was found that it leaked madly and that the congregation could not use this church for services, they had to use the old wooden church for that purpose but the new one was so world-famous that it attracted a lot of visitors. When I asked Niemeyer how he would construct this church and do it, now that he has learned this lesson, Niemeyer looked at me blankly and said, "Of course, I would do the same"'. [2]
Ciro Miguel is a Brazilian architect, photographer and doctoral fellow of the Institute for History and Theory of Architecture at ETH Zurich.
This text was selected as the winning entry in the Drawing Matter category, 'Architecture and Representation', of the Architecture Foundation Writing Prize 2022.
Notes
Carlos Nelson Ferreira dos Santos, 'Brasília: Um Belo Sonho Ideológico Que Se Tornou Um Pesadelo', in Brasília: Antologia Crítica (São Paulo: Cosac Naify, 2012), p.200.
Shelagh Suzanne Nation, The Background, Architectural Philosophy and Work of Hellmut Wilhelm Ernst Stauch (University of Pretoria, 1985), p.107.