Alternative Histories: Veldwerk Architecten on Gabriel Pierre Martin Dumont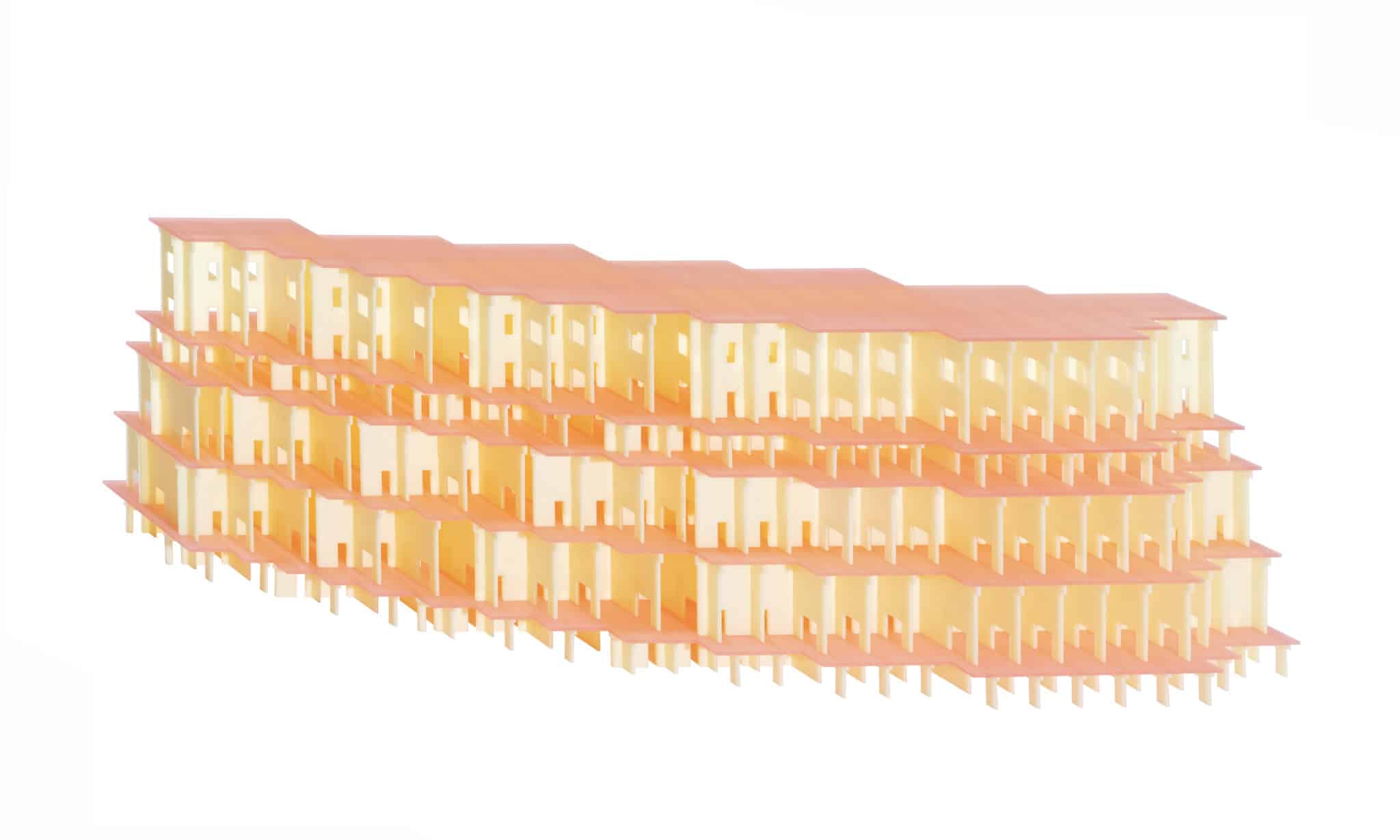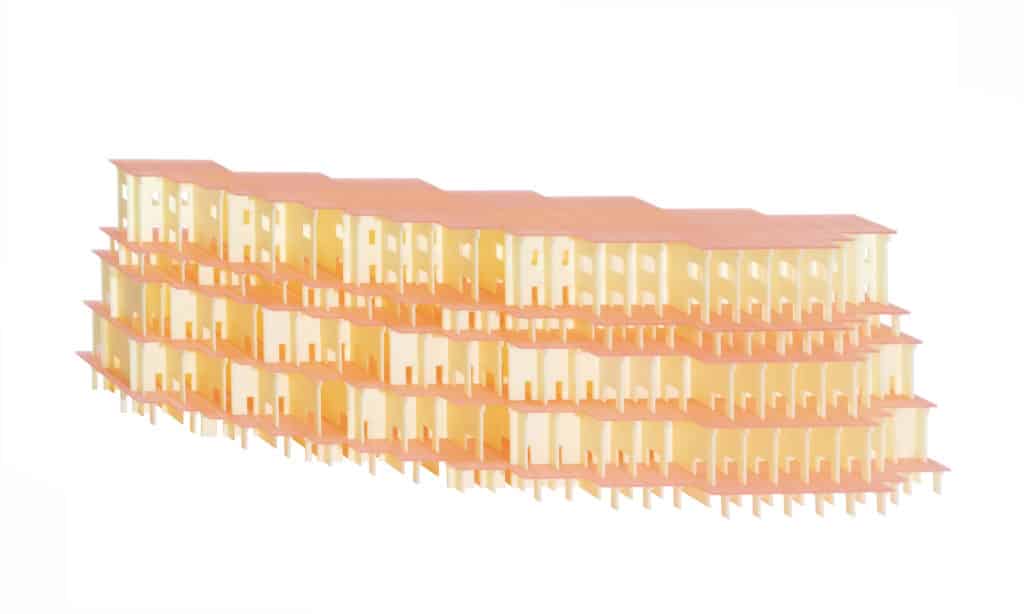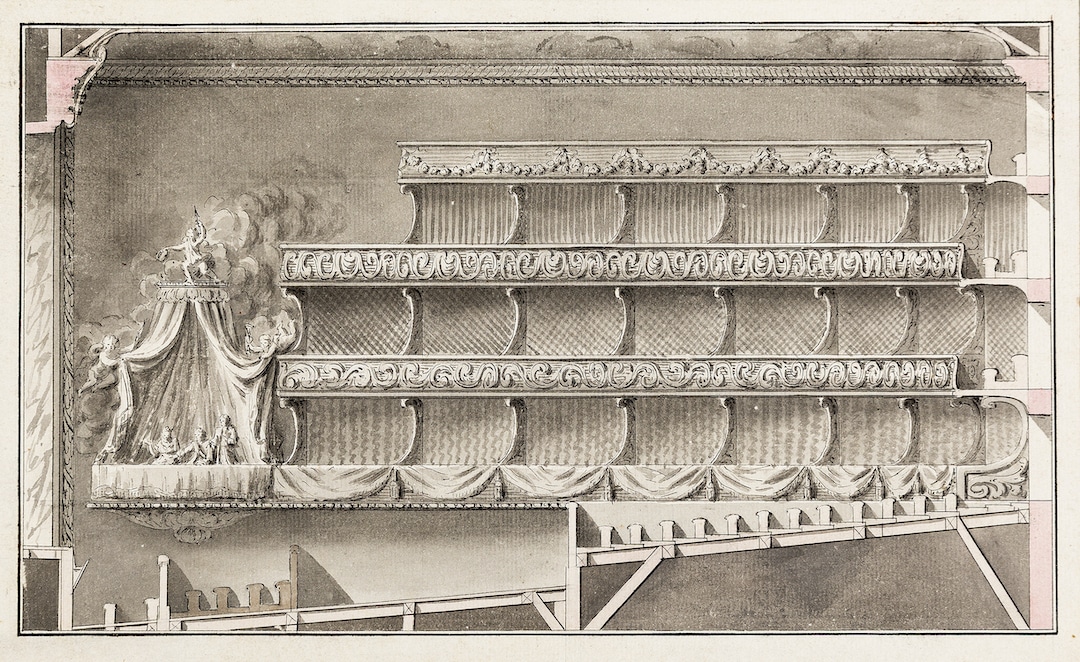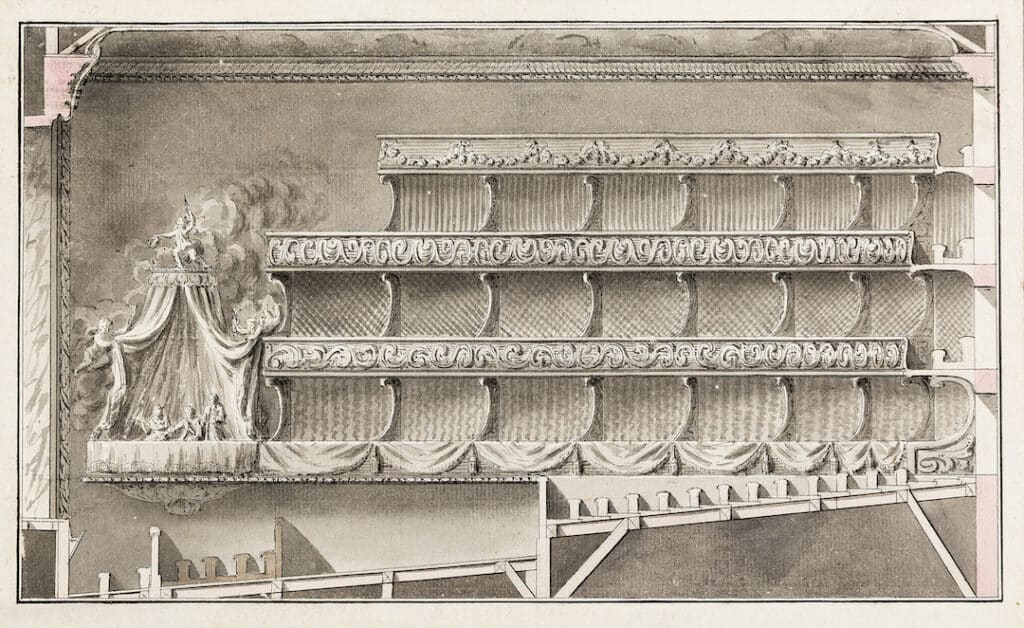 Paper Mountain
Like the models it displays, the paper mountain exhibition scenography finds its origins in a historic drawing from the Drawing Matter archive. Gabriel Dumont's section of a theatre auditorium and balcony seating, drawn c.1770, proposes a structure that holds the audience as if they were godly statues of a stacked temple, suspended from the walls of the theatre. The archetype of the temple is scaled down to a piece of furniture. Through this confusion of scale both the subjects and the structure find themselves in a new relation to one another; most fitting for a theatre where the audience is able to be part of the performance.
This exhibition scenography also plays with scale. Originally intended to be made as a small paper model, the full scale structure has thick cardboard panels that somehow appear to have been cut with a small Stanley knife. Simultaneously reminiscent of the large scale represented by Dumont's drawing, the structure reveals itself as a cardboard temple composed of a series of many rooms connected by small doors in long enfilades.
Through this paper mountain both the models within as well as the spaces surrounding find themselves in new conditions. Where the small models become large pieces in miniature rooms, the large mountain acts as an impressive almost natural phenomenon within the various galleries it is installed. In each gallery it travels to the paper mountain appears left behind unintended, often creating awkward spaces as it nears the walls and structure of the spaces it inhabits, leaving a lasting impression in rooms both large and small, rough and fine.
TYPOGRAPHY: Studio Christopher Victor, London
CONSTRUCTION: William Floyd Mclean, London
PHOTOGRAPHY: Guus Kaandorp, Amsterdam & Marius Grootveld, Ghent
VELDWERK TEAM: Marius Grootveld, Jazmin Charalambous, Julia Cramer, Karina Andree