DMJ – Drawing Instruments from Sir John Soane's Office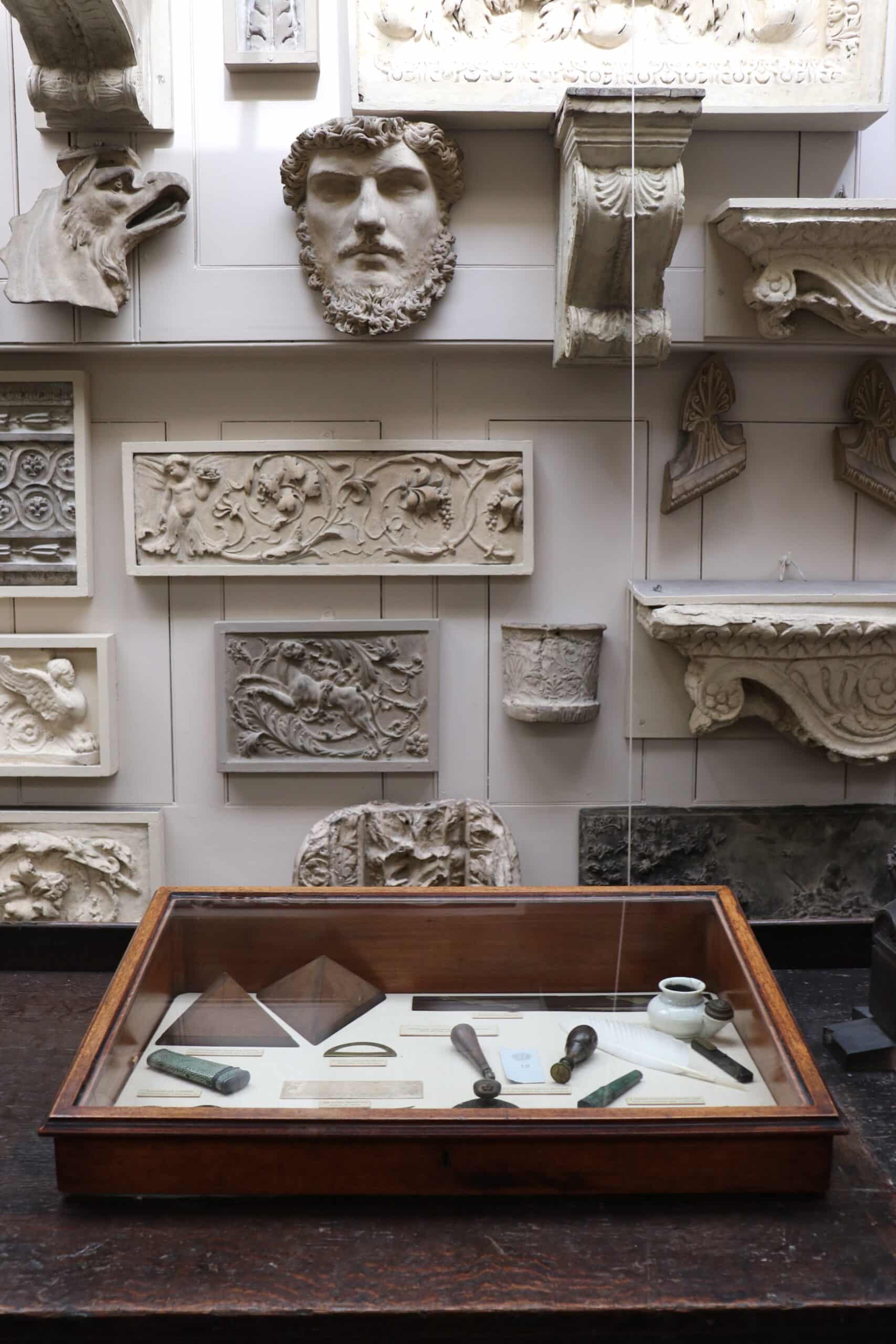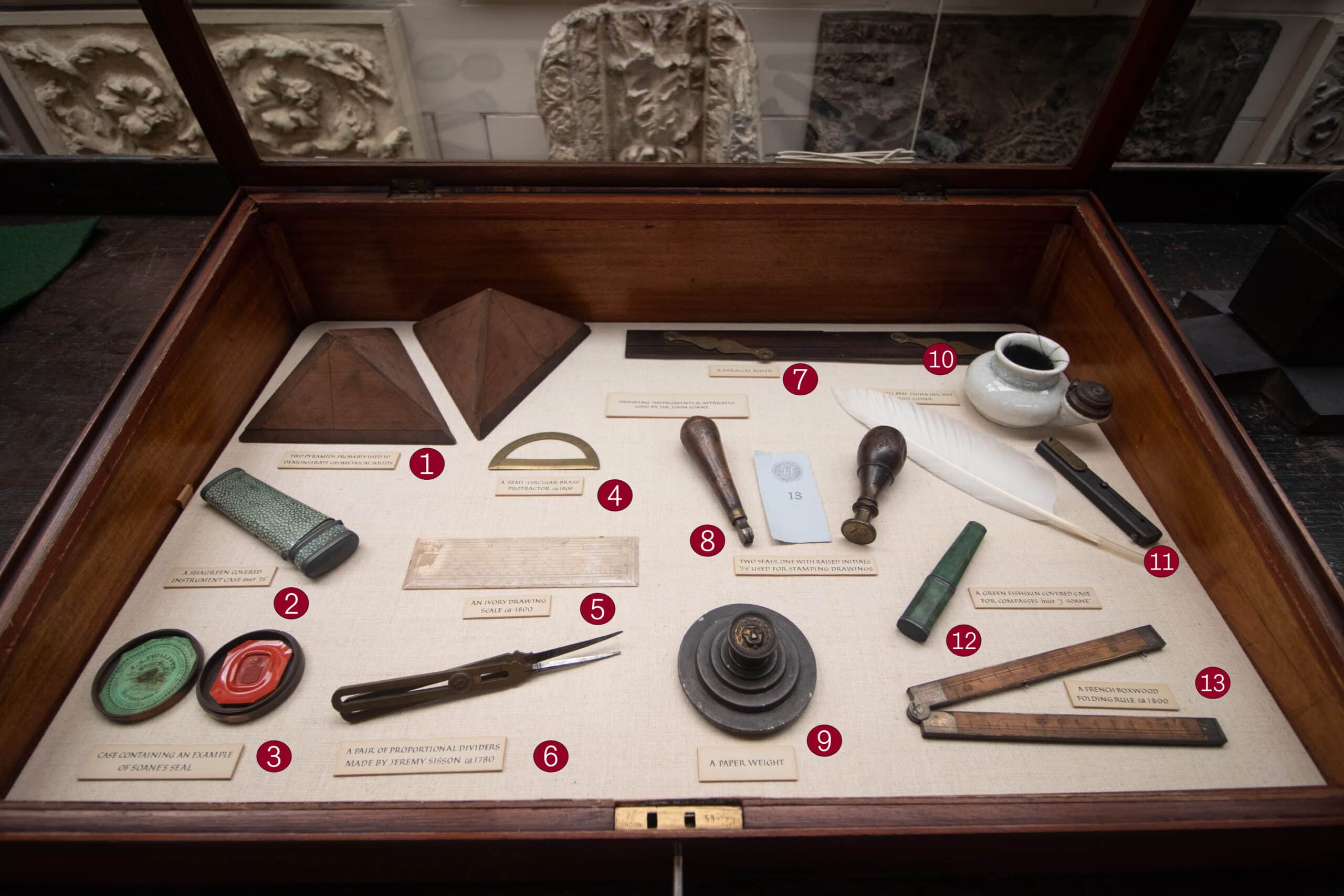 This display of drawing instruments, which can be seen in the newly restored Drawing Office at Sir John Soane's Museum, rather charmingly evokes the atmosphere of the office when in the early nineteenth century it was the busy epicentre of Soane's architectural practice, filled with his young apprentices and clerks.[1] Left behind in the office after Soane's death in January 1837 and recorded in the inventory of the contents of the house and museum taken that year by the first Curator, George Bailey—who had himself been first a pupil and then Soane's chief clerk—they were arranged in this case in the mid-1980s by Margaret Richardson, then Assistant Curator at the Museum, with the help and advice of Maya Hambly, author of Drawing Instruments 1580-1980 (Sotheby's Publications, 1988).
In the main, we know little about their individual provenances as remarkably few bills for drawing instruments survive in Soane's archive, but two items at least we can be sure belonged to Soane himself. The first is a small shagreen-covered tapered pocket instrument case with a flip-top and spaces for a scale, pen and two other instruments (all missing) (2). Dating from c.1800 and with brass and silver mounts, it is inscribed J S on the top. Of similar date and also marked John Soane is (12), a small green, fish-skin-covered, eight-sided case for compasses (missing), marked on the base 'Wellington, Opticians, Crown Court, Soho, London'. Alexander Wellington, who described himself on his bill-head as a 'Mathematical Instrument Maker', was someone whom Soane patronised on a regular basis, as can be seen from the two bills illustrated below.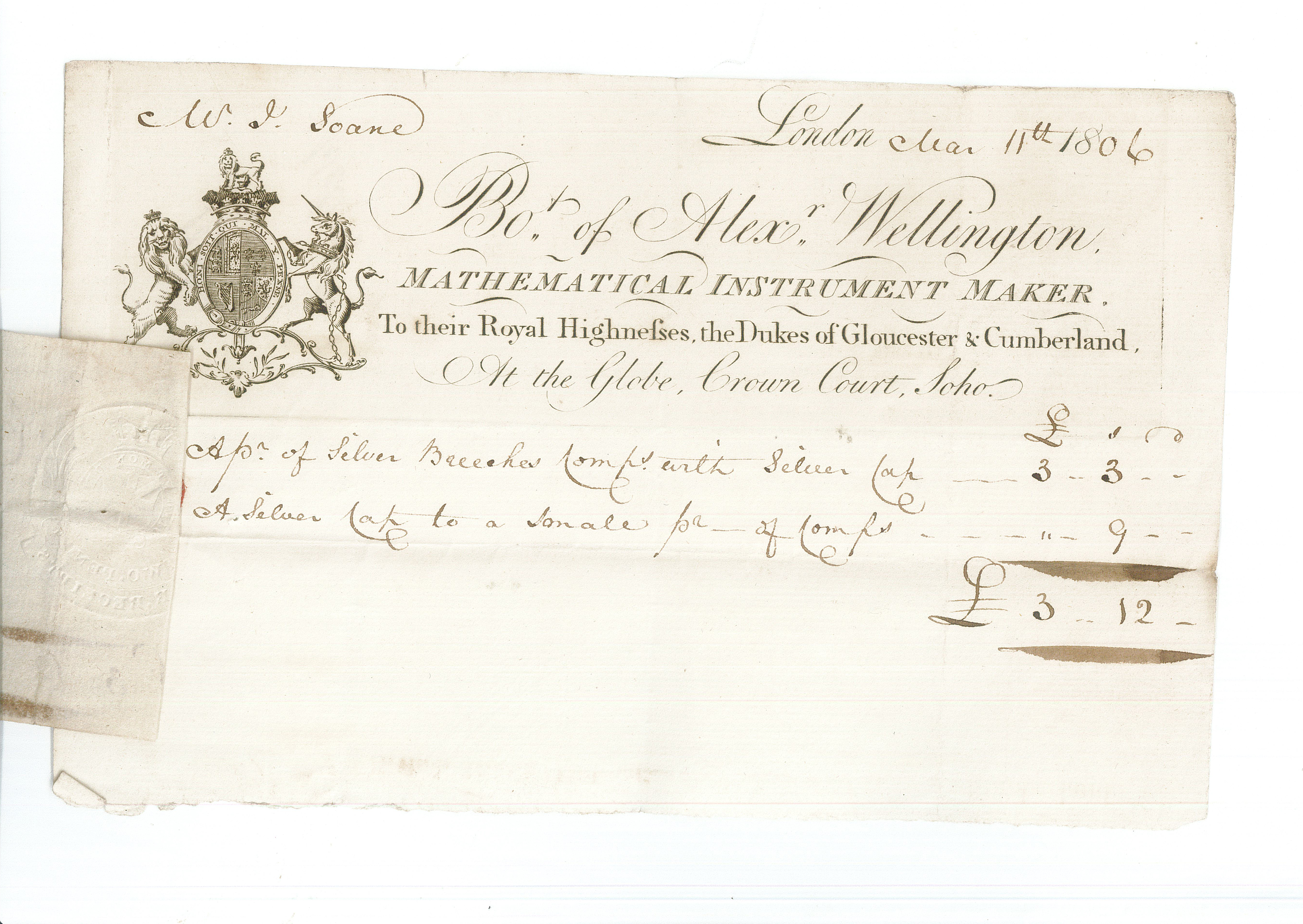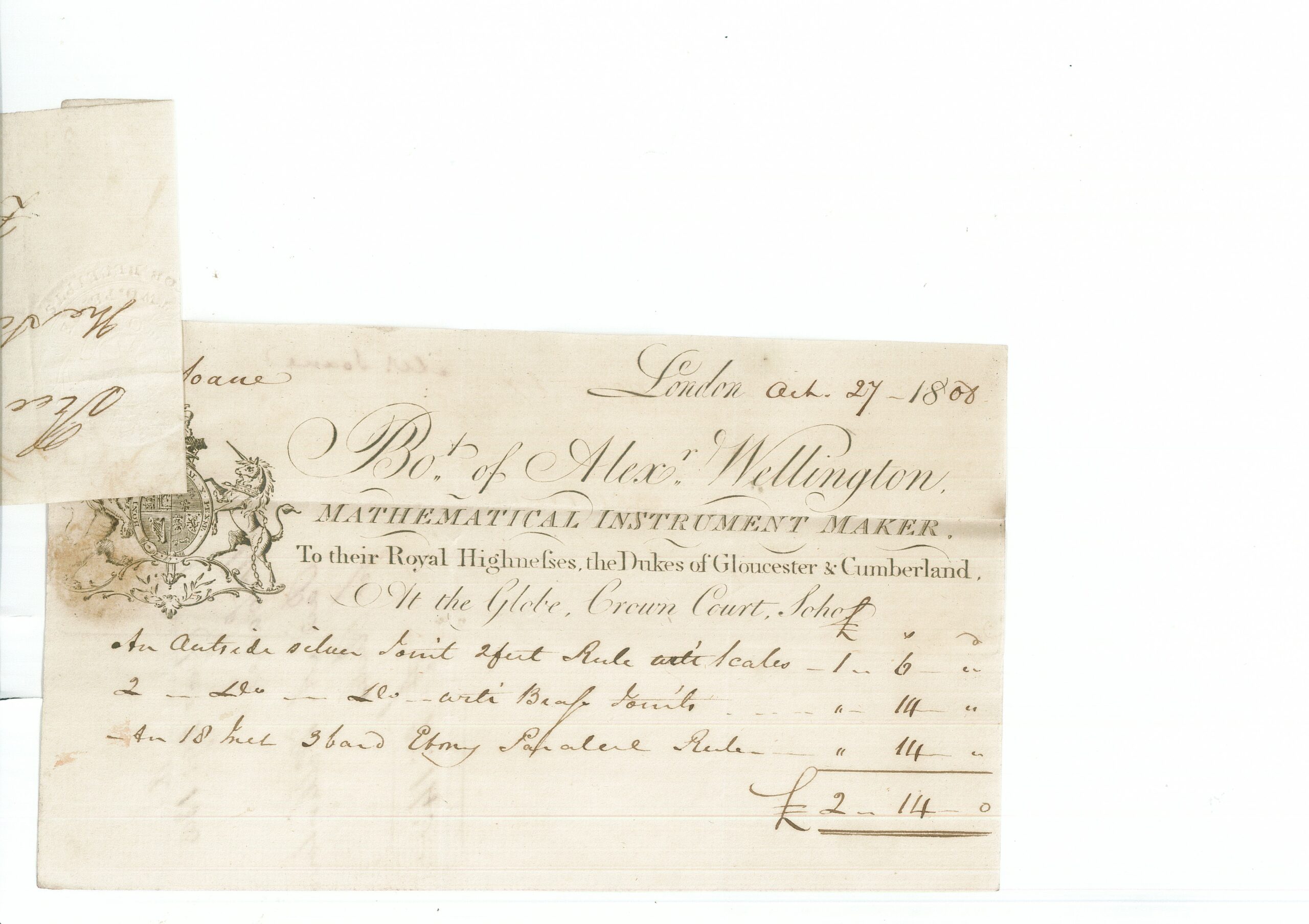 Another instrument bearing a maker's name is the pair of brass proportional dividers, marked up for circles, plans & solids and inscribed J. Sisson, London, probably by Jeremiah Sisson (fl.1736-88),[2] c.1780, (6). The 23-year-old Soane is pictured holding just such a pair in his 1776 portrait by Christopher Hünneman, painted to celebrate his being awarded the gold medal for architecture by the Royal Academy in that year. Is it too fanciful to suppose that they might have been purchased as part of a set to replace the two sets of drawing instruments, one in silver and one in brass, that Soane had the misfortune to lose when coming back over the Alps from his Grand Tour in 1780 when the bottom fell out of his trunk?[3]
The quill in the display is a modern one, but countless quills were used and worn out by Soane's pupils during the fifty-odd years his architectural practice lasted, as finds during the restoration of the Drawing Office reveal. The quill cutter (11) was an oft-used piece of equipment, as the small pieces of quill which regularly fell out of the margins of the Office Day Books when I was cataloguing them testify.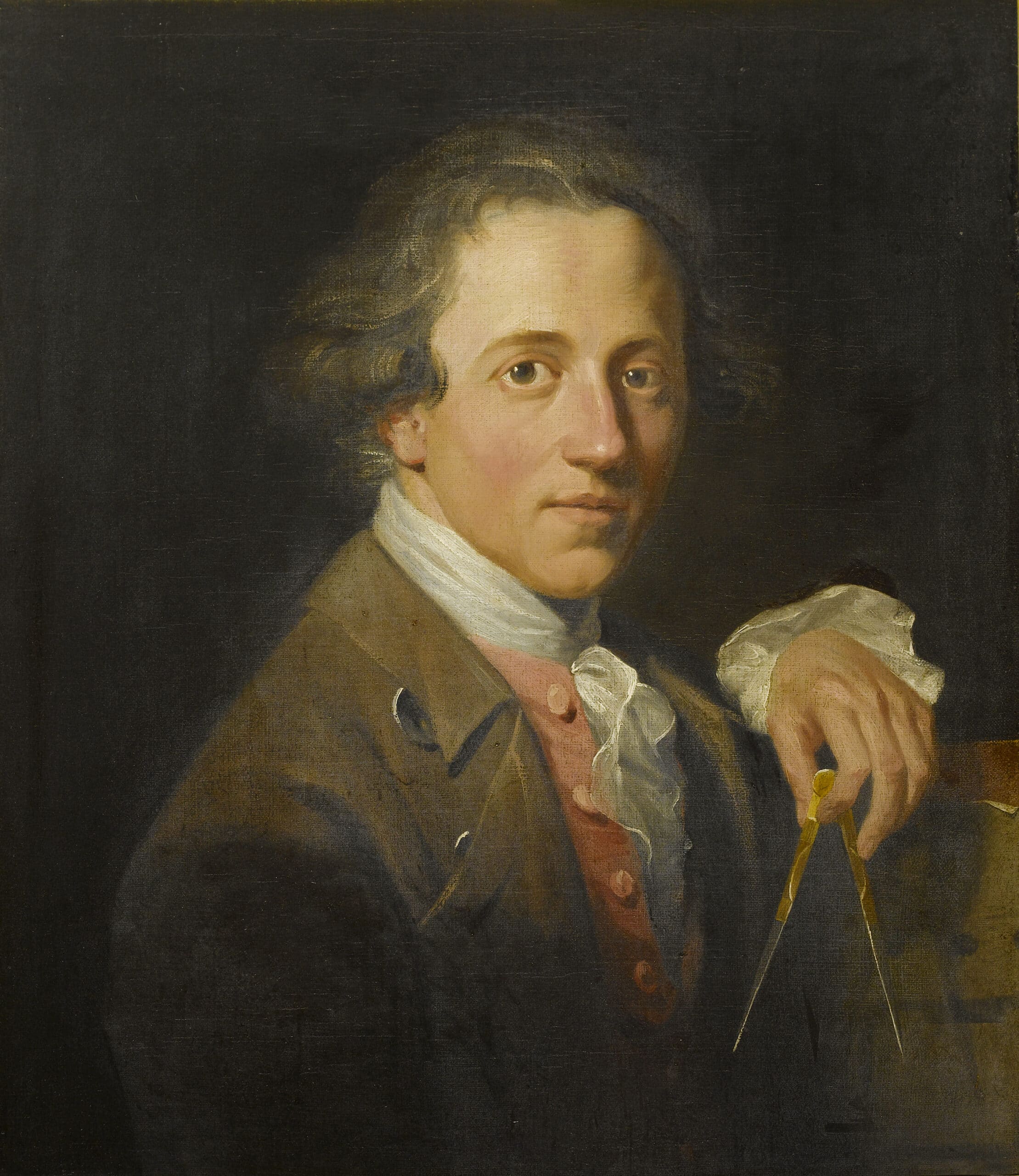 Notes
I am most grateful to my colleague Matt Tidby for taking the photos of the case of drawing instruments in the Drawing Office and for annotation of the second image.
Hambly, Drawing Instruments 1580 -1980 (Sotheby's Publications, 1988), p. 75.
Pierre de la Ruffinière du Prey John Soane's Architectural Education 1753-80, Garland Publishing 1977, pp.332-335. In a letter in slightly halting French to an unnamed Swiss official Soane lists the possessions lost, including: '… Quelques instruments pour un Architecte d'Argent dans une boite avec le nome. Quelques instruments pour un Architecte du Cuivre dans un boite …', adding that of everything he has lost it is his two Royal Academy medals and the drawing instruments that he would most like to retrieve. Whilst the modern translation of 'Cuivre' is copper, it seems likely that Soane means brass here.
Sue Palmer is and has been Archivist at Sir John Soane's Museum since 1989. She is the author of At Home with the Soanes. Upstairs, Downstairs in 19th Century London, Pimpernel Press 2015, and has written a number of articles on Sir John Soane and his times.
This brief account on the drawing instruments on display in the cabinet at the Sir John Soane's Museum in London will be part of the second issue of DMJournal, Drawing Instruments: Instrumental Drawings.