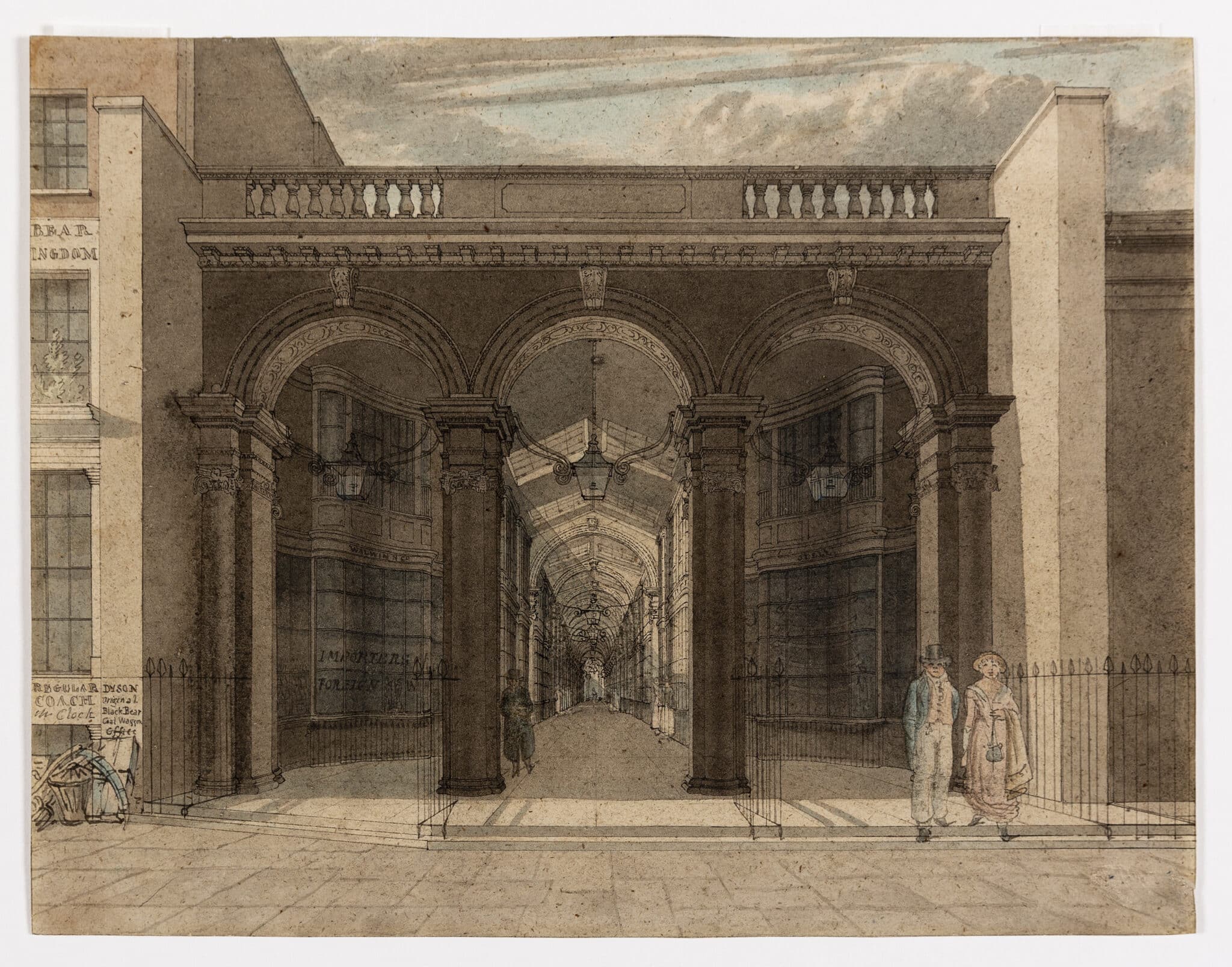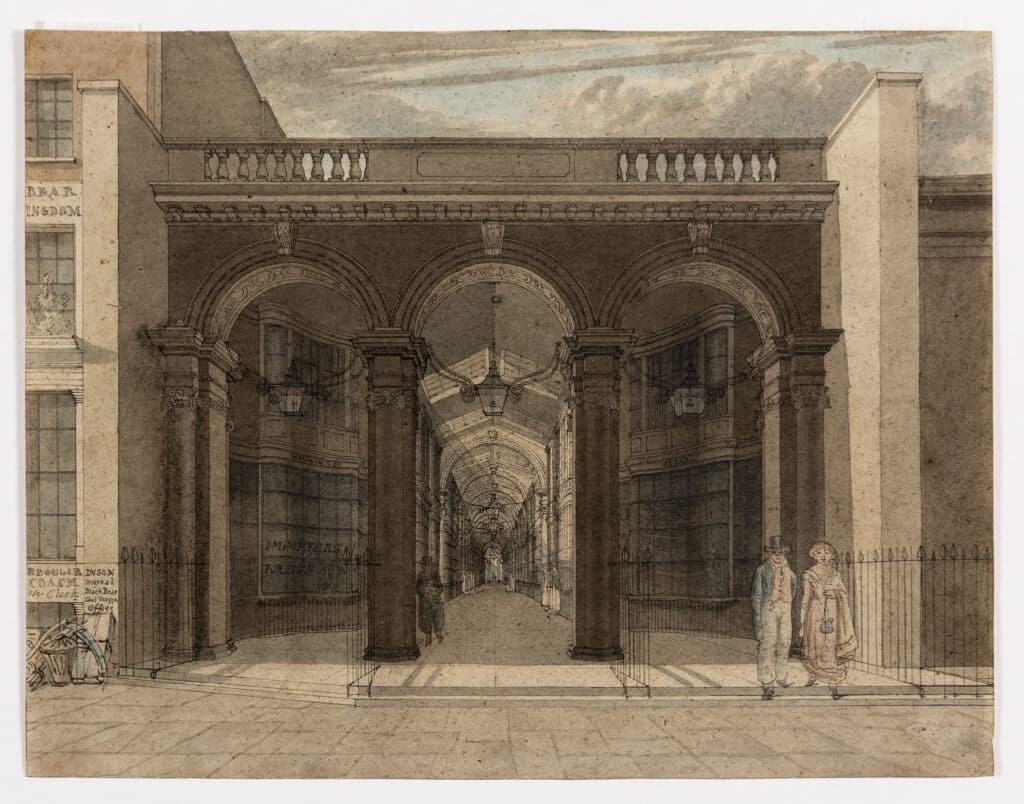 Robert Schnebbelie peered into the Egyptian Hall wondering what freak show was on view, and then set himself down next door outside the oil and Italian warehouse, Sherborn & Sams. He looked across Piccadilly at the entrance to Burlington Arcade that created a neat endstop to the long wall of Burlington House. He remembered that it used to be a rather squalid cut-through to Burlington Gardens, a popular place for dumping rubbish and chucking it over into Burlington House. After considering, and then rejecting, the notion of nipping into the White Bear before beginning work, he began drawing.
He had been meaning to draw Burlington Arcade for some time, first when it was newly built eight years ago, and then again a few years back when he had heard some garrulous Frenchman announcing to his companion that it was 'one of the prettiest and most attractive places of its kind in London' and describing it as 'an exact facsimile of one side of the Palais Royal', although he had then gone on to say that the tradesmen who occupied it were of 'inferior class and that the arcade was very little frequented by persons of respectability'. [1] Schnebbelie thought he had heard somewhere that the Palais Royal was full of prostitutes, so maybe that was his point. The milliners, hairdressers, hatters, glovers, hosiers, lacemen, stick and shawl sellers with their small upper rooms held little interest for him, although the wine merchant and pastry cook did.
'Pretty and attractive' was what was needed. Robert's father, Jacob, just before his early death – years ago in 1792 – had taught him the tricks of the trade: how to manage perspective, where to place figures, how to do a wash, how to work with engravers and publishers. Penury now snapped at his heels and he needed to sell some drawings without delay. He hadn't shown any views of old buildings at the Royal Academy for at least six years. He thought back to the ease with which he had made all those drawings for Hughson's London and its Neighbourhood to Thirty Miles Extent, around 1807. He had even gone to St Albans for that, and had a spell around Rochester staying with his cousins. Now the prospect of being out of London appalled him; all that time spent waiting for it to stop raining and being away from home.
The realisation was dawning on him that his had become a competitive trade. The Shepherd Brothers were busy, particularly Thomas, who was flawless and fast; irritatingly good at extensive street views as well a peopling them with figures. And he was always tripping over George Scharf waving his pencil around on seemingly unpromising spots. There was a man who liked action in his drawings. Whichelo, Ellis, Capon, Burney, Westmacott – they were all about and hungry for commissions.
He hoped there was still a market for his work: booksellers were pleading with publishers for more of those elegantly bound octavo volumes illustrated with engravings – travel, natural history, topography, architecture. Libraries were now apparently an essential addition to a gentleman's well-appointed house. 'Illustrated' – made illustrious and beautiful. He knew that modern steel engravings made larger editions possible. More profit. He must do the rounds again. Go and see Jones at his Temple of Muses in Finsbury Square – he had heard he was busy. Maybe try Ackermann down in the Strand and see what he was brewing, though he certainly wasn't going to trail about for him doing country seats. He would avoid Britton if he could since he had heard he kept his draughtsmen's noses to the grindstone. No good going to see James Stratford in Holborn Hill who'd published Hughson; last heard of he was bankrupt and confined to the Fleet Prison. Shame, too, that old Robert Wilkinson had died; that had been a good spell ten years ago when he had done at least two dozen drawings for Wilkinson's Londina Illustrata. He considered the theatre interiors had been some of the best work he had ever done.
Robert Schnebbelie knew himself to be lackadaisical. Although following his father's footsteps making a living as a delineator and recorder of buildings and streets, his mother remarked all too often that he had inherited his father's talent but not one-tenth of his energy and ambition. In Jacob's short 31 years he had stopped being a confectioner in Canterbury to become a drawing master in Westminster, and finally, due to the patronage of Lord Leicester, he had been appointed draughtsman to the Society of Antiquaries. He had married and had five sons and a daughter and set up home in Poland Street. Robert now lived with his widowed mother and did his best to support her.
Back in his workroom Robert Schnebbelie looked at his drawing of Burlington Arcade. He was pleased with it, but he knew in his heart that he should have tried to purvey the bustle of the place; the couple of figures looked isolated as they emerged from the arcade. He should have included one of the beadles in their uniform, maybe a dog, more shoppers, a street sweeper. He wondered why he had drawn the scythe and fork leaning against the wall to the left. Had it actually been there? He couldn't remember.
Notes
From Letters on England by Victoire, Count de Soligny, 1823. Changed here to reported speech
John Tallis's London Street Views, 1838–40
(Thomas Hosmer Shepherd did all the illustrations for Metropolitan Improvements – displayed in a Series of 154 Engraved Plates of Views of Famous Streets, with typical figures of traffic, Buildings etc., with Historical and Topographical Descriptions, by J Elmes.
Nineteenth Century Series of Views of the New and most interesting Objects of the British Metropolis and its Vicinity from original drawings of Thos. H Shepherd, published in 1827–29. By Jones, Temple of Muses, Finsbury Square.