– Karen Lohrmann and Stefano de Martino
Elbe and Marte is the spatial and ecological adjustment of a 16th-century rural complex and experimental landscape in the Gulf of Naples. Set deep into the coastal hillside, it encompasses a massive work of geo-engineering with rock and stone walls across 30 vertical terraces. It is a survey of time through probabilities and inconsistent histories, weather, soil and rock formation, all kinds of species, and the meeting of ecological production cycles and present-day paradoxes of labour, co-existence, and habitat.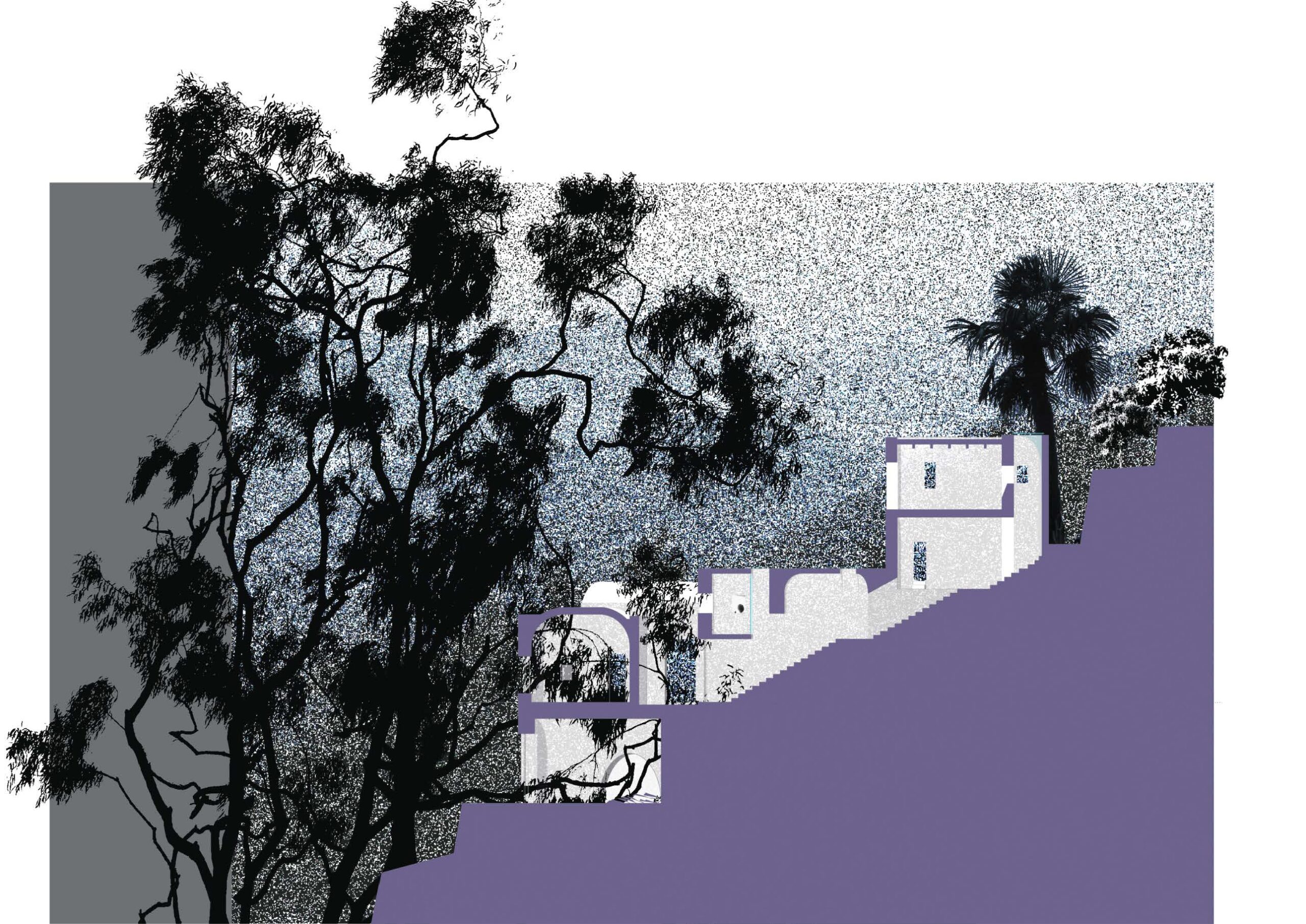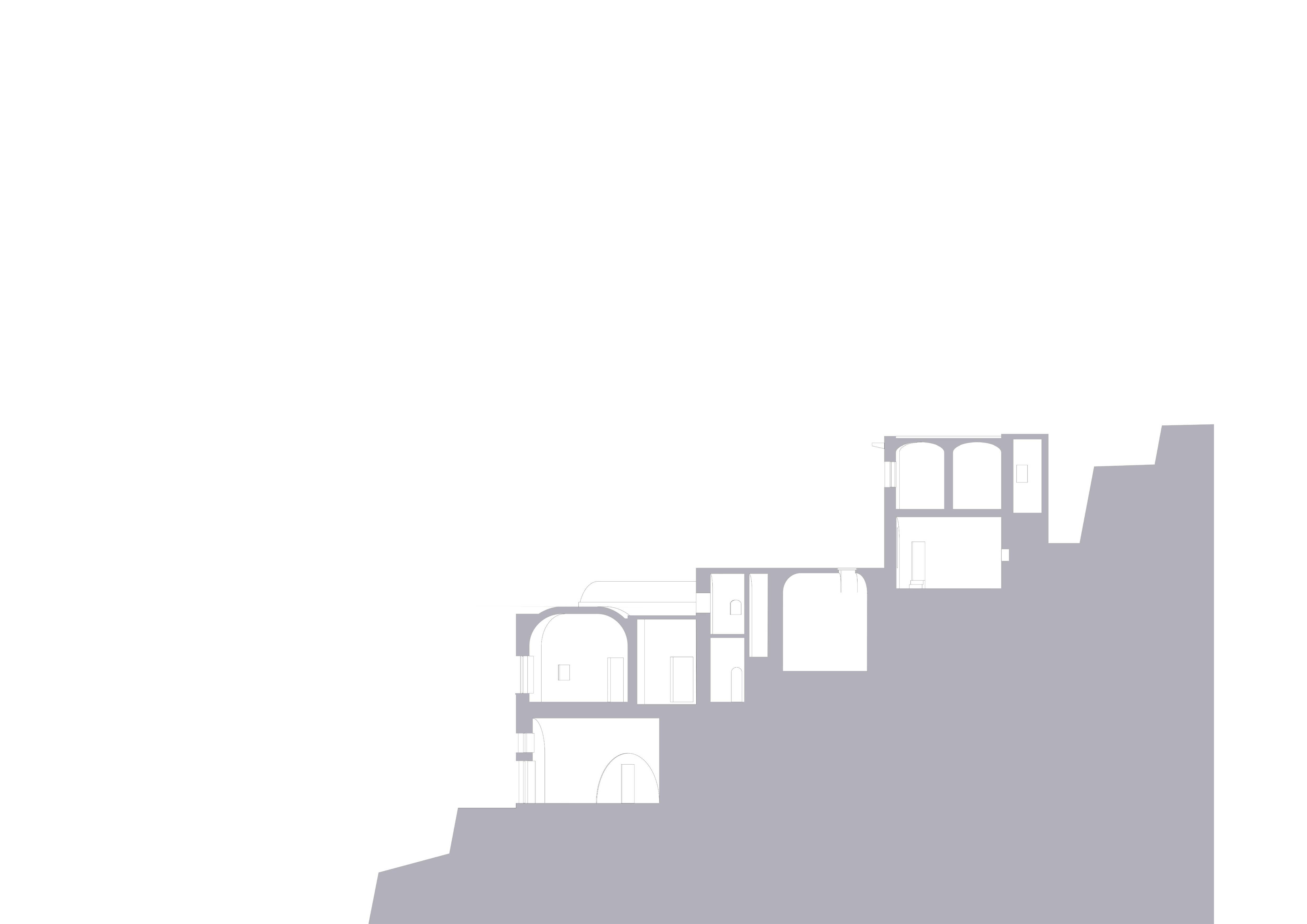 If you knew where it was, you could have seen it from across the Gulf, but close up it disappeared into an impenetrable tangle of overgrown vegetation, chestnut trees, canopies of vines and clematis, star-thistles and cascades of brambles; glistening olive trees, oranges, plums, figs, fennel, and, wild lilies. The building was far gone, invaded by ivy, ferns, moulds, and mosses, their roots deep in the stonework. The landscape was reclaiming this fabric, running through it, and through some gaping cracks, you could look back at it, outside.
Once you ventured through the grounds, you soon realised that the steep hillside, like most of the Mediterranean coasts, was a massive work of geo-engineering. The stone walls articulated topography and orientation in a succession of terraces, in giant steps, sometimes forming room-like enclosures.
Beyond a limestone quarry halfway up the hill, the land rolled off into a level clearing, from which you could see Vesuvius and the whole Gulf: the Plain of Mars, as indicated on an old map of the terrain.
Barely distinguishable through the leaves and branches, you could make out the silhouette of a tower—the top had been struck by lightning and collapsed. Next to it, through a small opening in a wall, a dark, unfathomable vaulted cistern: echoes of dripping water and the splash of a stone to figure out its dimensions. An ancient irrigation system, waiting to spring into action.
Weather
Sudden clouds race from the sea into the canyons, drawn up by Faito, the mountain that straddles the peninsula, blinding the scenery in a furious mist crackling with thunder and lightning, 'My Bloody Valentine' crashing down in sheets of rain. The story goes that it is always sunny in the south: houses are seldom heated and, if anything, now equipped with scores of droning ACs for cooling after exchanging open windows and curtains with treble-sealed insulated glazing units. Unlike houses, which try hard to keep it off, the old oil mill was built to collect water from every available surface; apart from the huge underground cistern, we discovered three more tanks buried inside the structure, one of them decisive for the project.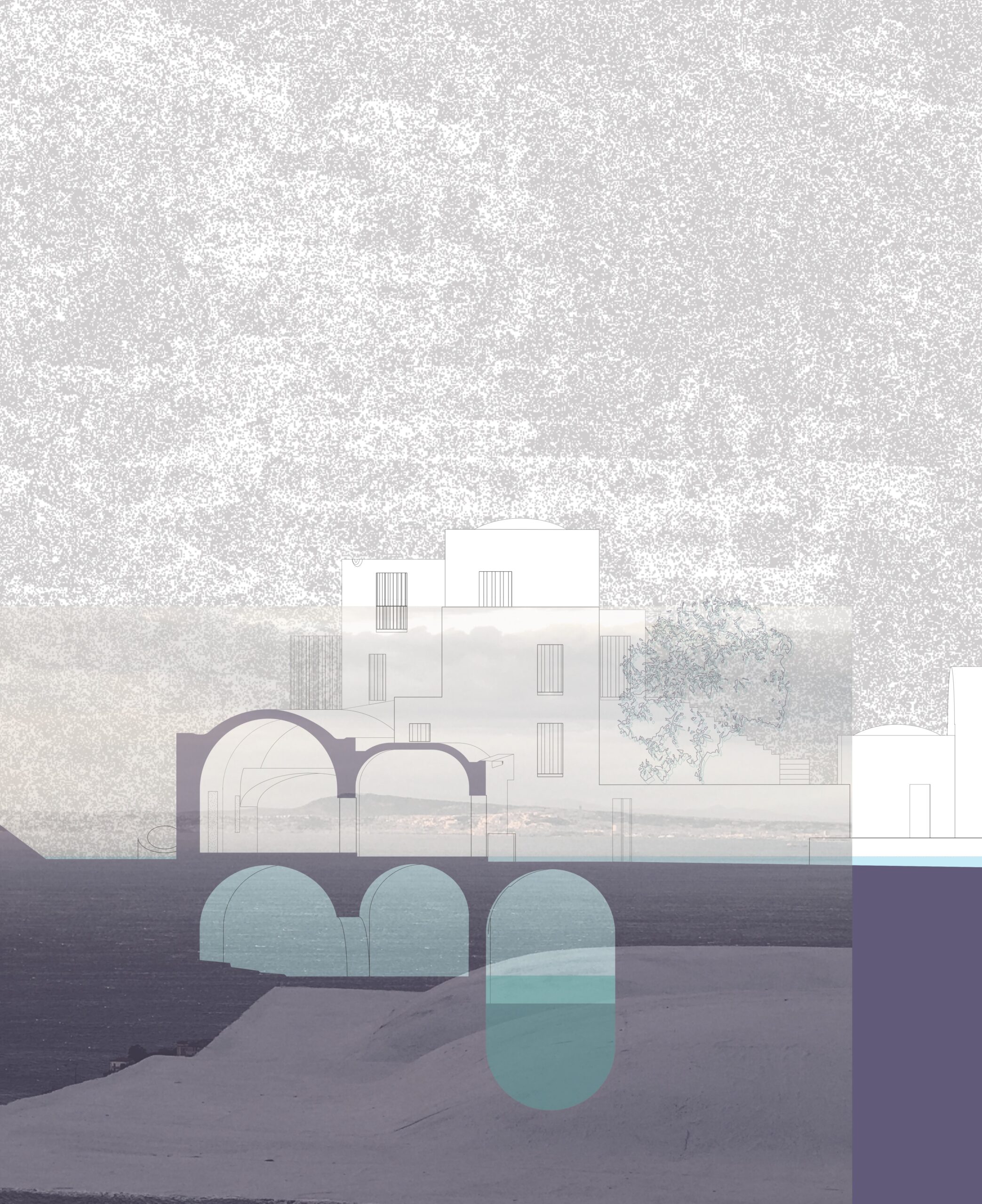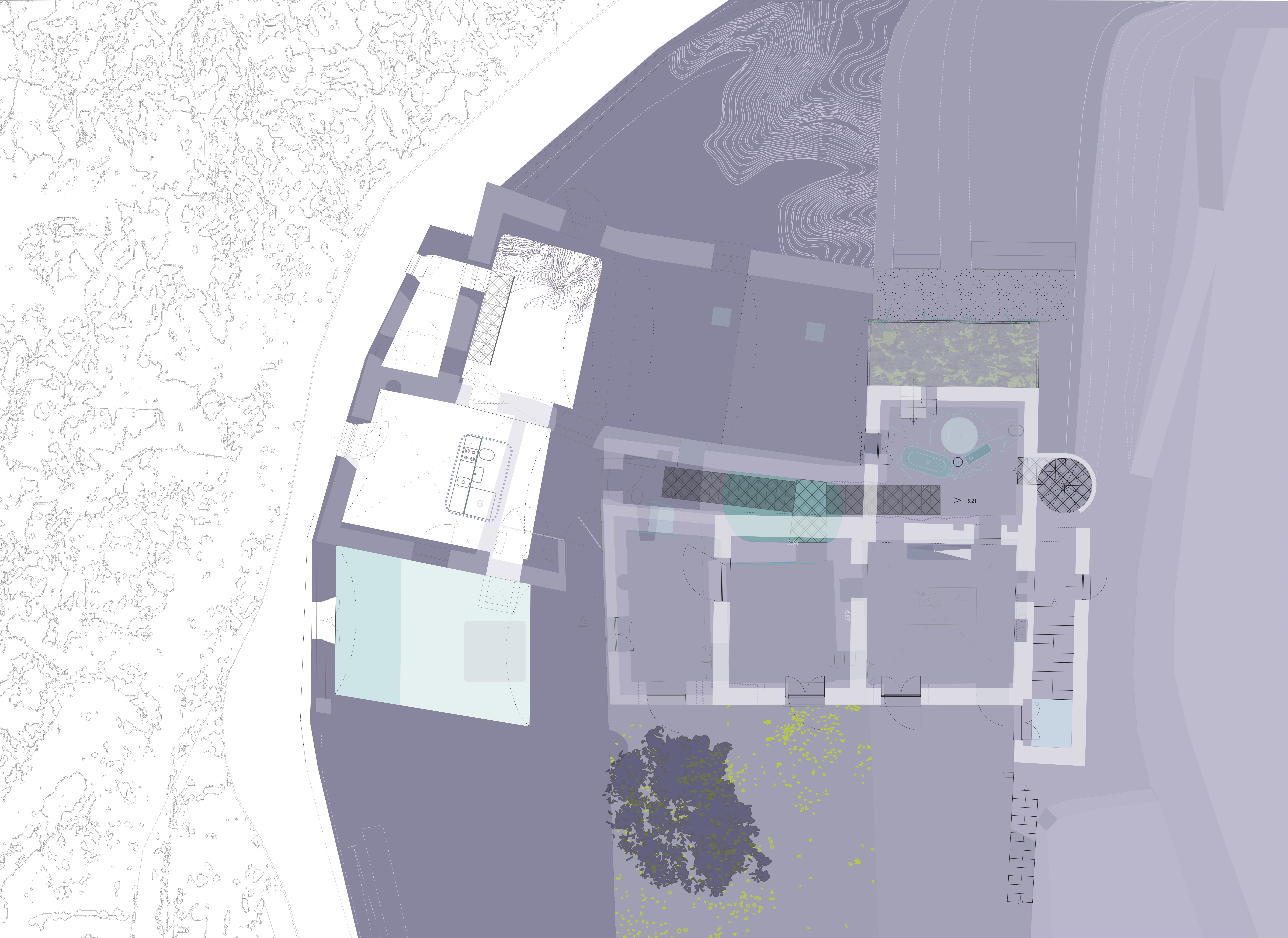 Survey
Even after completing most of the works, some uncertainty remains over the true geometry, shape, or extent of the old mill. The original layout entries were pure fiction, reflecting the 'realpolitik' of a strictly fiscal notion of architecture, of Real Estate. Our neighbour had bought the cow shed (a magnificent 18th century barrel-vaulted, hewn stone block that looked like a sketch model for Boullée's Bibliothèque du Roi), registered it as a two-story dwelling, proceeded to blast keystones and voussoirs into a pile of rubble, and erected a finca in its place. The hushing up of this kind of vandalism plays a significant role in the local economy, hence the constantly changing and evolving nature of protected areas.
Maybe this also explains a certain residual vagueness, if not outright inaccuracy, in surveys and documents describing buildings—it is inspiring to find room for interpretation in stones, as much of archaeology seems to suggest… In one set of drawings some walls, even by ancient standards, appeared so massive that we thought of carving out ancillary spaces, a Matera of services inhabiting the unlikely poché.
The structure rises over six terraces, chronologically as well as spatially, with the oldest cellars and cistern at the lowest level, cut into the rock. The main floor housed the oil press—long gone—a huge, vaulted space jutting out over the adjacent gorge that runs from Aequa to Positano. The next two floors sit adjacent to the previous ones and had been damaged by more recent alterations in early concrete and iron that were tearing the masonry apart. An invasion of steps, stairs, mezzanines, and partitions was the contribution of the 20th century that we resolved by removing in order to regain the original spaces.
Removing the ivy tracery from the facades, in order to read the stonework for more clues, we discovered a number of openings that had been walled off: a window to a secret chamber, a throne room with a bucket still in place; another the outline of a doorway that led to a dark under croft caked with soot ('Dracul!!!' exclaimed the Romanian foreman, as he pointed to a colony of bats hanging upside down from an arch). Some small cisterns came to light outside the buildings, while in the mysterious poché we discovered a double height void, an oblong water tank that accounted for the gap between the lower and upper volumes.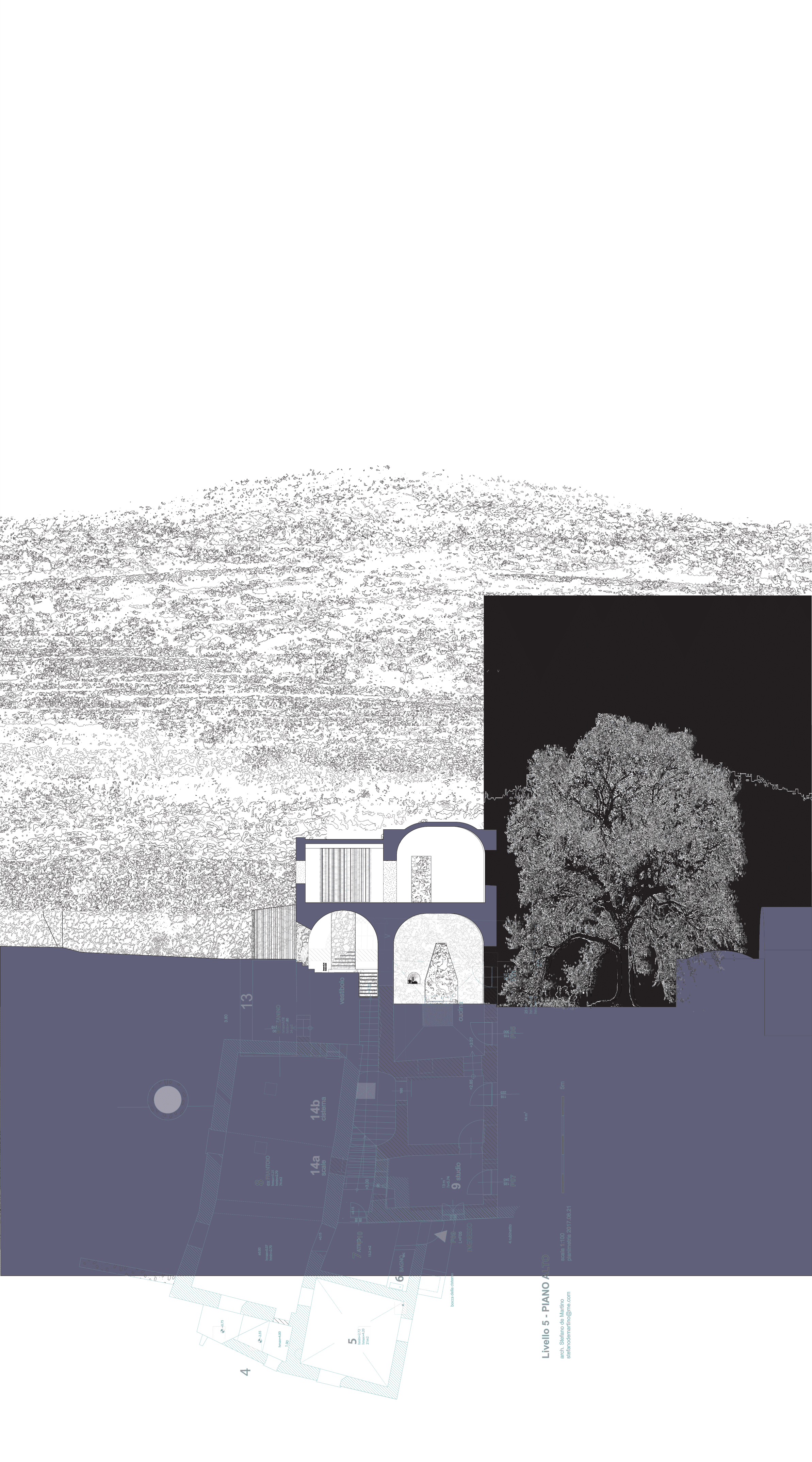 Metabolism
It was clear that this building in its authentic, protected yet entirely neglected context required an ecological approach, and that it would provide insights into a sustainable practice. The term ecology describes a whole—a set of correlations and interdependent effects between different actors, objects, or matters. Visits to historical and archaeological sites in Naples, along the coasts and the islands further helped to understand the relation of buildings to their environment. In particular, the archaic structures at Cumae, the Roman cisterns at Capo Miseno, Pollio's Villa near Sorrento, the French forts in Anacapri, and the ancient monastery at Astapiana nearby.
The mill was a machine that compressed the terrain and its harvests into essences. In converting it, we reversed this: each level is the articulation of a terrace, a direct extension of it and connection to the landscape.
The project reclaims the lost or hidden spaces buried within, linking them into a new staircase that provides vitality to the innermost, previously inaccessible parts of the building. With natural convection, it also serves for ventilation and climate control, ensuring that the house remains cool even during the hottest days of summer.
In restoring and renovating the structures, we aimed to strengthen the ambient and spatial qualities in reference to conditions of air, light, orientation, and dimensions. We had to develop a close understanding of the building, its evolution and the building techniques and materials employed in relation to the natural context and its resources. We replaced materials that came with later alterations; lost some floor area in the process by removing later add-ons but gained height (over 5m or 17ft) for previously dingy rooms that had replaced much older vaulted spaces. All materials match as far as possible those originally employed and required contractors able to work with traditional techniques. In today's construction economy, this proved the greater challenge since skills and know-how are overwhelmingly geared to the products and materials of a highly standardised and globalised industry.
To comply with seismic requirements, we employed steel tie-rods and end plates rather than bulky concrete ring beams. Portland cement was practically banned except for lintels (most of the original oak lintels had been stolen, along with the ceramic floor tiles). Walls were repaired with matching limestone or tuff. Selected demolition spoils were ground-up into mortars and renders with the addition of volcanic pozzolans and sand. The building was essentially metabolised—the old materials providing the resources for the new ones.
Ancient stone buildings behave differently from modern structures. Each stone touches another, they all rest and interact with each other, creating their own arches and pillars as they accommodate new openings or unforeseen breaches. They move, breathe and exchange moisture, thanks to the flexible and permeable lime-based components. Lime is produced at lower temperatures than cement, and it absorbs CO2 in the curing process. The lime render enables the massive walls to breathe and guarantees a healthy environment. It is left bare, to avoid interference with its maturing phases. The performance of natural renders increases with time: traditional renders were kept wet to slow down their drying time, allowing the interaction of binder and aggregates to fully evolve. The vaulted roofs typical of traditional buildings around the Gulf of Naples, finished with the so-called battuto (a render beaten and compacted into place), were protected with straw for more than a year before being exposed to the elements.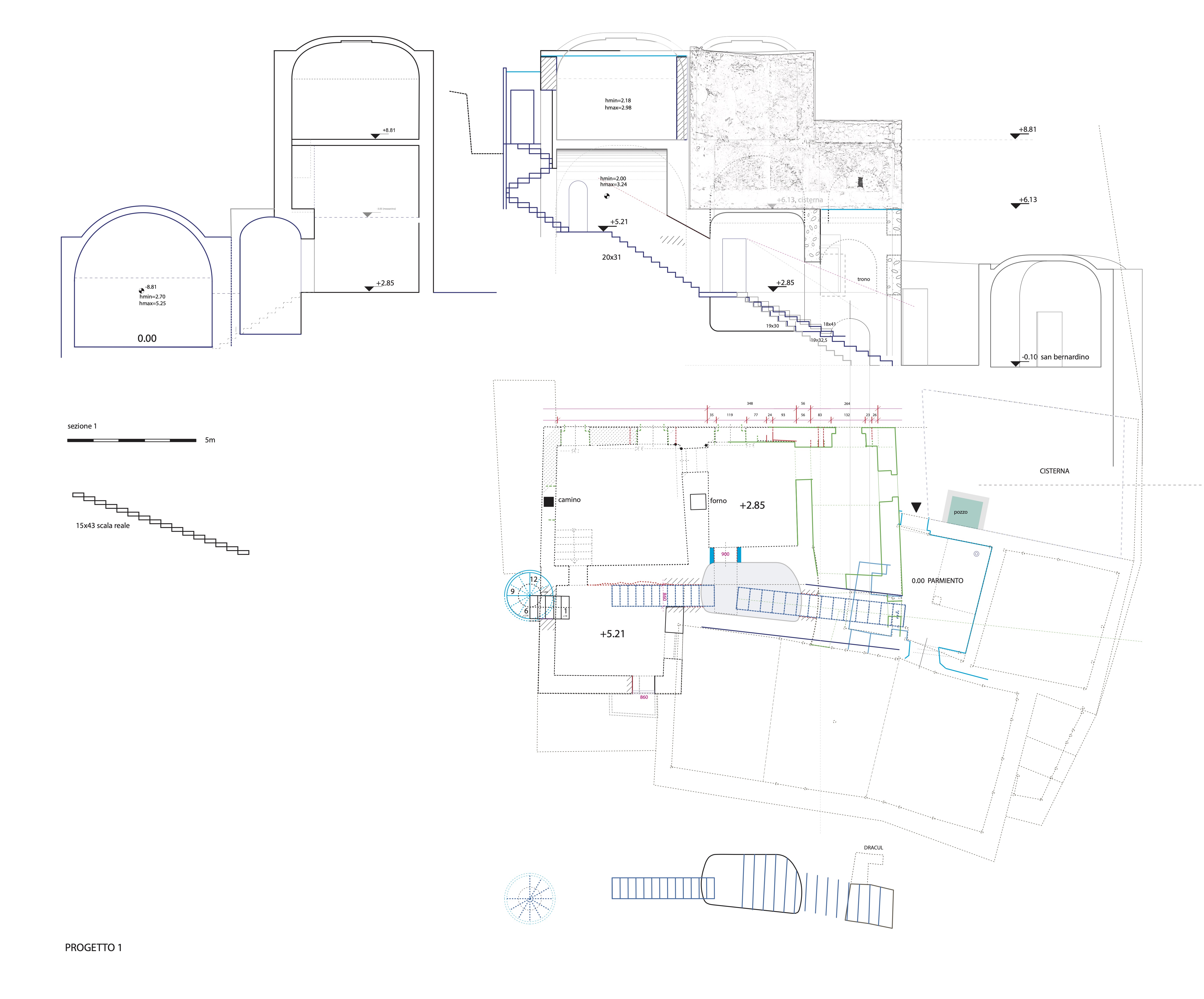 Dirt
The surrounding terrain expands over more than 30 terraces stretching the grounds from 270 to 340m above sea level leading to the watch tower on its peak, Piana di Marte. The terrain bears a self-sufficient ecosystem of 300 olive trees, some fruit trees, a variety of local vines and citrus trees, a multitude of wildly growing fruit, vegetables, and herbs—some typical to the Mediterranean climate, others rare and unique to the gorges and hills overlooking Mount Vesuvius and Mount Faito. Local flora include orchids, lilies, cyclamen and clematis to balance the grounds of ferns and chestnut trees typical to the region. Scattered in between, you find wild asparagus and saffron crocuses.
After two decades lying fallow, everything we planted was effectively 'invasive', or wanted to behave like that.
Inspired by Fukuoka's The One Straw Revolution, we experimented with a minimal mixed scatter practice, sustained by companion plants and weeds, and rainwater from the cisterns. This produced prodigious harvests of tomatoes (and tomatillos, unknown in Italy, but essential for a green salsa)[1], aubergines, lettuces, chards, artichokes, along with dandelion, arugula, fennel and purslane, and heaps of herbs (basil, bay, thyme, lavender, rosemary, mint, parsley), marigolds and California poppies: you could observe how plants competed for space, found some arrangement, receded or went on a rampage—like life in a city, where all scales and range of influence compete with each other. [2]
The true gold of the South is its earth—the 'dirt' in the US—not some Eldorado as all invaders have sought for millennia. Whatever stone or seed you throw onto the ground, will soon sprout into a seedling.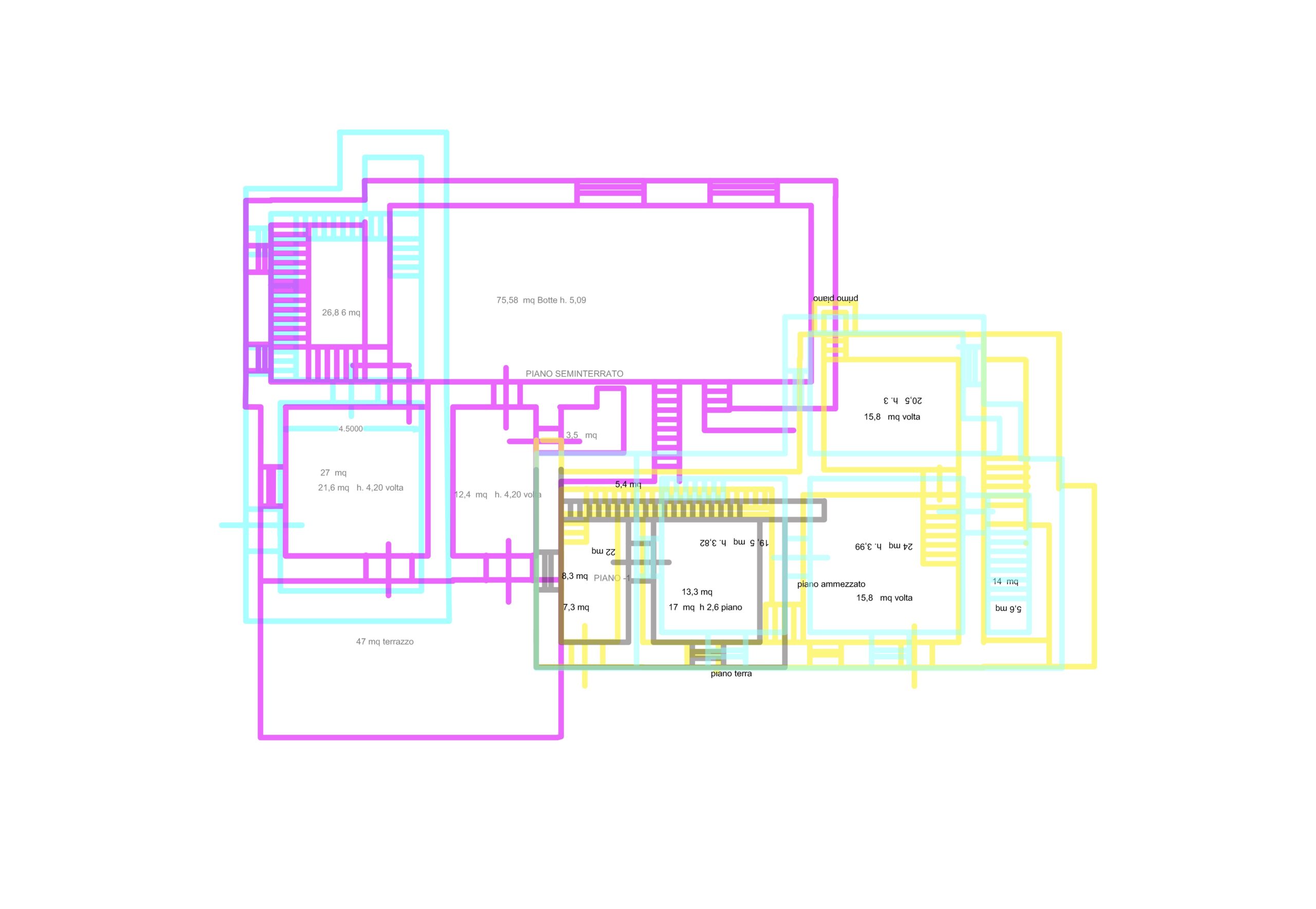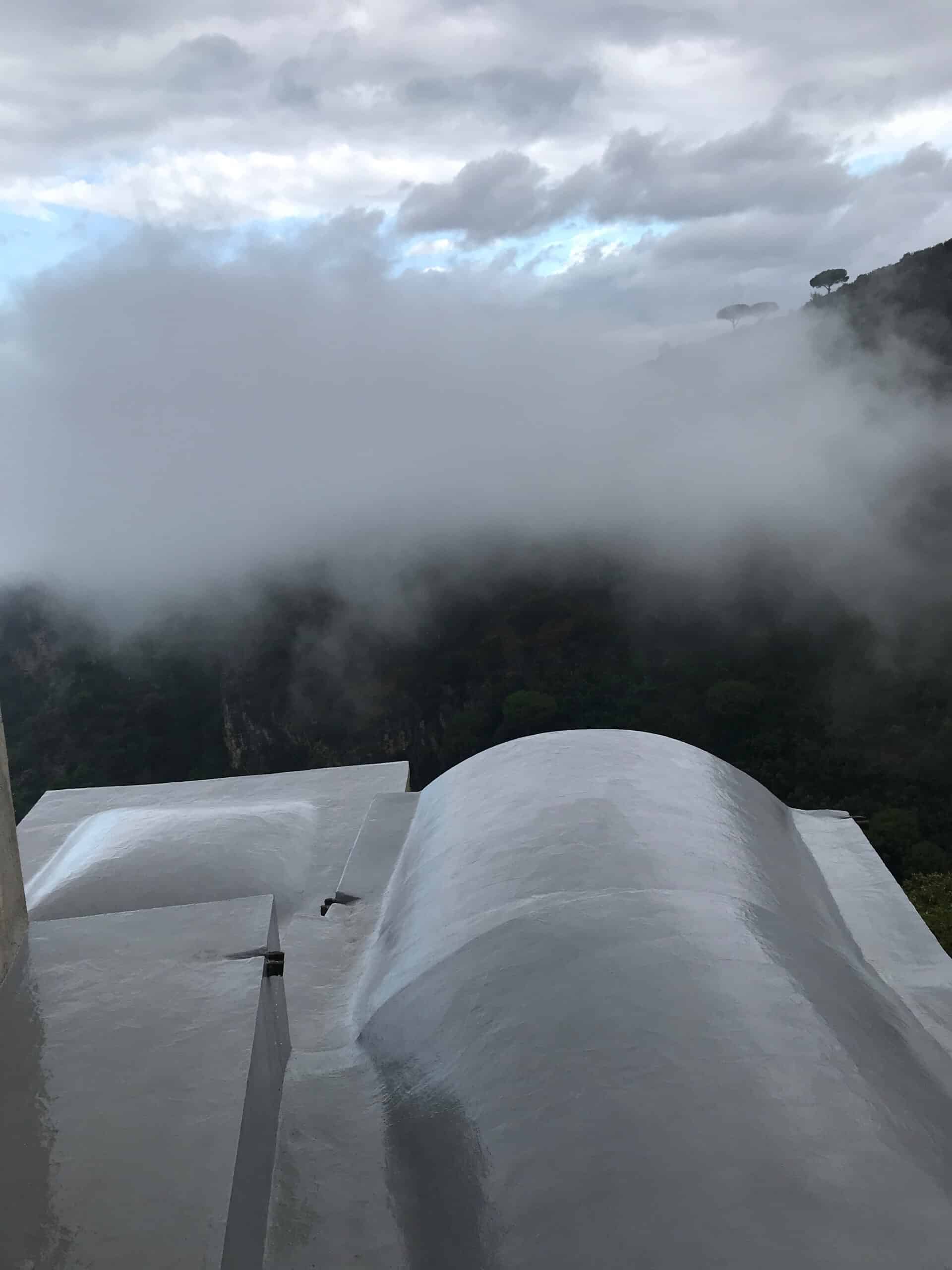 Notes:
Masanobu Fukuoka's The One Straw Revolution (Rodale Press, Emmaus 1978).
The introduction of alien species is discouraged—but then tomatoes, potatoes, peppers, etc. are just as alien as California poppies, tomatillos and Boskoop apples.
Stefano de Martino and Karen Lohrmann [SdMKLm] develop sets of work as environments, experiences, and narratives. As comments on developing stories and engaging the characteristic features of places they live in—Berlin, Los Angeles, and Southern Italy—they address spaces in transformation, cultural manifestations, and resultant landscapes.
Stefano de Martino is partner at SdMKLm and practices in architecture, visual arts and music. He is interested in consistencies, as the structures and relationships that make up different environments. His forthcoming publication 'Workbook' explores how productive processes, through different media, generate their own trajectories and variables.
Karen Lohrmann is partner at SdMKLm, cofounder of Urban States, Correspondents Edition and Bay of Mars, and faculty at SCI-Arc in Los Angeles. Through her multidimensional practice she focuses on editorial processes as critical and projective tools in narration and visualization of landscape.