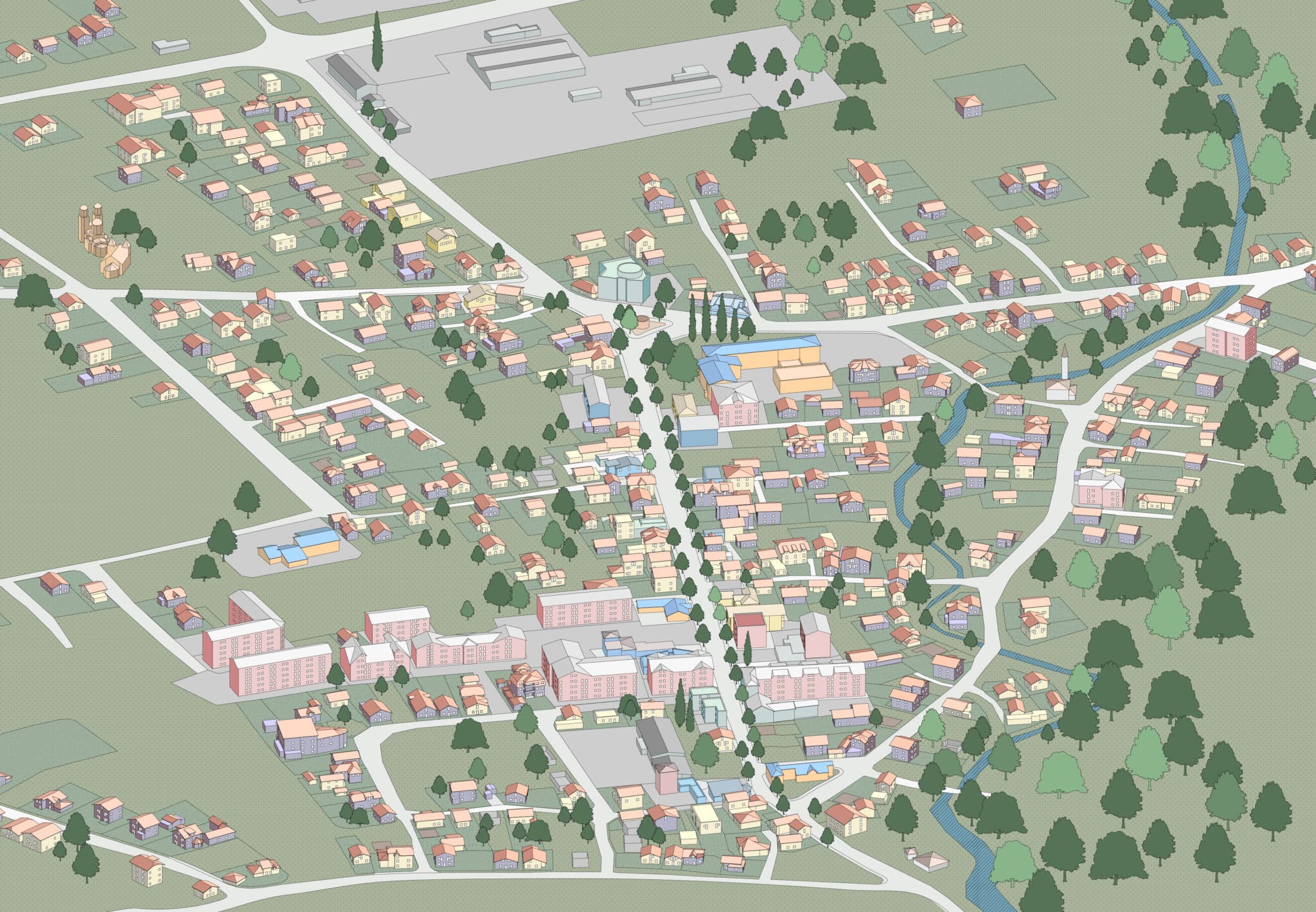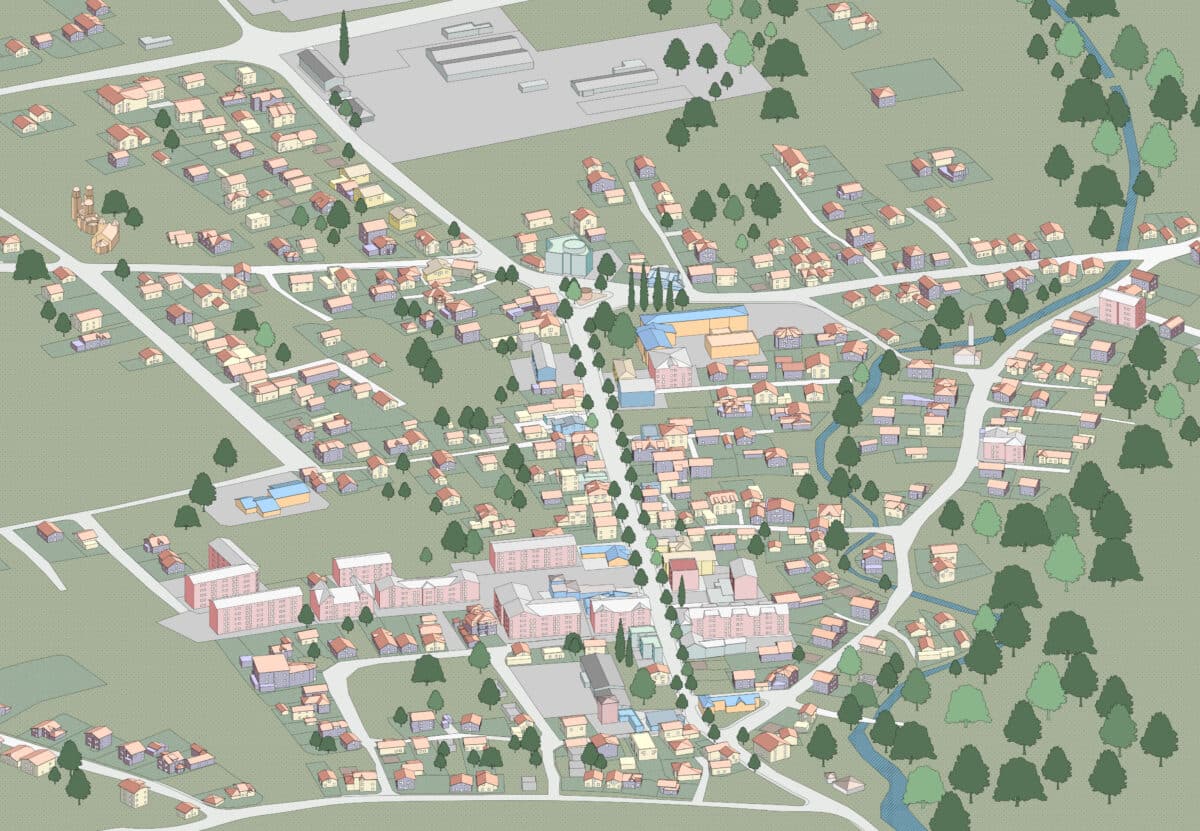 During the first lockdown in 2020, from my bedroom in Graz, I began to model a small Bosnian town named Kozarac. The indefinite postponement of life, as it had seemed at the time, made space for such an ambitious task. Equipped only with a .dwg survey map of the city centre, I began to draw.
The people of Kozarac started emigrating in the sixties and the seventies as a part of guest worker (Gastarbeiter) programs, which had been set up to combat high unemployment in southern Europe and labour shortage in the North. During the war in 1992, Kozarac was ethnically cleansed, with its entire Muslim population either killed or expelled: the city, in turn, was completely destroyed. Its gradual recovery began in the late nineties, briefly aided by humanitarian organisations. Today, its diaspora is one of the largest in the country, and their houses back in Kozarac are empty most of the year. The oppressive and revisionist politics of local government have made the town remittance dependent, relying on the annual investments of the diaspora as they periodically return home.
To make the model, I needed to identify these diasporic houses specifically, as their reconstruction was the subject of my master thesis; but beyond my survey map, there were no official ownership records. I then went through thousands of my own fieldwork photos and videos in an attempt to classify each house. My initial plan was to visit Kozarac during the summer of 2020 and perform the mapping on foot, with paper and pen. The pandemic rendered my summer visit impossible, so digitally drawing the city became my research method.
Diasporic houses in Kozarac vary immensely in shape, size, colour, and architectural style. Common characteristics of such houses are closed shutters and an absence of belongings, but also freshly painted walls, well-maintained fences, and security cameras. Their owners visit them once or twice a year. Some return upon retirement and take on the task of maintaining the houses of their neighbours. Others, who have no retired neighbours, employ professional maintenance workers and rely on the watchful eye of their security cameras, which provide a real-time window into their homes. When they visit, usually in summer, they take care of the houses themselves – there is always something to repair, add, or remove.
In the early 2000s, one of the returnees to Kozarac created a wireless network (legend has it that it was the first of its kind in all of Bosnia and Herzegovina) and subsequently assembled a news portal, blog, and forum. These became a safe space for all members of the diaspora, a place of rebirth for a lost community, and also the beginning of a vast digital space that made it possible for members of the diaspora, for the first time, to inhabit two places at once.
While my own visual records were quite extensive, there were many of the houses that had escaped my documentation. After hours trawling through photos, I remembered that there are videos of the Thursday market days in Kozarac uploaded to YouTube every week. While exploring these market day videos, I stumbled upon the motherlode: 4K drone footage of Kozarac. Nearly every house was detectable. So I started building them, one by one.
In the face of a task of such a scale, I had to ration my efforts and decide early on to represent doors and windows with only simple geometry. It was much more important to me that I faithfully depict the roofs of these buildings, which, from above, were visible in all their glory. Their myriad shapes and sizes could add the necessary depth to the drawing, as well as paying respects to every hand builder, mind conceiver, and heart dreamer that made them.
After a month or more of meticulously modelling each of these buildings, there were still parts I was missing. I visited YouTube once again in a vain search for more clues, and there in the newest drone videos were the exact areas I needed. With this, I completed the 3D model, which I could now zoom in and out of, pan and rotate around. By the end, I had memorised the city almost by heart, and it was a regular occurrence in my dreams.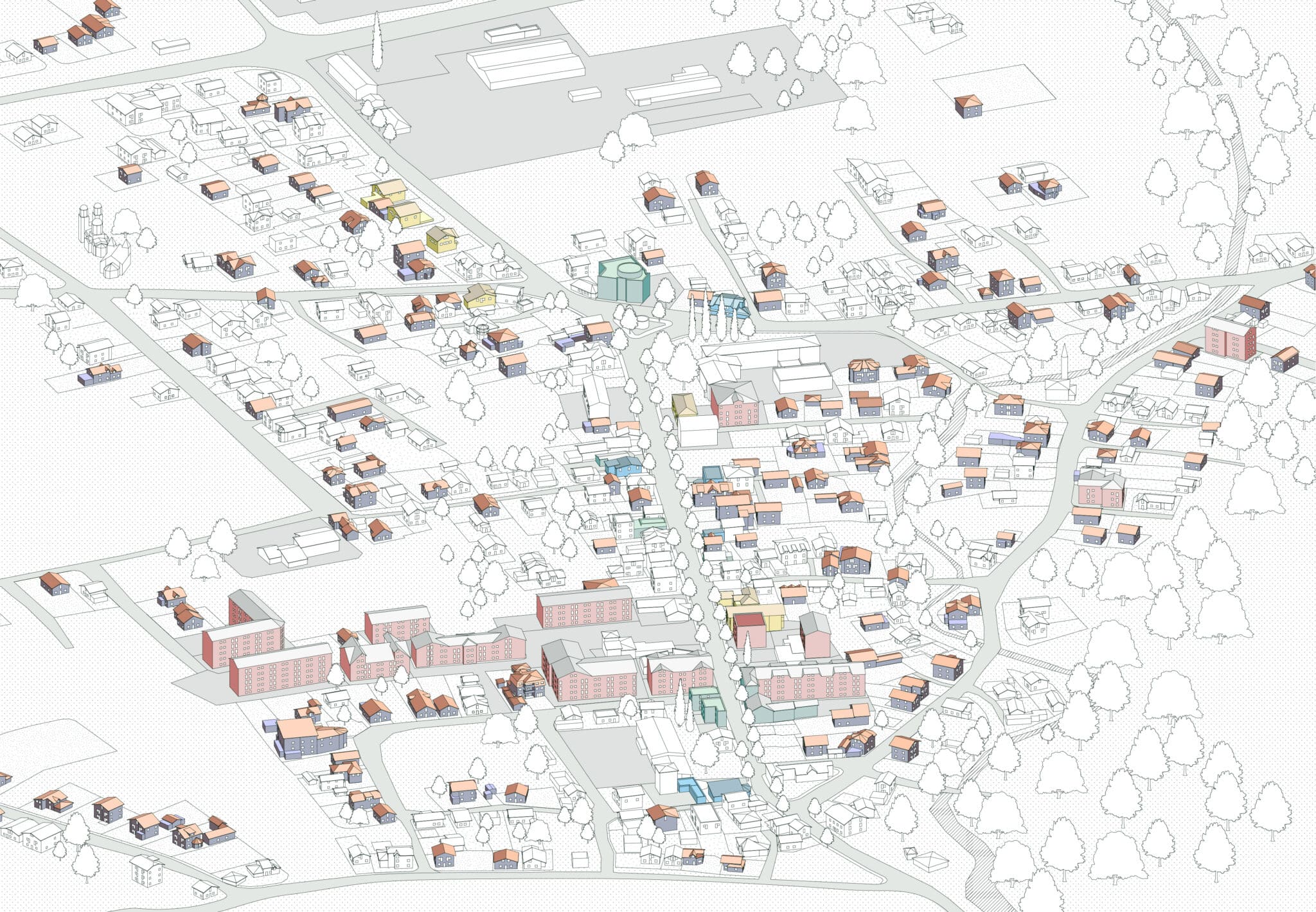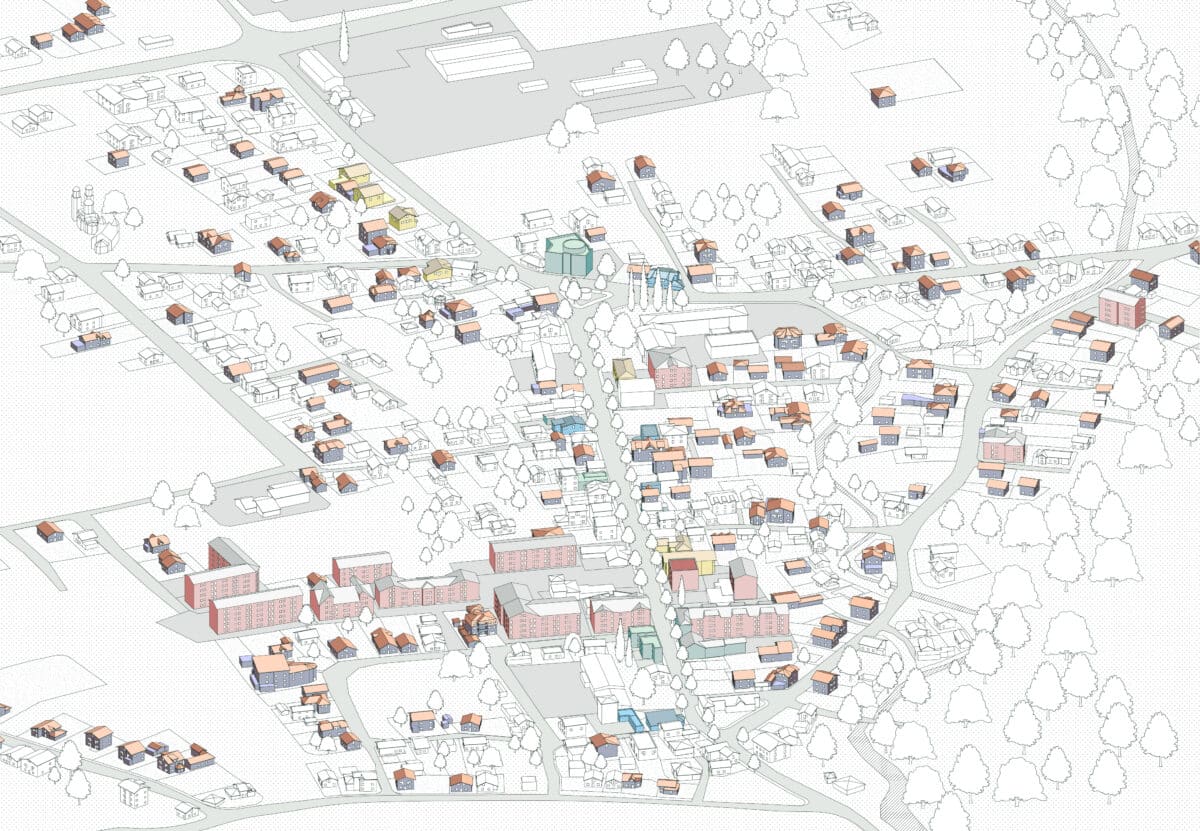 I mapped and colour coded these houses according to my fieldwork, documentation, word of mouth from locals, and the information from an online archive. Violet marked a 'house owned by diaspora member' – pink denoted a 'residential building, with most of the flats owned by younger diaspora members' – yellow, a 'house owned by diaspora member with a rented ground floor' – green, a 'public object which remains completely or partially empty or unfinished' – and blue, a 'restaurant or cafe which operates seasonally'. This key became a means of recording the spatial stratification which had taken place.
The drawing owes itself largely to the drones who rose up from the mountain that overlooks the city. It seemed ironic that the means by which I was reconstructing the diasporic settlement of Kozarac was of equal distance. Zooming out reveals the perspective drawing as merely an excerpt or sample of this city. But the information contained is sampled from reality, and the roofs of the pastel houses are faithful copies of their real-life twins. Soft, cartoonish colours, the uncanny perspective assembled by drones, and the voyeurism of watching thousands of videos to recreate each person's house turned into a curious and performative investigative tool.
Maybe some of the people glued to their security cameras were staring at their houses from afar the same moment I also stared in.
Ajna Babahmetovic is an architect from Bosnia and Herzegovina, currently based in Graz, Austria.
This text was submitted to the General Autograph category of the Drawing Matter Writing Prize 2021.