Representation of architectural design often focuses on a limited number of sources – artistic conceptual sketches and diagrams, dreamy computer-generated renders, or carefully curated photographs of the finished building. These three media capture the continuity of the concept and can stand on their own right.
The mundane reality of architectural practice is often overlooked, hiding the effort that goes into the design between conceptualisation and project handover. Arguably, it is in the everyday documentation that the processes, successes and failures of architectural projects are revealed.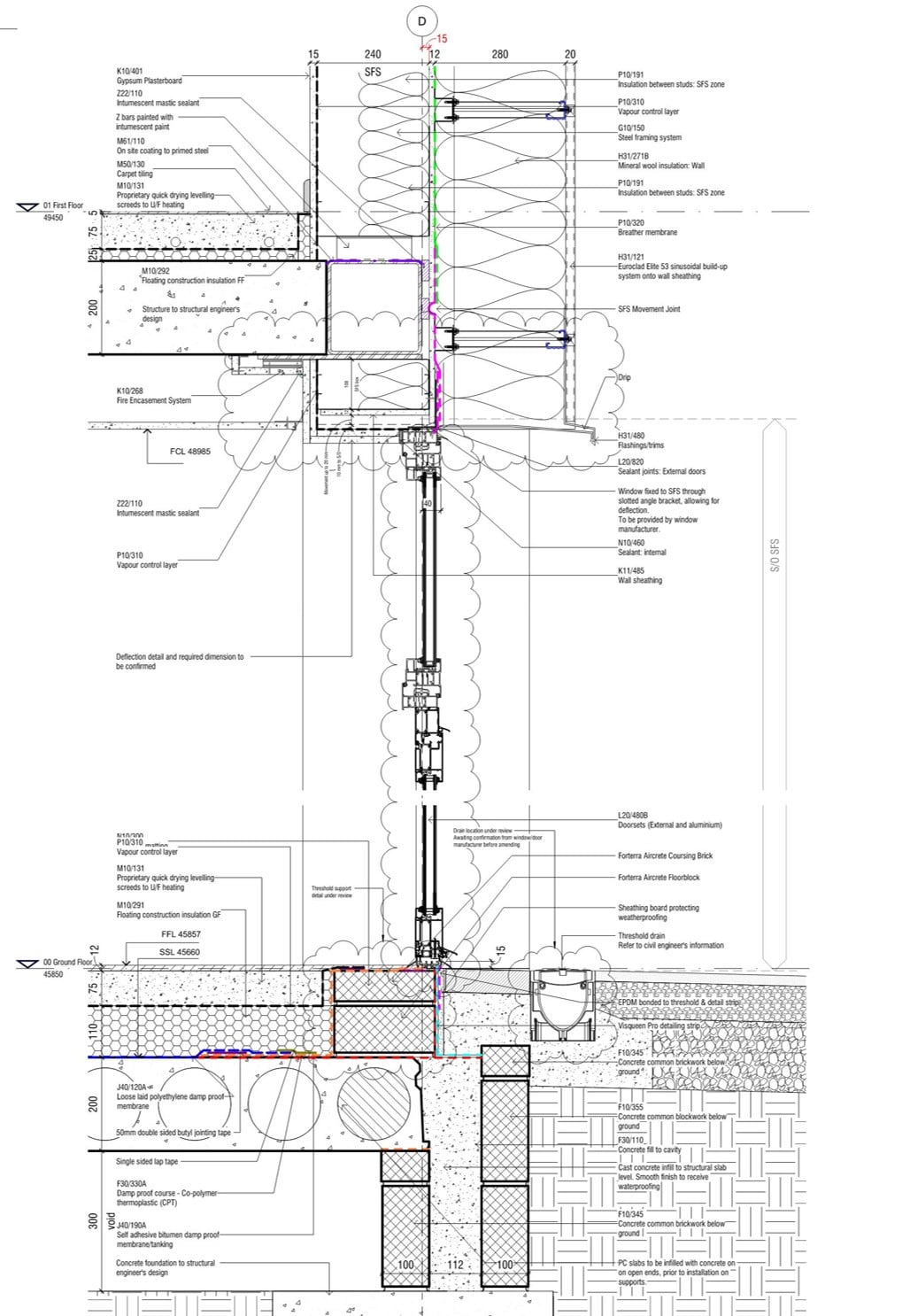 The threshold detail for a primary school project investigates an important everyday element of the project – the door between the classroom and outdoor playground, which the pupils will be passing through at break time, and looking out during teaching and play. Aside from the poetic elements of design intent, the detail explains the coming together of the building from the input of various stakeholders. The architect belongs firmly to that team and coordinates the disparate aspects of design, negotiating and resolving conflicts of interest. Every project is about collaboration towards a common goal, the finished building, but also about avoiding risk – about staying within the boundaries within one's expertise and referring to the remit of others as required. As such, the detail drawing is a battleground that draws the lines of responsibility. The detail has legal weight and exists as part of a suite of information, including written elements such as specification and building regulations. This complexity could explain why such drawings don't tend to make it to the glossy pages of books and magazines as often.
Details and working drawings define architecture. These drawings help make the promise and dream of architectural concept a deliverable reality and therefore deserve a place in the accounts of architectural practice.
Priit Jürimäe is a practicing architect based in Cardiff, Wales.
This text was entered into the 2020 Drawing Matter Writing Prize. Click here to read the winning texts and more writing that was particularly enjoyed by the prize judges.