Geography of Hope: John Lautner
This is the second of four extracts taken from an article first published in issue 40 on nonsite.org, dedicated to 'New Views on Modern Architecture at Mid-Century'.
Suspension and Poise: Lautner at Mountainside
The first photograph of John Lautner that we know, shows him as a boy of about fourteen, standing on top of the log cabin his family are building above Lake Superior, laying the sections of its roof, and gazing out on a vista of stunning clarity that stretched north to a nearly infinite horizon. Here we see him well into the maturing of his career, engaging what became his favoured terrain—the steep side of a slope—as Los Angeles climbed higher and higher into the wilderness of grassland and chaparral behind it, and addressing it with that same fascination for infinity, light, and vista; with an adherence to a sort of aesthetic zoning between areas open to the world and sky and the sheltering enclosure from which to enjoy them; and sheer delight in structural systems that would accommodate that sense of freedom for the eye to gaze and roam. This home and studio for the artist Edgar Ewing was to be on a ridge near the high crest of Los Angeles' rugged, scattered, and then almost treeless eastern enclave of Mount Washington.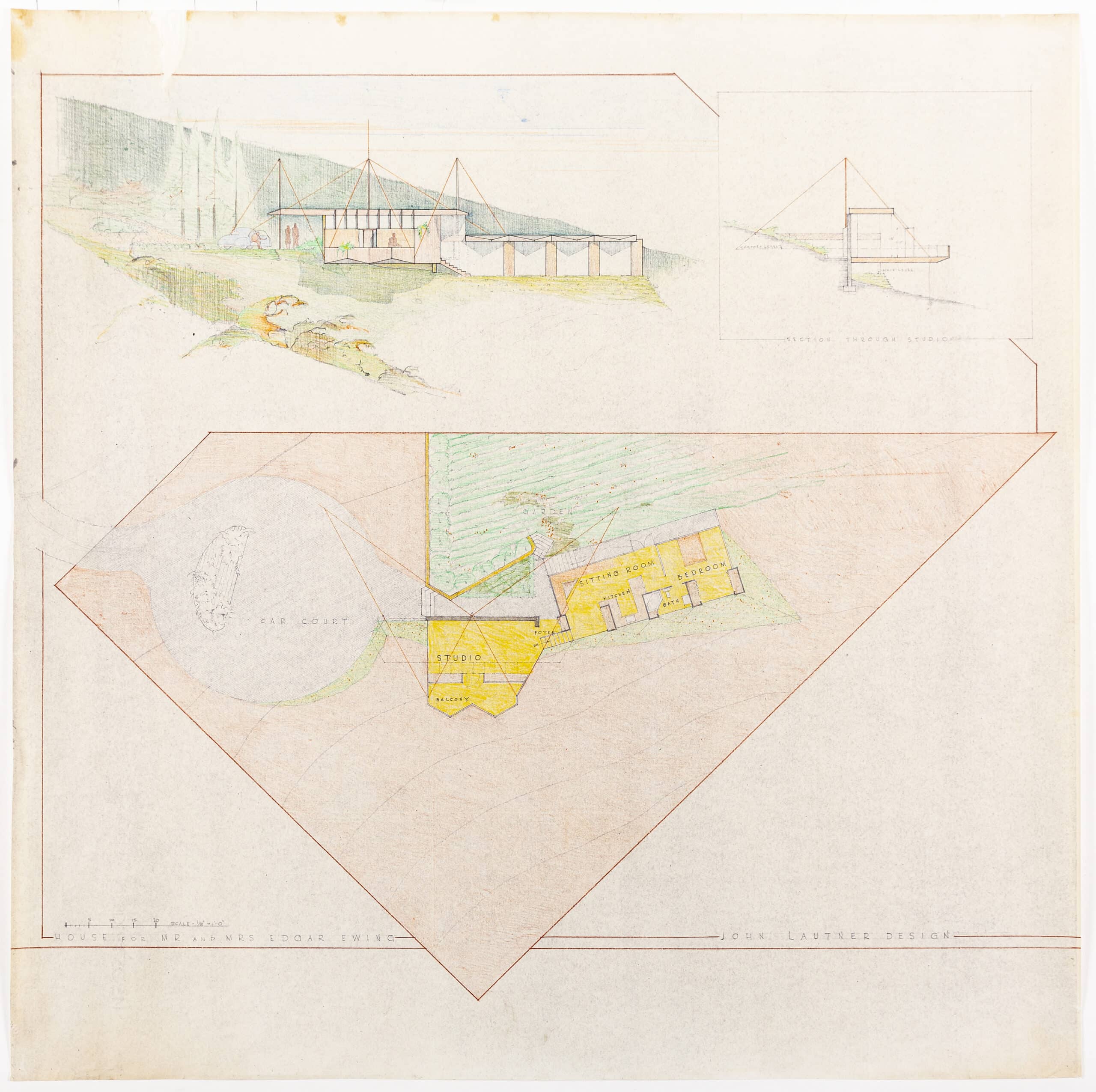 A first proposal hangs a tent-like studio above the ground to the north, relying on an enormous superstructure of thin metal stays and poles to carry it, while living space lies down steps on an earth build shelf below. It is an extreme elaboration of the pylon system Lautner had used (borrowing ideas and materials from the aerospace industry) on his first steeply sloped sites, at the Polin and Jacobsen houses.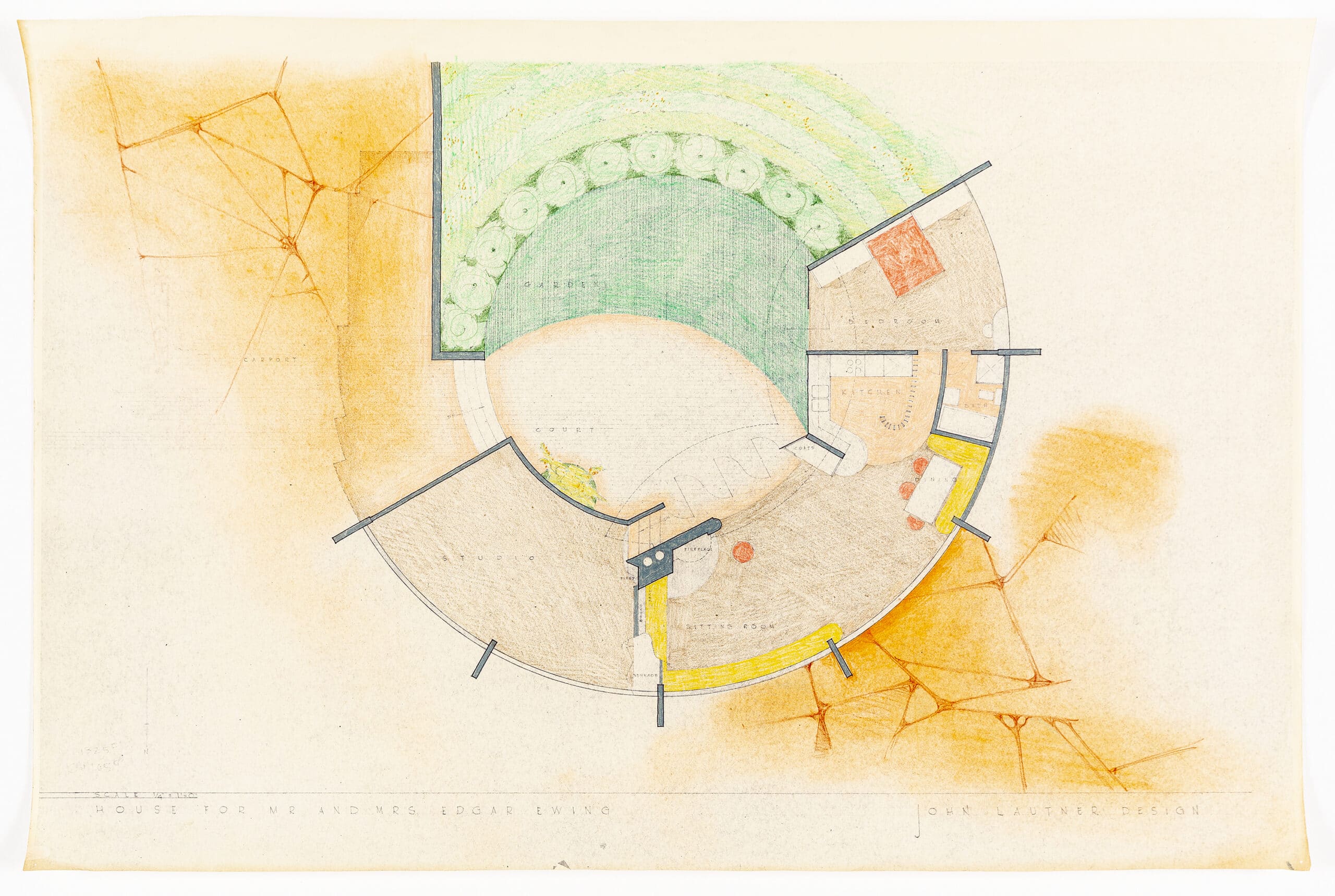 In the second scheme, Lautner lays the whole in the form of a drum on a continuous concrete shelf, half anchored to the site and half held up by a row of very narrow stanchions, like giant mullions. The ground plan shows Lautner's analysis of fractures and joints in the ground rock, mapped to establish where the precise narrow shafts on which the house is bridged can best be borne in terms of possible ruptures, stress and motion.
In both structures a wonderful tension is achieved, between the precarious and the firm, the light and the substantial, stillness and motion—the intervention in the wilderness hovering in deference to it. Lautner refers to this ambiguous effect as a 'desired incompleteness… life-giving free space…, ever changing-into-infinity'.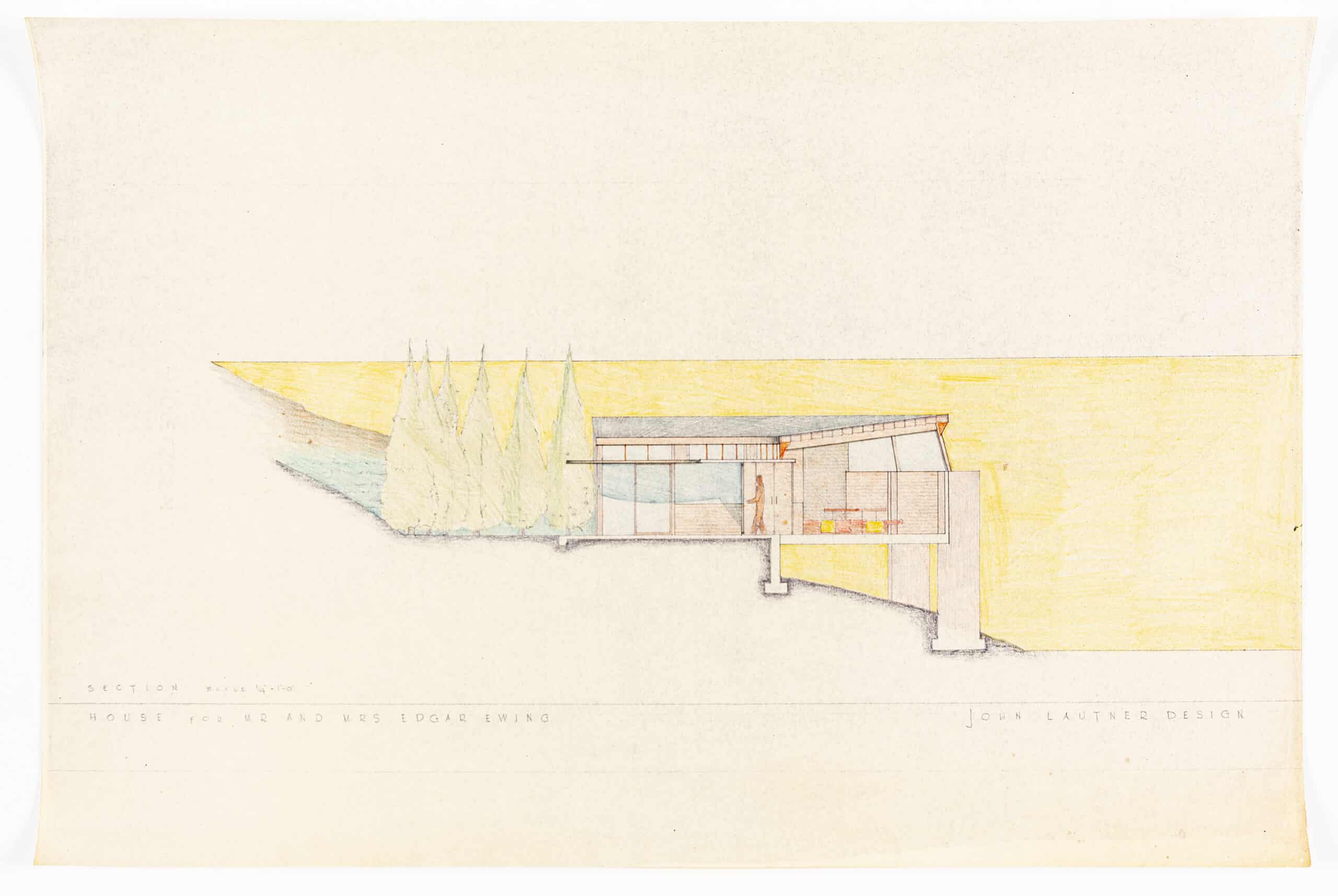 You can read the article in full on nonsite.org.