Wright & Lautner: The Divorce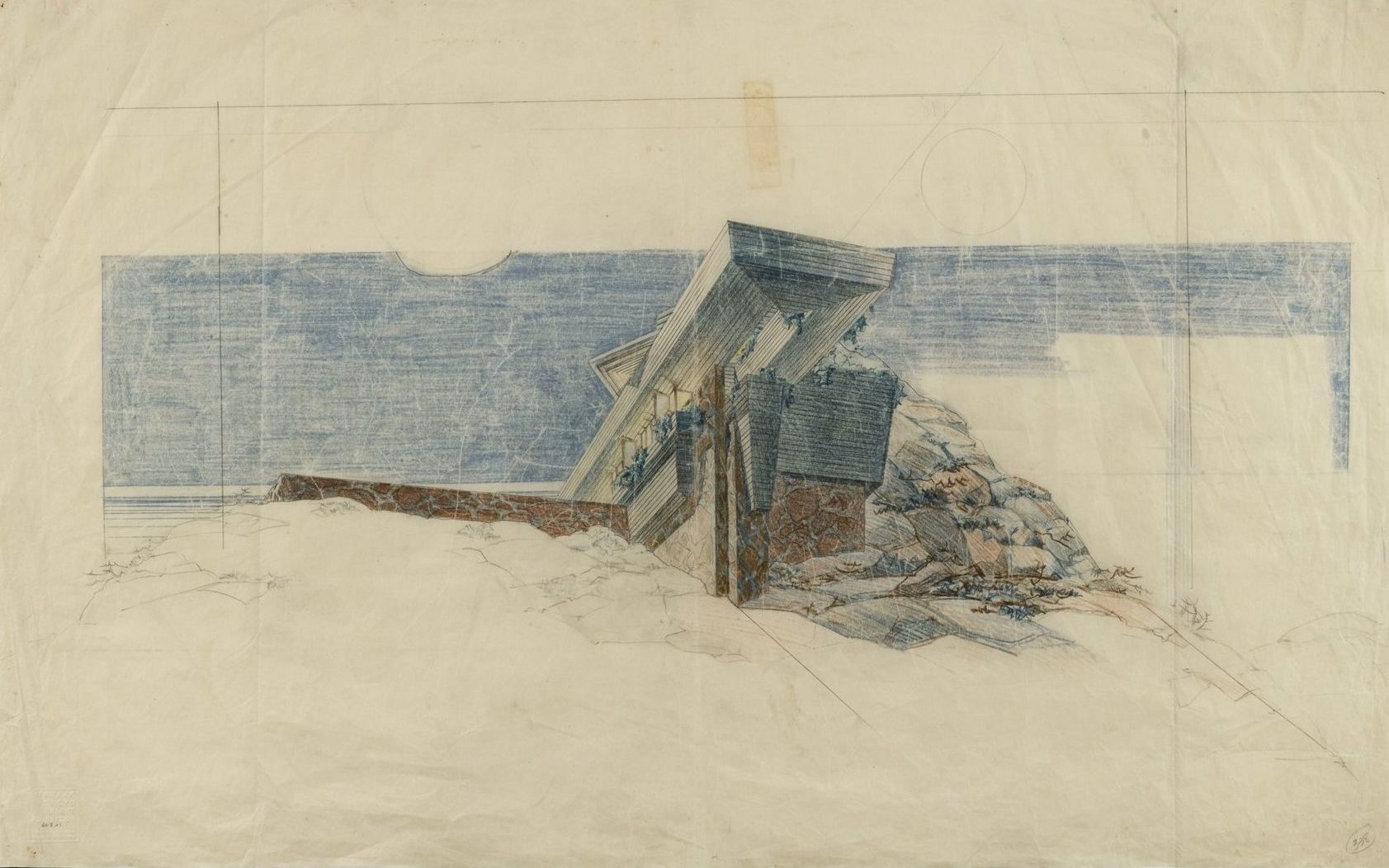 Wright's Eaglefeather (1941) – hilltop Malibu extravaganza for the filmmaker Arch Oboler – was running into trouble. Lloyd Wright, Frank Lloyd Wright's son, oversaw construction drawings and supervision, but Lloyd was fired by Oboler in March 1941. Wright came to Los Angeles and arranged for Lautner to complete the project under an independent contract with the client, and thus commenced an impossibly entangled saga, which ended with the construction of a gatehouse, walls, guest quarters, and a 'retreat' for Oboler's wife, Eleanor.
In September 1941, as elements of the composition began to appear, Wright visited. He complained that Lautner had allowed costs to get out of hand; objected to the Alvar Aalto furniture that Lautner had introduced, lecturing Lautner on the dishonesty of Aalto's use of a rigid material (wood) to imitate the sprung behaviour of a flexible one (wire coils); and condemned Lautner's concessions to Oboler in siting. His apprentices invaded the site in March 1942 and demolished the offending walls without Oboler's consent. Lawsuits followed, and Lautner returned to Taliesin for yet another sojourn to resolve the disputes. Lautner and Wright weathered the storm well, attributing their difficulties with Oboler to the 'viciousness of Flicker Town.'
By the end of 1942, wartime constraints ended this ravishing piece of mountaintop architectural theatre. But for Eleanor's retreat, Lautner designed elements that carried into his work of the 1940s. Both there and in the unrealized main house are kernels of Wright's thinking that ripened dramatically in Lautner's own: shaping the object to the horizon, radiating structure into landscape, setting the topography itself in relief, and – as at the Sturges House before it or Silvertop and Chemosphere after – floating living space into a territory somewhere between earth and sky.
Excerpted from Between Earth and Heaven: The Architecture of John Lautner (New York: Rizzoli, 2011).