Le Palais de Darius a Persepolis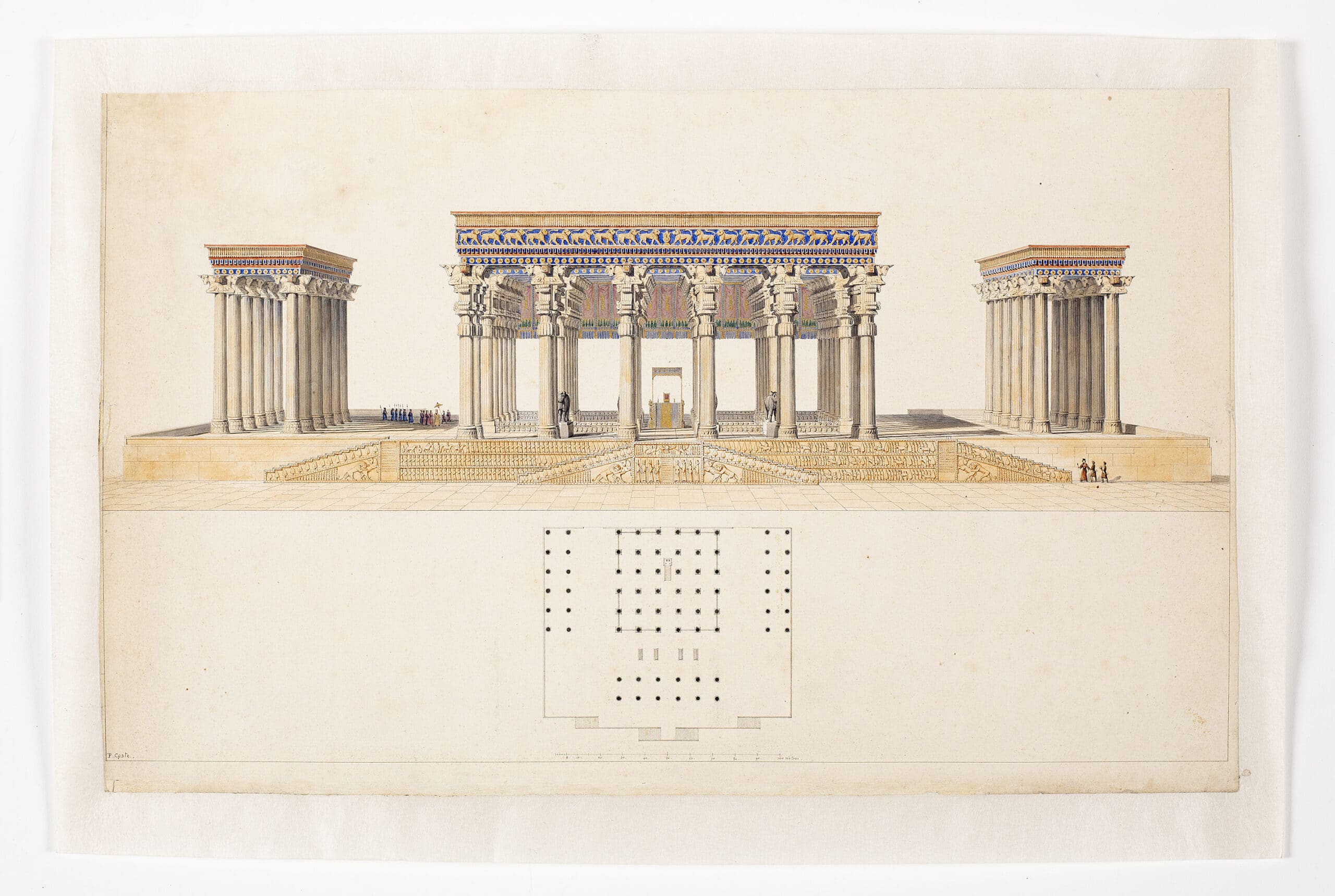 This study of Le Palais de Darius a Persepolis was made by Pascal Coste (b. 1787 Marseille, France) in 1840 as part of an archeological survey of the Persian City of Persepolis. Through a combination of plan and perspective, Coste portrayed the symmetrical arrangement and elaborate construction of the ancient winter palace.
Situated in Persepolis (Old Persia), the palace (or Taçara) was built by King Darius I the Great in 518Bc. Sixty kilometres north east of Shiraz, the city was pronounced the ceremonial capital of the Achaemenid Empire and housed the seat of government. Inspired by Mesopotamian models, Persepolis was designed primarily as a showplace and centre of spectacle for the receptions and festivals of the King. Built on an immense platform, a half-artificial, half-natural terrace, the palace is a 13 hectare ensemble of magnificent architectural creation. With a collection of striking staircases, throne rooms (Apadana), reception rooms, and courtyards, the palace was a rich celebration of the Empire. A central square-shaped grand hall was contained within 72 columns that carried the weight of the vast ceiling. Thirteen columns still stand, designed in Persian style they reach 19m tall and are constructed of grey limestone as the largest trees could not fulfill the required sizes of such a structure. The columns rest on stone bases and capitals, embellished with decoration.
In 1840, along with painter Eugène Flandin, Coste accompanied a large diplomatic mission under the orders of Louis-Philippe I to document and review the state of Persia. Coste, who had architectural training, had gained fame for his meticulous drawings and archeological explorations in Egypt and North Africa, having published to great success his account, Architecture Arabe (1827).
The two voyageurs spent two months in Iran, methodically observing the ruins and providing some of the best and earliest visual depictions of the ancient City. Through wilful scrutiny they tried to comprehend how the structures and spatial arrangement might have stood, whilst Flandin's paintings illustrated the once elaborate ornament, Coste took charge of the architectural plans. Their publications in Paris, Voyages en Perse de MM. Eugene Flanin peintre et Pascal Coste architecte 1881 and 1882, provided the basis for the first modern architectural study of Persepolis by James Fergusson (1800-1886).
Charlotte Hart is an artist and researcher currently based in London.
This text was entered into the 2020 Drawing Matter Writing Prize. Click here to read the winning texts and more writing that was particularly enjoyed by the prize judges.