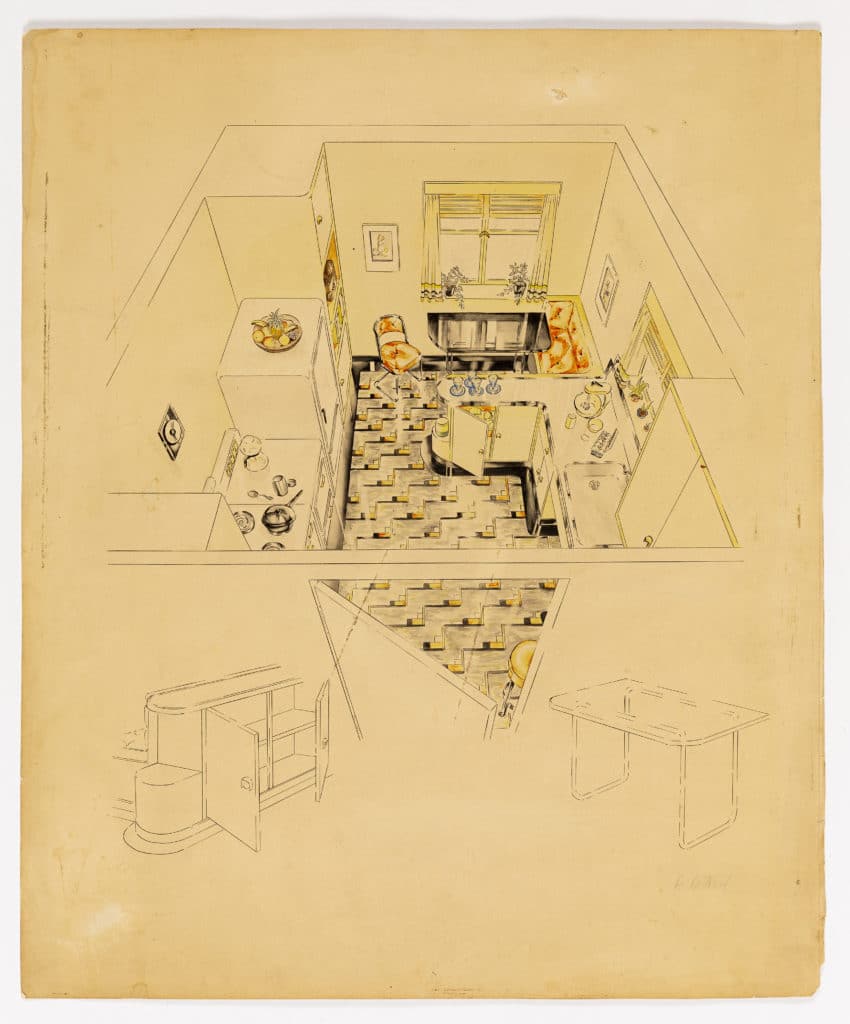 An idle (and very fanciful) speculation on the origin of a drawing
Gloria Gigliotti, hosiery buyer at Saks Fifth Avenue, looked at the drawing that Paddy O'Neil from the Art Department had bought in to her office that morning. She had asked him, for a quick $5.00 on the side, to draw up a kitchen plan for the apartment on West 94th Street where she and Todd Streckel were due to set up home after their July wedding. She was damned if she was going to move in with the kitchen in its current state: a roach-infested setup – cracked china sink and rickety cupboards. With this drawing as ammunition she hoped to persuade Todd that their budget would stretch to the checklist of desirable items she had instructed Paddy to include in the drawing: Venetian blinds to hide the view of the next block's fire escape, the big fridge with freezer section, the patterned Congoleum flooring she had seen advertised in Life, the fitted cupboards with the open curved shelf-end forming a room divider between the cooking and eating in the dinette. Here, pride of place, she planned a glass-topped table – this was pushing the boat out, but everyone else had Formica. She'd picked a chrome chair and stool set upholstered in buttoned orange vinyl with a banquette to match. This she had co-ordinated with the orange on the flooring. The whole thing looked just like a fancy magazine.
Todd, an attorney with Sullivan & Cromwell, had – she reluctantly admitted to herself – very good looks but, sadly, little imagination. He needed to see precisely how the finished kitchen would look. Her voluble kitchen descriptions had not yet swung the spend. The drawing would show him exactly where he would sit and eat French toast and drink coffee on lazy weekend mornings, and where she would cook her mother's baked ziti, a dish that Todd particularly loved, and which she had every intention of learning to make, (fairly soon). She reckoned she would mostly get by with those new TV dinners, though her friend Barbara said you could make tuna noodle casserole using a can of Campbell's soup in just 20 minutes. Left to herself she was happy with just Cheez Whiz and crackers for dinner. She would show the drawing to him tonight; they had a date to see East of Eden.
Paddy had done a good job, she thought. He had confided in her that he had started out as an architect but failed an exam and had ended up doing illustrations for Saks' Advertising department. He had added touches she hadn't thought of: the clock, houseplants, pictures and the KitchenAid food mixer – though she wasn't sure that she saw herself baking cakes in West 94th Street. Perhaps she should put one on her wedding list.
She looked carefully at Paddy's depiction of the small space – clever the way he'd shown it through an open door as from the tiny hallway. He had been keen to do her a scaled plan, but she thought that would be wasting money.
She knew one day she would have a bigger kitchen. Todd was ambitious; he wanted to live in a colonial in New Canaan, commute into the city and have Gloria stay home and look after their planned two children. He always seemed to get what he wanted – then she would use the KitchenAid almost every day, she supposed – but would she get this?