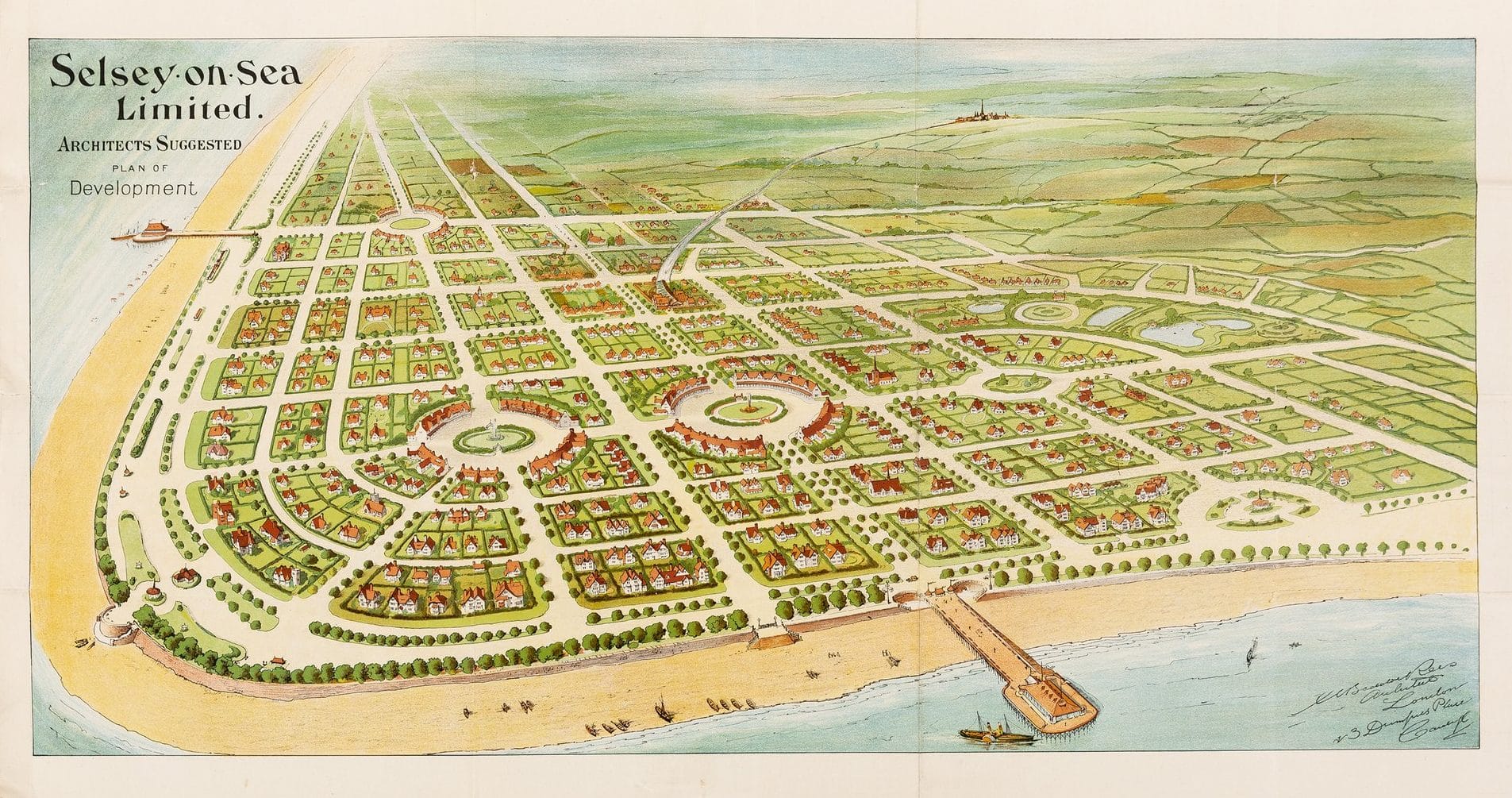 Cyril Ponsonby walked anxiously from where he was staying in Wilbury Road, Hove over to the Hotel Metropole on the Brighton sea front. It was 1907, a sunny day in early August. He was hot and bothered. Under his arm he held a sheaf of papers. He went through the Hotel's imposing terracotta portal and sought out William Thornton who he found in his usual lair – the residents' Smoking Room – lounging against a Persian saddle bag and smoking a cheroot.
'This is a wretched disaster: take a look.' He tossed a recent copy of Reynold's News into Thornton's lap. He read the headline aloud: '"Selsey-on-Slush. A remarkable company with a curious combination of guinea pigs and inexperienced nobodies as directors and trustees."' With relief Thornton quickly saw that no mention was made of him as Selsey-on-Sea Ltd's Managing Director, but only of Ponsonby's friend, Hercules: 'The Chairman of the company is Lord Rosmead who has been – and may be for all we know – a director of the African Exploration and Development company Ltd registered four years ago, but which is doing no business and has presented no accounts." He read on: '"The director who absolutely clamours for attention, however is the Hon Cyril W. Ponsonby, a son of the Earl of Bessborough. This sprig of the nobility modestly refers in the proposition to being a director of Apollinaris… It is under the auspices of these gentlemen, therefore that Selsey-on-Slush makes its bow, and we take it that it will, before long, make its exit in like manner."'
'A radical scandal sheet only read by the lower classes; that really won't trouble our potential investors', Thornton countered. 'Dear fellow, don't fret, it's that Daily Mail article that will count. Two whole pages of praise; I was so pleased with it I can quote it verbatim: "Where breezes blow and Treasures abound – Nature's own Seaside Place – Only one thing is amazing and that is the fact that Selsey has remained undiscovered for so long by the modern race of Englishmen – An Undiscovered Land – Where the Sun shines – Golf – Sea on 3 sides – Two beautiful beaches – Safe for yachts." The only fly in the ointment was that reference to "amphibious Bungalow dwellers in smartly painted railway carriages and other amusing oddments." Not the sort of residents we are aiming for – makes it sound like Shoreham Beach, covered in shacks inhabited by unsavoury theatrical types. Thank heavens the Daily Mail at least pointed out a superior house will easily let for five to ten guineas a week in the season.'
Ponsonby, to reassure himself, remarked. 'I do think that Beddoe Rees did a good job making it look like a really top class resort, the three churches certainly suggest cast-iron respectability, and I'm glad we insisted on straight roads and circuses; will make selling the plots a straightforward business. Bit of an odd fish, Rees – very against that plan, he has funny ideas about including some curves and bends so the houses wouldn't look into one another. Personally, I'm dead set against all those hedges and trees he's put in – quite unnecessary expense. Mind you, he was quite sure that the variations of what he kept calling "vernacular features" would catch people's attention: apparently they are gables, roughcast render, bay windows and irregular, tall chimneys. I suppose he knows what he is talking about. You were quite right to put your foot down about thatch. He has accentuated the steam tramway connection to Chichester nicely with the cathedral spire (I'm assuming this will go ahead). Two piers is a trifle optimistic, but the golf links look interesting; though I must say I am uncertain as to which building is meant to be the Golf Club.
Ponsonby sighed rather heavily and then continued, 'That reminds me, Thornton, have you had any luck tying down those Northern friends of yours the Grafton brothers and getting them to commit to signing the lease, building the golf course and club house and running the whole outfit? It makes me nervous that, as yet, we have nothing to show prospective purchasers. I saw on one of those detailed maps you have named one road Grafton Road; do you think that will encourage them? Noticed Thornton Avenue too. What, by the way, did St Wilfred do to get an Avenue named for him?' Ponsonby paused, and tried to think positively about some aspect of the development, which had been far harder work than he had imagined. 'Well, we won the battle to get water and sewage connected to Selsey, and I suspect that the Graftons are easier to deal with than Chichester Corporation.'
Thornton, whose attitude was more positive, remarked that it was a shame that he had only his idea for the Motor Track after they commissioned Rees to draw up the development plan. 'We must get our motor-racing track built before the one planned at Southwick. Racing is all the rage and it would be a coup if that champion racing man Malcolm Campbell moved from Shoreham along the coast to here. Man to watch.'
Ponsonby hadn't yet finished with the bad news; his worries spilled out in a rush: 'And look what this damned journalist has written in John Bull this week. I'll read it out to you: "Really all Selsey has to offer is plenty of salt water and superb sunsets over the Isle of Wight, with occasional glimpses of a warship engaged in gun practice. Its disfigurement has been commenced already – a brazen hotel, whose electrical machinery thumped dismally o' nights, stood out as a sign and token of the Marine Parade that one felt was inevitable within the next 5 years….The bathing varies, sometimes it is excellent, but after heavy weather it is abominable, huge masses of marine vegetable matter being cast only the beach to the discomfort and peril of the swimmer…the building of a projected pier likely to prove a costly item." Then to make it even worse he brings up the whole problem of erosion: "No mention made of the phenomenon which forms the principal topic of local conversation, the sea is knocking one side of the Selsey foreshore to bits and building up the other side meanwhile." We can't possibly afford to build a sea wall.'
To Thornton's distaste, Ponsonby continued his litany of woes: 'That fuss with the fishermen in March made us very unpopular: wicked landowners, Selsey-on-Sea Ltd depriving fishermen of their immemorial rights to store their pots, nets and other tackle on land just above high-water mark. Smith our builder did quite the wrong thing shifting all their gear while the men were at sea and laying foundations for a house for "two London gentleman". The local press had a field day and everyone thought the fishermen heroes to pull down Smith's work.'
There was a pause, Ponsonby was almost breathless, Thornton thoughtful. Ponsonby set off again:
'We spent so long preparing that prospectus for shares, why is no one quoting it? You remember the stuff – "combining the attractions of the best class of Continental seaside resort with the climactic advantages due to its unique position as the most southerly promontory on the Sussex coast…ideal resort for convalescents and those seeking repose and relaxation from the nervous strain of modern life… recuperative effects of Selsey air highly recommended by the Medical Faculty… how estate will extend to over 4 square miles with a Marine Drive 80ft wide and a grass esplanade 200ft wide?"'
Ponsonby's increasingly querulous voice droned on: 'I tell you William, my dividends from Apollinaris may be healthy but a man cannot survive on the demand for German mineral water alone. I'm getting very fearful that this won't take off; we need the investment to finalise the purchase of at least half the land we have talked about. You have your family's St Petersburg enterprise, what will ever stop Thornton's Mill from producing cloth for the Russians from Bradford wool? Cold country, large population.'
Thornton' s answer came fast and crisp: 'The answer to your question is a man called Marx and the All Russian Social Democratic Party: two years ago our Russian workers occupied the Mill and the Cossacks had to be bought in. Just recently a foreman was shot dead. I was born in Russia – know their unnerving tendencies. Selsey-on-Sea Ltd is to be my safe British investment, and just down the road from where Ethel and I are nicely nested at the Metropole Hotel.'
Aged 33 the Hon. Cyril Ponsonby, a Major in the Grenadier Guards, was killed in action in France on September 28th 1915, leaving his wife, Rita and a son, Arthur aged 3. Apollinaris & Johannis Ltd. established in 1875, were mineral water dealers importing bottled water from the Apollinaris Spring near Neumahr in Germany and trading from 4 Stratford Place in London.
William Arthur Thornton, born in Russia in 1869, was a member of the Thornton family who established a thriving woollen mill in St Petersburg in 1860 and became part of the British community in pre-revolutionary Russia. Originally mill-owners in Bradford, Thornton described himself in the Selsey prospectus as Chairman of Bradford Central Estates Ltd.
The 'Bungalow Town' at nearby Shoreham-on-Sea was expanding at this time and would have been a model of a disorganised and bohemian development, the opposite of that planned by Selsey-on-Sea Ltd. Beginning as an assortment of converted railway carriages dragged up onto a shingle spit hitherto inhabited only by flint pickers and fishermen, it was discovered by Marie Loftus (the 'Sarah Bernhardt of the Music Halls') who built a bungalow there. It was rapidly settled by a number of fellow variety artists and acquired a rather louche reputation.
West Sussex County Record Office
MP 110 Selseyana, Vol 1, 1906-10, collected by Edward Heron-Allen
Add. 13717, 13719, 13781, 13989
UK Census, 1911
www.ukcensusonline.com for 1911.