Writing Prize 2020: The Best Future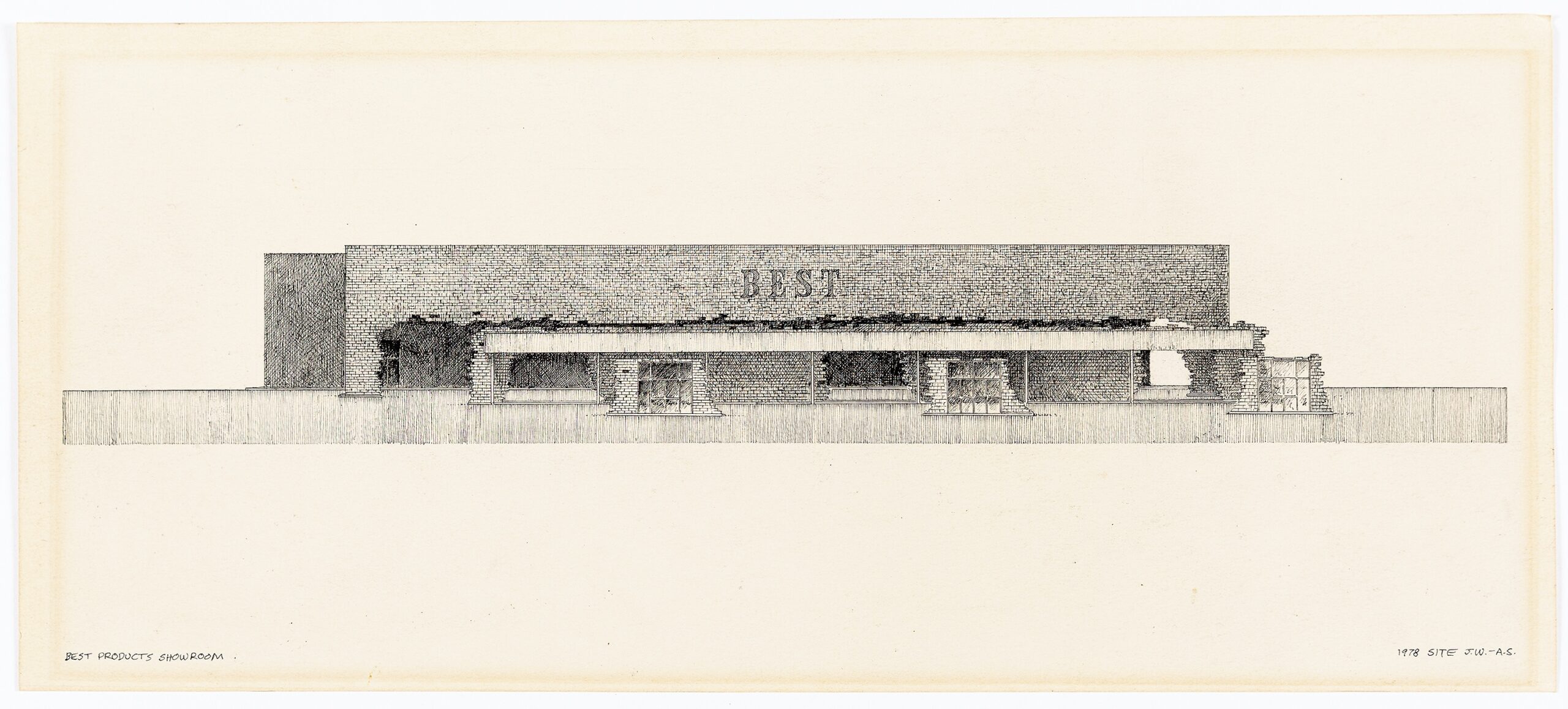 When James Wines was commissioned to design a series of big-box-retail sheds for 'Best Products'—a now defunct chain of mail-order catalogue showrooms—it couldn't have seemed illustrious. A shed's objective is to enclose maximum space for minimum cost. The only real design element is the front facade, typically topped with a sign large enough to be seen from the road. Wines' response was to design hyper-normal buildings that would be deconstructed in different ways to express their impermanence, both as a construction and as an idea. Windows and walls are pulled away to reveal the products stored within and—through satire—excuse the shed as an unfortunate necessity. Yet, whilst this combined design and critique was hugely successful as a branding exercise, it also provokes a slight wistfulness for the apocalyptic scenario hinted at by the architecture. It leaves you longing for a world where crumbling boxes really are all that remains of our overindulgent past.
Wines' drawings of faceless retail units torn apart were a critique of forces destined to change America. Indeed, in the 50 years from 1965 to 2015, the number of American malls grew at twice the rate of the American population as the object of his ridicule multiplied undeterred. Now the tide is changing. In 2019 a record 9,300 outlets closed their doors and UBS had predicted another 75,000 stores would be gone by the middle of the next decade. Then, with the arrival of the pandemic at the beginning of 2020, retail spending in some sectors dropped by over 90%.
Although Wines' images were created in a particular time for a certain client the drawing itself is a-contextual. Outside its time it can be re-examined, moving beyond critique into a renewed proposal for a dying typology. In the original series one store sees a forest invading the interior through a tear in the wall. In another, gaps in the facade reveal the store's toys cast in concrete to create playground equipment. The Best Products drawing series has the potential to be reborn as a proposal for a future it could never have imagined.
Cameron lives in Berlin and works on a variety of architecture and writing projects alongside being a freelance designer for Unknown Works, an architecture practice in London.
This text was a prize winner in the short form category (≤ 350 words) of the Drawing Matter Writing Prize 2020.