Writing Prize 2020: Pens down, Braid up
Hair, silky, wavy or coiled, somewhere, is felt by us all. It is one of the first things we play with, we shape and mold, unconsciously or artfully. Beginning as a line, slack and tentative, a hair appears as a strike of fine ink. Collected and carefully teased each strand builds in waves, the space between inscrutable. Held in the borders of each hand, dense bundles are teased apart within fingers primed for synchronicity. A braid is formed, trailed by a shadow of dancing knuckles and fingertips.
The techniques of braiding are long established in the cultural heritage of Africa and the African diaspora. Claim to its ownership and the politics of presentation are topics greatly contested in modern dialogues of appropriation, discrimination and racial bias. Hair proves to be more than decorative. Variations in form, texture and style are expressive of a complex history of ethnic diversity, cultural symbolism and rigorous craft.
The invocation of braiding in European narratives of architecture is closely linked with weaving. Gottfried Semper, curiously the son of a wool manufacturer, and the eventual author of The Four Elements of Architecture drew this link. He theorised that from the grasses and branches interwoven to form fences, came screens and surfaces, eventually creating enclosure – one of the elements of architecture. Weaving is suggestive of a primitivistic, low tech approach to design. Yet the articulation of fine fibre into intricate forms speaks of a patience, longevity and artistry that continues to beguile.
Braiding is the sociable cousin of textile making. Patrons devote hours, sitting atop a stool, or padded chair, as muses to modern tressuers. In the archetypal salon, laborious works of superficiality are levied with impersonal physical intimacy which eventually gives way to bond building conversation, affinity and trust. This is where craft, commerce and culture coalesce – minus the glaze of jingoistic detachment casually afforded to forms of weaving practice. This perhaps is much to do with a failure in understanding the significance of textiles and weaving in West African culture. When David Adjaye, architect of the National Museum of African American History and Culture, was invited to 'mine and interpret' the Smithsonian Design Museum's collection for the series 'Selects', he exhibited a variety of West African textiles. He described how in West African tradition, textiles are a 'vital element to visual language', notable for the ability to reuse, reinterpret and adapt. According to Adjaye, textiles embody the interplay between geography and culture and can exert power over how we perceive space. He notes how textiles are often displayed in a staid and clinical manner, 'objectified and technicalised', perceived as foreign, and emotionally mute. Aiming for a more intentional display, he created a structure of intersecting elliptical planes, like an unformed basket, draped with bands of elaborate textiles. Included in the exhibition are three headpieces: two woven caps, and a crocheted man's hat.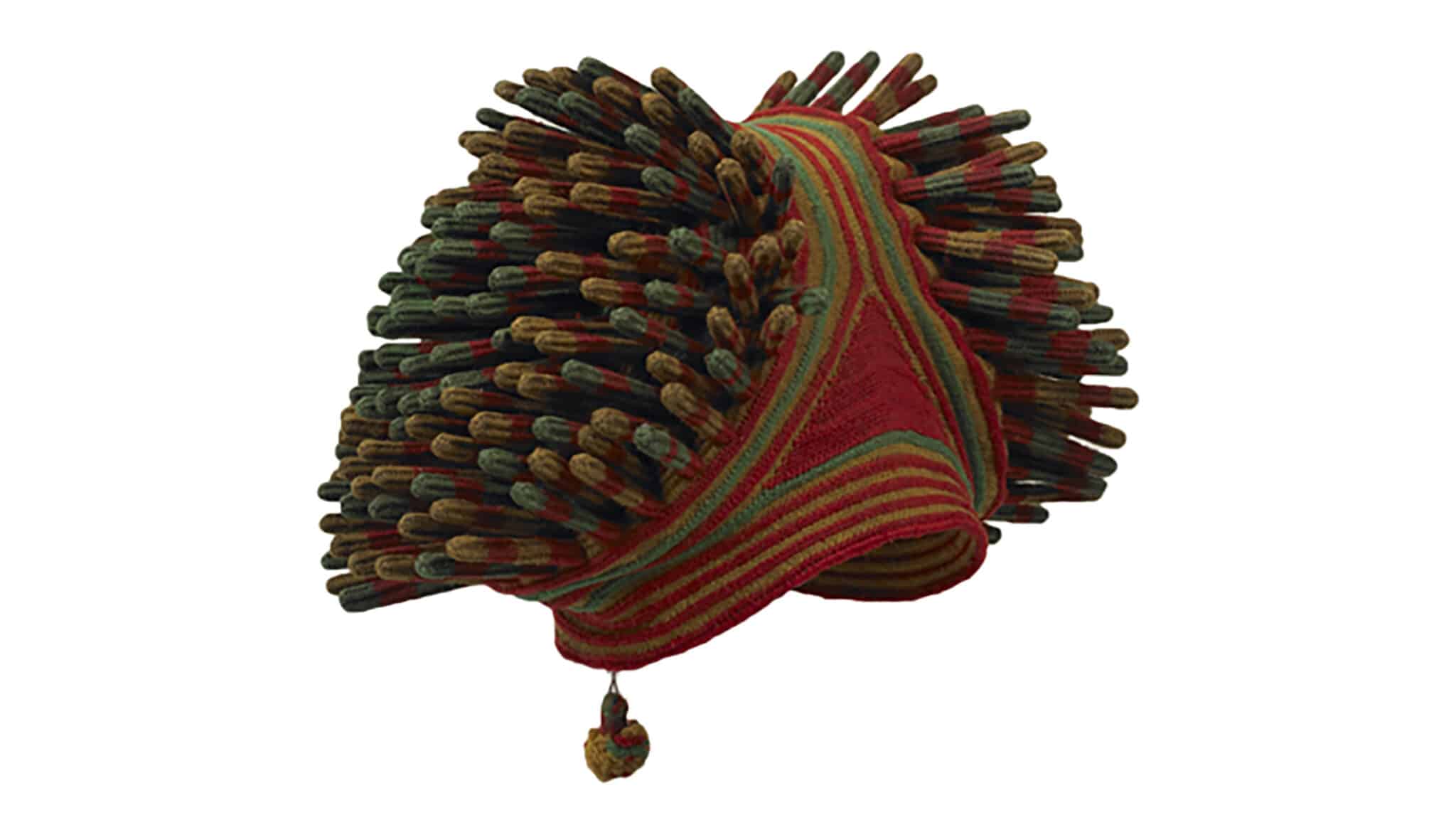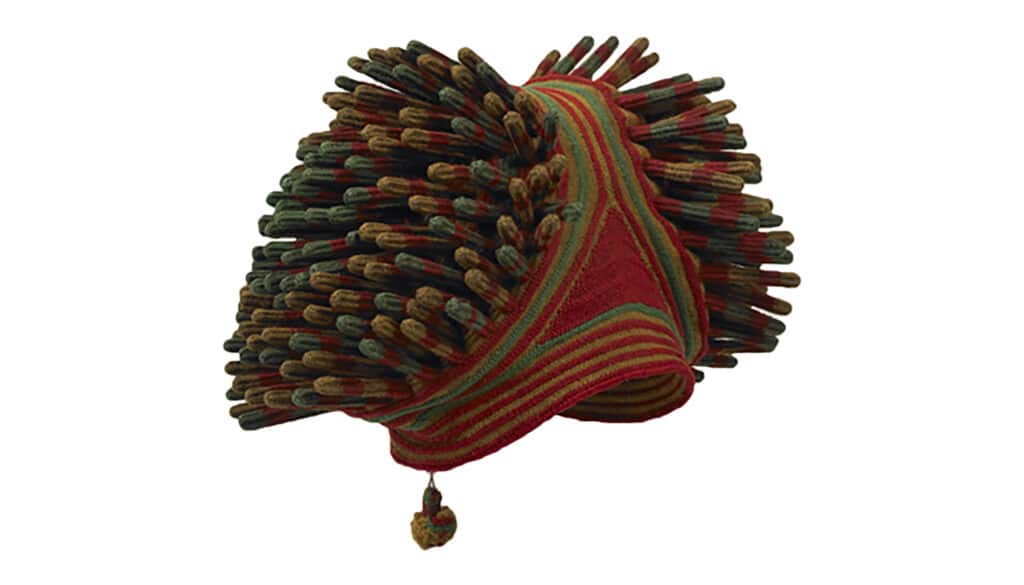 'The nature of the available local materials, such as plant fibres and dyes, defines the textile's construction'. David Adjaye, quoted from the press release of Copper Hewit's exhibition 'David Adjaye Selects'.
These woven headpieces could, in another fibre or dye, be articulated as wigs. Although, would they be upheld with the same sense of reverence? Would they inspire the language of abstraction, spirituality and engagement espoused in architectural design theory? The departure between architecture and hair becomes a point of arrival at which we can examine the means of representation as well as the meaning.
Alas, it was in the mind of artist Meschac Gaba, where this unique dynamic was explicitly drawn. Following a trip to a salon in Harlem, inspired by West African braiding techniques under the backdrop of the Manhattan skyline, he conceived a series of work entitled 'Tresses'. During a residency at the Contemporary Arts Centre in Queens, Gaba created eighteen braided hair sculptures in the image of architectural landmarks located in New York and his home nation Benin. The wigs realise Gaba's long-standing fascination with architectural vernacular, urbanisation and cityscapes. Though the landmarks vary in economic power and cultural prominence, Gaba's restructuring of the modes of representation creates equanimity between conventionally disparate and oppositional forces. His work can be understood as a mediation of notions of power and politics between the West and emergent economies of craft and culture in the developing world. He utilises the skills of the tresseur, a traditional Beninese braider, to combine two signifiers of modern culture – hair and architecture, in an absurd display of wigs. The resulting forms are largely turgid, dense patchworks of braids, fringed with loose ends skirting the face of the models. The series is documented in the chosen 'drawing', a computer print of the various wig landmarks. They recall pictures mounted on the walls of hairdressers and barbershops; imagined in a utopia for architectural dilettantes. Evoking the hedonism of the Beaux-Arts Ball of 1931, the wigs were donned by performers led by the artist in a parade through the city. This act of performance added another layer of engagement to the work.
Knotted in the audacious spectacle, is a serious examination of the politics of display and conventions of spectatorship. It embodies what Adjaye's work with textiles, shorthand here for architectural work, crucially lacks – crudity. These things are sometimes inelegant, bold and shameless. To some eyes, Gaba's work will seem like ethnic kitsch, and that would be a disservice to what we can learn about the ways of seeing architecture. The work comes to life because it engages with the fantasy of the lived experience, and dares you to look upon thousands of years of culture, and hours of craft, with ease.
Ultimately, depending on who you are, where you are from, and what you have known, you will see different things. Outside of Meschac Gaba's work, it is absurd to think the braids adorned on afro hair, as a protective style or low maintenance look for work could characterise the global landscape. This is because 'Tresses' is a drawing with no direct translation to the western architectural design approach. It is a drawing detailing the diversity of craft, perspective and imagination, where a hair is as salient as a line.
Cassandra Adjei is a multidisciplinary designer working in fashion, architecture and play.
This text was a prize winner in the long form category (1000–1500 words) of the Drawing Matter Writing Prize 2020.