ST DAVID'S CHURCH, PANTASAPH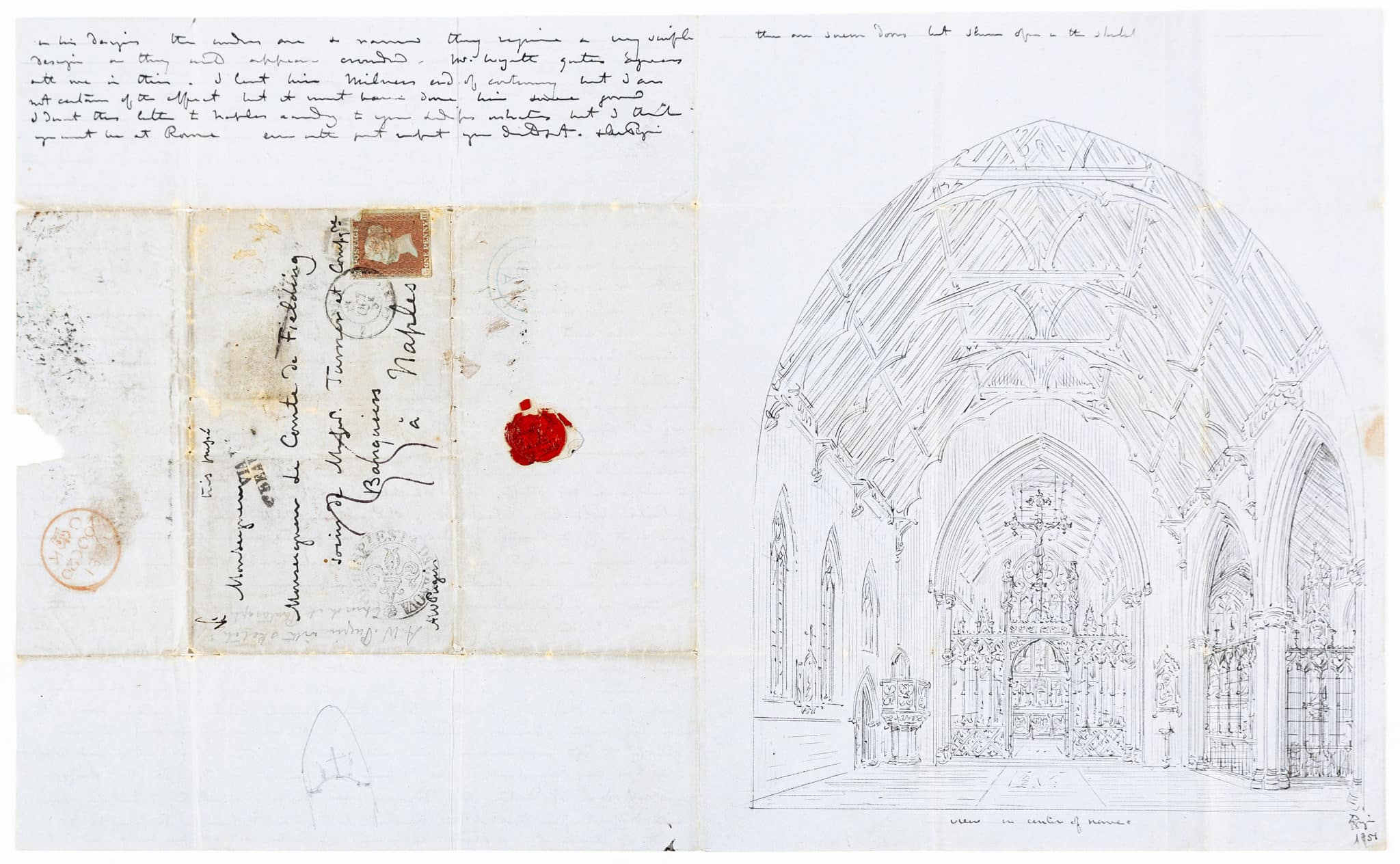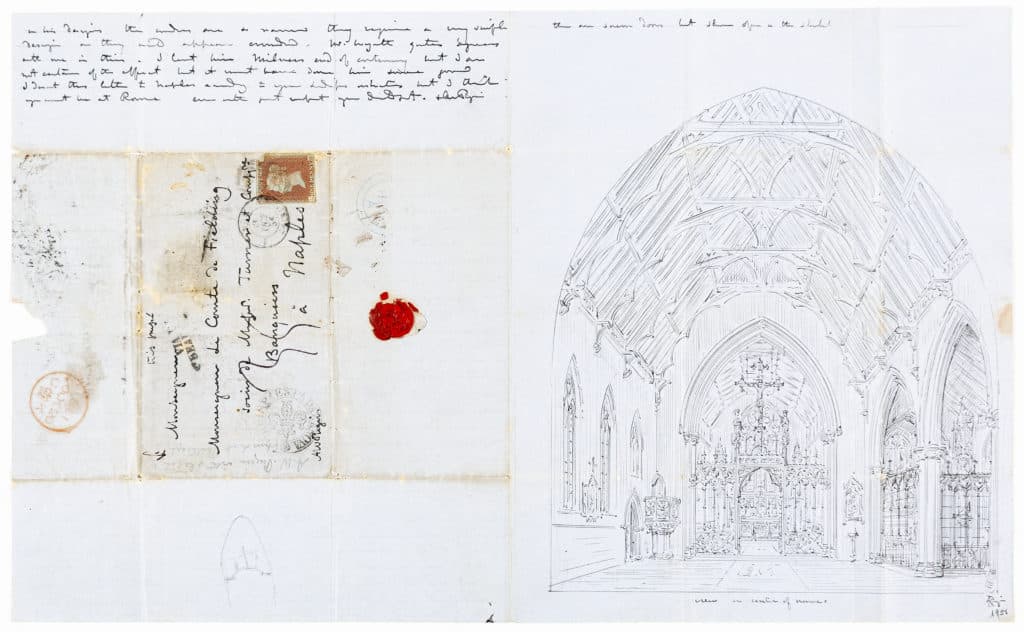 In 1846 Viscount Feilding (later 8th Earl of Denbigh) married Louisa Pennant. She was the great-granddaughter of the topographer Thomas Pennant, and inherited his house, Downing Hall, in Flintshire. They decided to build a church to celebrate their marriage. The architect was Thomas Henry Wyatt (who also added to Downing). Building began in 1849, but in the next year the donors converted to Roman Catholicism, and they decided that the church should do the same. The Bishop of St Asaph contested this in court, without success, but Anglican indignation resulted in Wyatt being commissioned to build two new churches, at Brynford and Gorsedd (neither as fine as Pantasaph).
A. W. N. Pugin was brought in to give the church a 'Catholic finish'. In August 1851 Lord Feilding wrote to him from Ischia, asking what the cost of the fittings would be. He had heard that 'the high altar, crucifix and candlesticks' had been shown at the Great Exhibition. Wyatt was still involved, and stained glass designs by Antoine Lusson were in his possession. This letter is Pugin's reply, dated the 28th of August 28. He writes that 'the altars, the image of the Blessed Virgin, and the niche for the same' are in the Medieval Court at the Exhibition, and that they are 'the finest works we have produced in stone carving'. The font, pulpit and screens are 'in a forward state', the tiles will soon arrive, and three stone-carvers are at work. He had already sent the estimate for the fittings to Lord Feilding, and would go to see Lusson's designs. The drawing shows the interior of the church in its splendour, with rood-screen, screens to the chapel at the east end of the south aisle, pulpit, and statue in niche.
Pugin points out that the vicarage built by Wyatt would not be large enough for a religious community. Lord Feilding hoped that 'reformed Benedictines' would come, but in 1852 Capuchin Franciscans arrived. They made changes to Pugin's work, replacing the high altar with a new one by A. E. Purdie in 1893,  removing the rood-screen and pulpit, and dismantling the chapel screens. The chapel reredos, statues on either side of the east window, and font survive. The Franciscans built a Friary in 1856–65, to the design of Benjamin Bucknall, and the vicarage became the guest wing.
The Franciscan retreat centre closed in 2017, but the Friars continue to serve the parish.
Pugin's letter is printed in Margaret Belcher, The Collected Letters of A.W.N. Pugin , Vol. 5 (Oxford, 2015), pp. 327–331. She also prints Lord Feilding's letter, as does Rosemary Hill, 'A. W. N. Pugin and Viscount Feilding', True Principles 3 (2008), pp. 25–31. For Pantasaph see Edward Hubbard, The Buildings of Wales: Clwyd (London, 1994), pp. 414–5.