Stanley Peach: Church Plan based on the Figure of Christ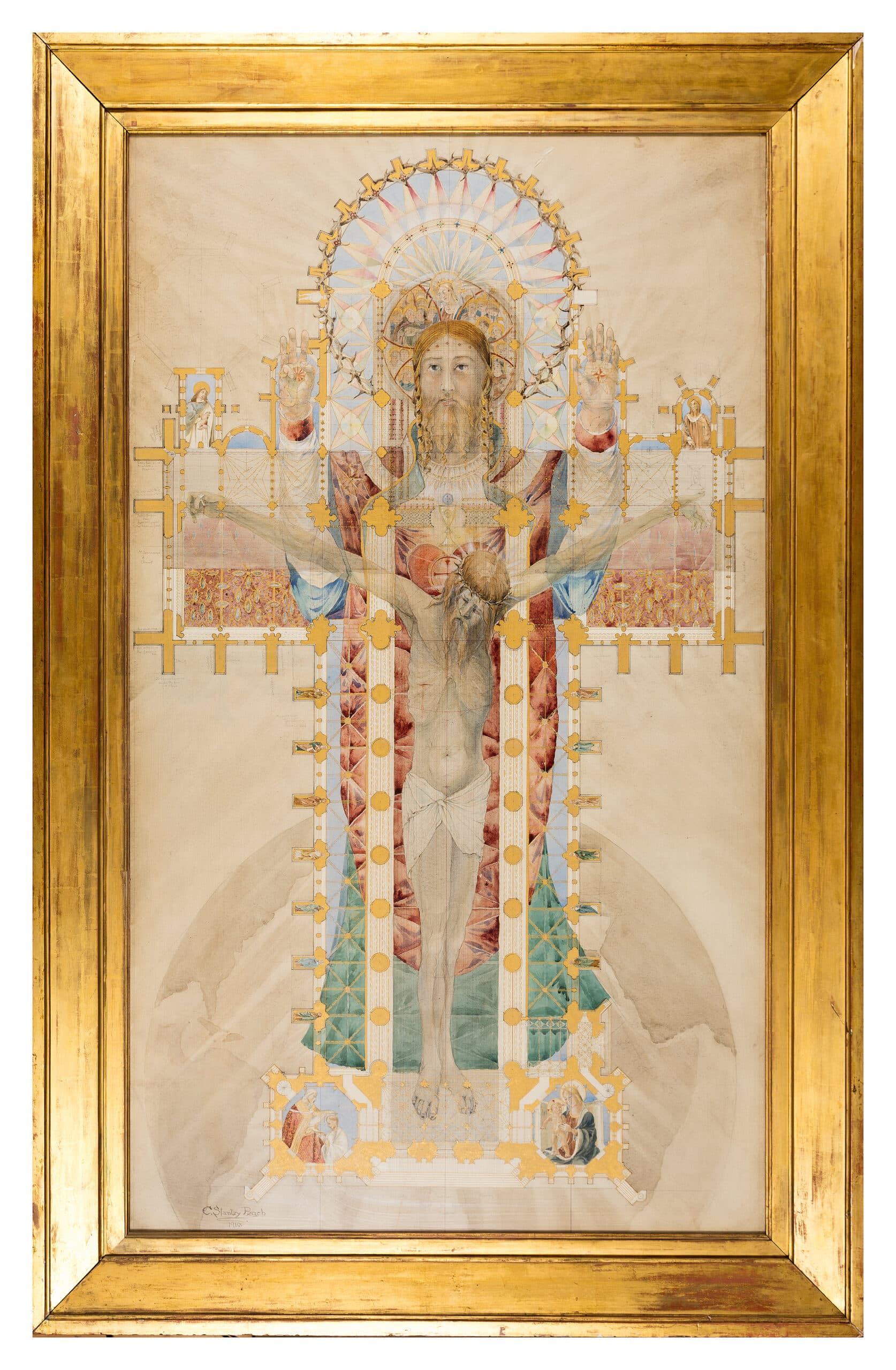 Charles Stanley Peach's watercolour over pencil painting is executed by overlaying two forms of religious representation: figural images over a church plan reflecting a ceiling plan. The figurative depictions narrate accounts of Christianity through various portrayals of Christ; the most prominent being God, benevolent, and Jesus crucified. Other portraits of Christ either teaching or in the arms of his mother can be found surrounding these larger, sacred images. The literalness of the figurative images contrasts with the plan's abstraction. The blueprint is a spatial translation of a Christian's journey through life, where the sequence of the building embodies the transition from the secular world to heaven by virtue of architectural language.
A reciprocal relationship exists between the plan and the paintings of Christ. The layout is a literal rendition of Jesus's crucifixion. The liturgical depictions are the structural organisers, and the poché interacts with the biblical images to activate their narratives. For instance, the placement and shape of the columns align with Jesus's nailing to the cross, acting as the nails in the crucifixion. The sanctuary, the holiest space in the church and placed at the furthermost end, is an architectural image of heaven. The material that defines the sanctuary in the plan also designates Christ's halo in the drawing. The halo represents the radiance of divine light emanating from the face of the heavenly and signifies the space it saturates.
The Passion of Christ, the central aspect of Christian theology, is the biblical concept epitomised in Peach's design. The heart of the plan, where the transept and nave intersect and the altar is situated, is where the eucharist takes place as a continuation independent of the time and space of Christ's sacrifice. Spatially, the altar coincides with the painted illustration of Christ's sacred heart, a symbol of God's boundless love.
Christ's image can also be read as a fresco on the ceiling, an allegory of God in heaven. And the use of gold leaf in the poché suggests that the building's materiality is divine.
Originally from Caracas, Mireya is an architectural designer with a B.Arch from the Cooper Union.
This text was entered into the 2020 Drawing Matter Writing Prize. Click here to read the winning texts and more writing that was particularly enjoyed by the prize judges.