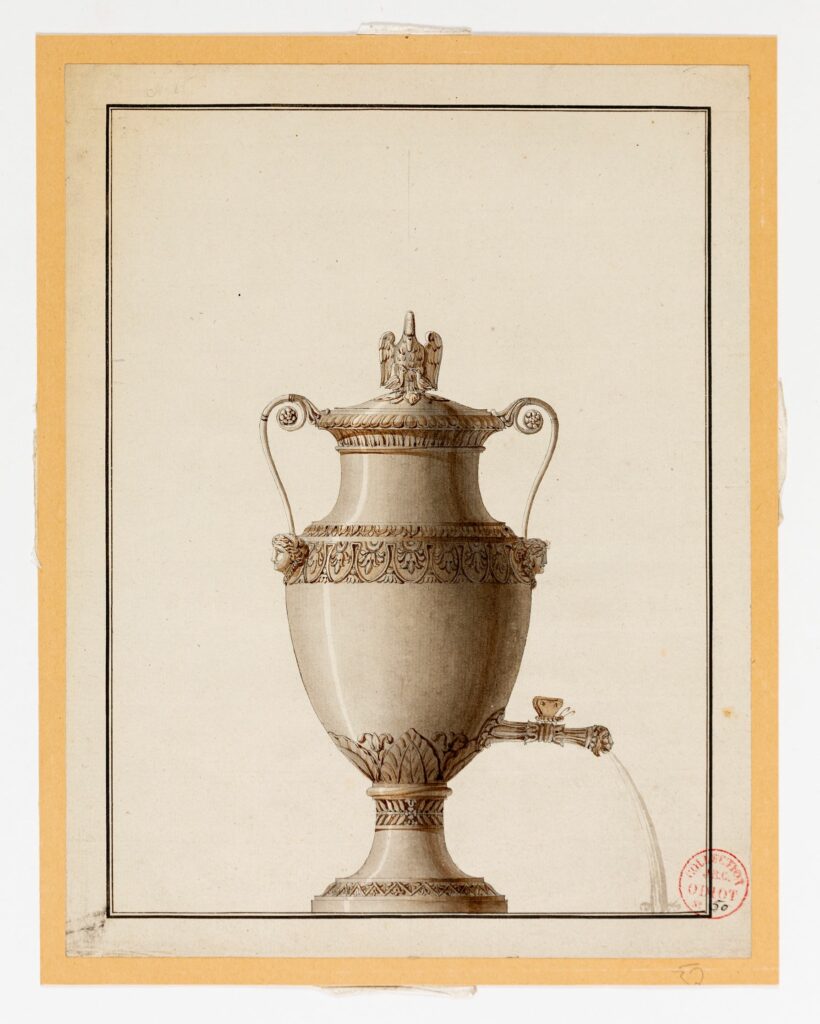 Design for a Samovar
The drawing is preparatory for the samovar in silver-gilt, eventually executed in 1808 by Henry Auguste for Queen Hortense (Les Grands Orfevres de Louis XIII a Charles X, Paris 1965, p. 273). The piece bears the marks of the years 1795–8, and 1798–1809. The design was carefully followed in execution, except that the winged butterflies on the taps were replaced by bees.
Percier made designs for Auguste, and Martin-Guillaume Biennais (1764–1843), goldsmith to Napoleon I. The drawing remained with Auguste until 1810 and then passed J.B.C. Odiot, (his studio stamp and number 58). It offers an account in microcosm of the activities of the design community surrounding the Emperor. Earlier typologies were simplified and adapted, and iconographic symbols changed to reflect endless shifts in precedence and appointments; butterflies becoming bees, eagles swans, but the body of the urn was unchanged.
Collections of drawings made by silversmiths were passed from one house to the next, as the industry shifted and consolidated; they provided both a reference for manufacture and a pattern book for the clients, and their technical refinement and success in representing an imagined original were a critical part of their utility. They were also important element in establishing a new design language for the new Europe, where the production of silverware became in itself a kind of proxy for many of the larger design schemes, and the architecture, of the Napoleonic era- for which there was never money, or time, enough.
Hortense, the daughter of the Empress Josephine and the wife of Louis Napoleon, was at the time of the commission Queen of Holland, where she had moved reluctantly in 1806 to be with her husband, at the Emperor's insistence.