– Rania Ghosn and El Hadi Jazairy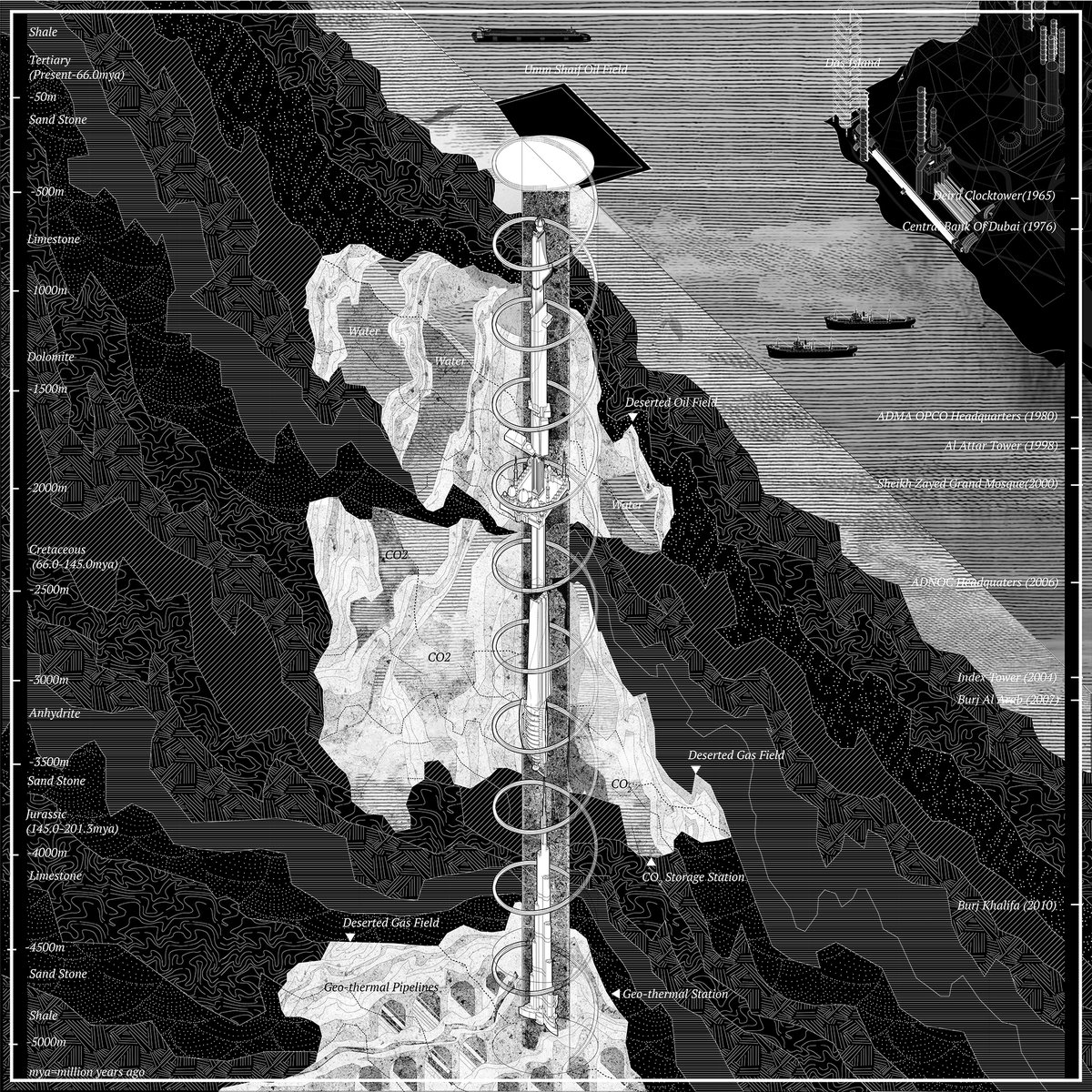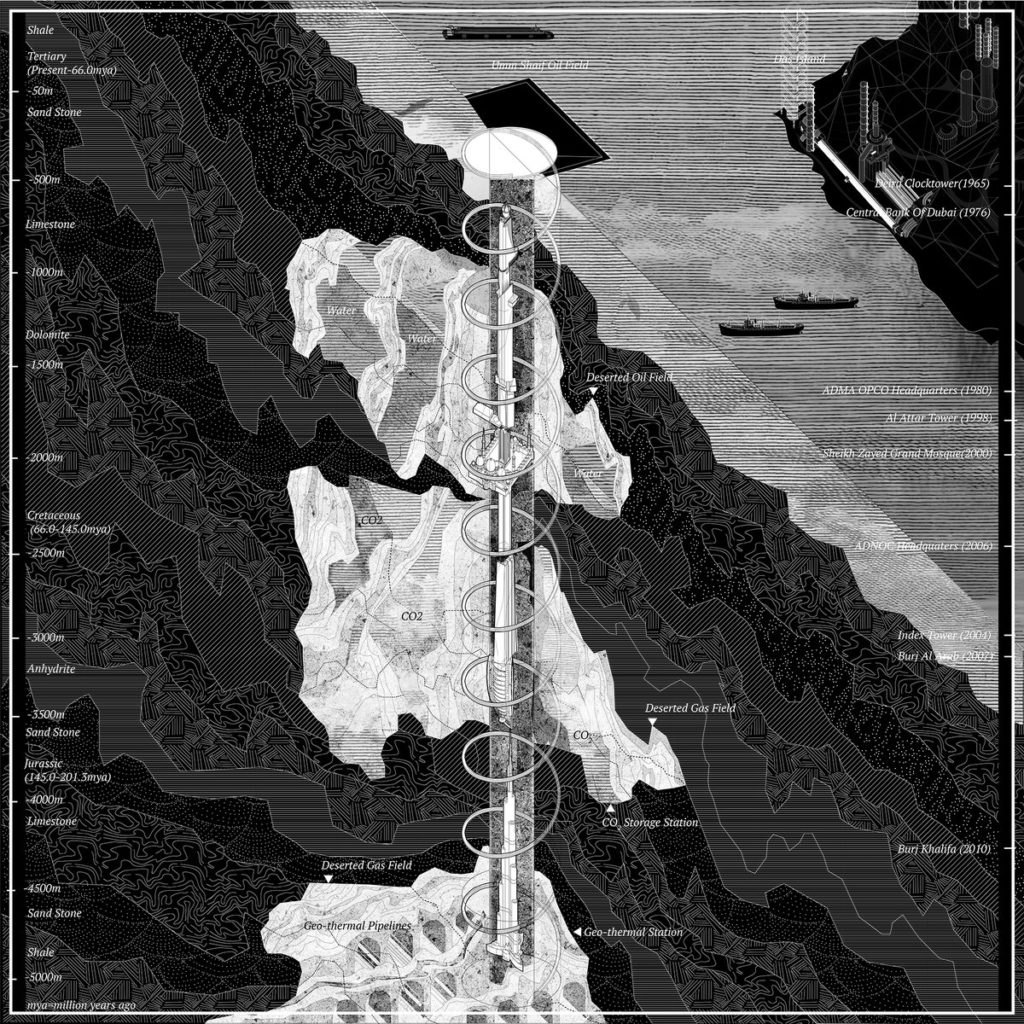 A Geology of Building Architecture
How do we make sense of the environment at a time when human beings have declared themselves geologic agents? Design Earth proposes aesthetic forms of environmental engagement, using architectural drawing to synthesise sciences and scales of knowledge on complex techno-environmental issues. The drawing illustrates thus the ways architectural and urban systems change the Earth, and speculates on forms of living with legacy technologies, such as oil fields, on a damaged planet. After Oil, our contribution to the 2016 Venice Biennial Kuwait Pavilion, reveals the embeddedness of the fossil fuel extractive industry in the Persian Gulf and imagines the far-ranging effects of an economic relationship that only considers the exchange value of the Earth.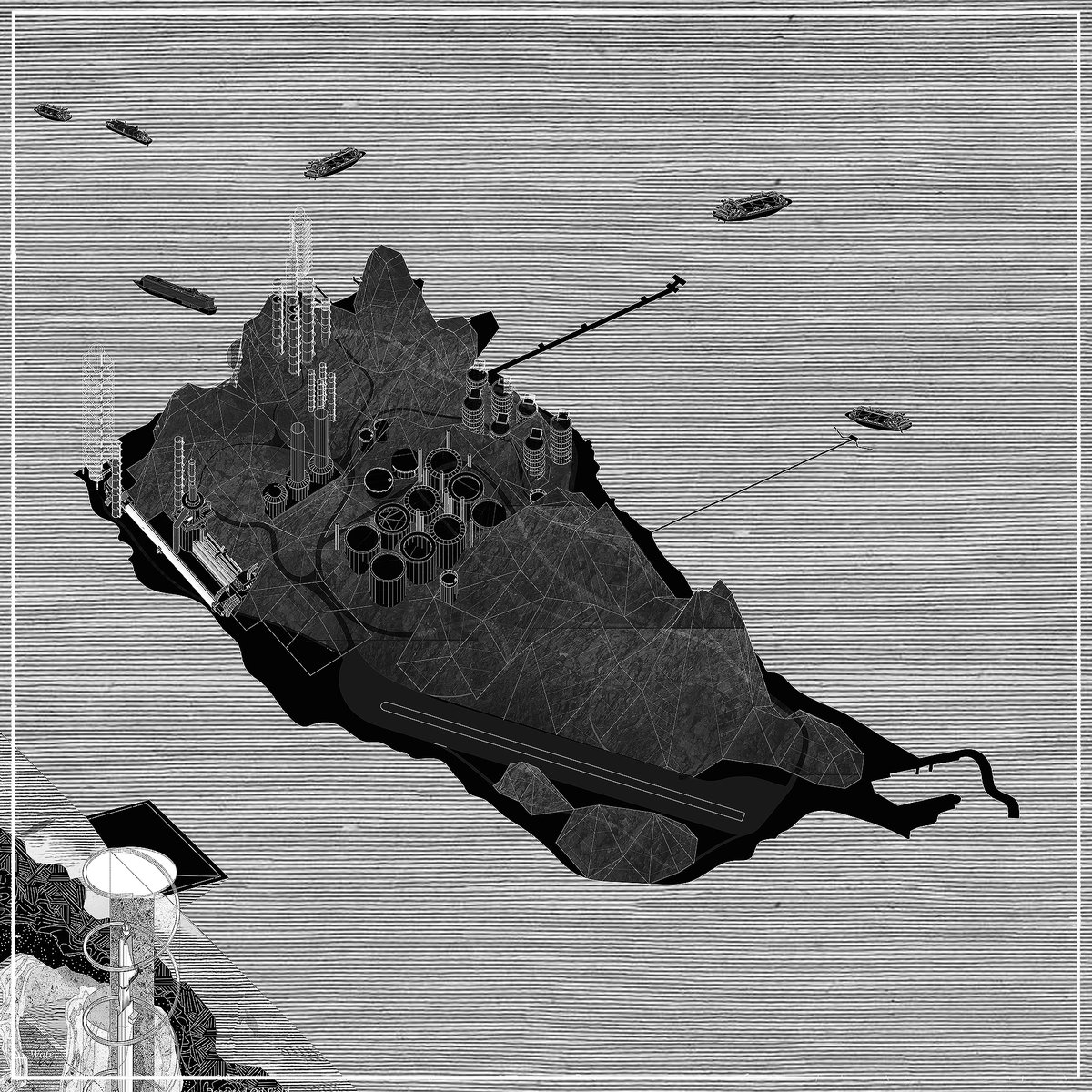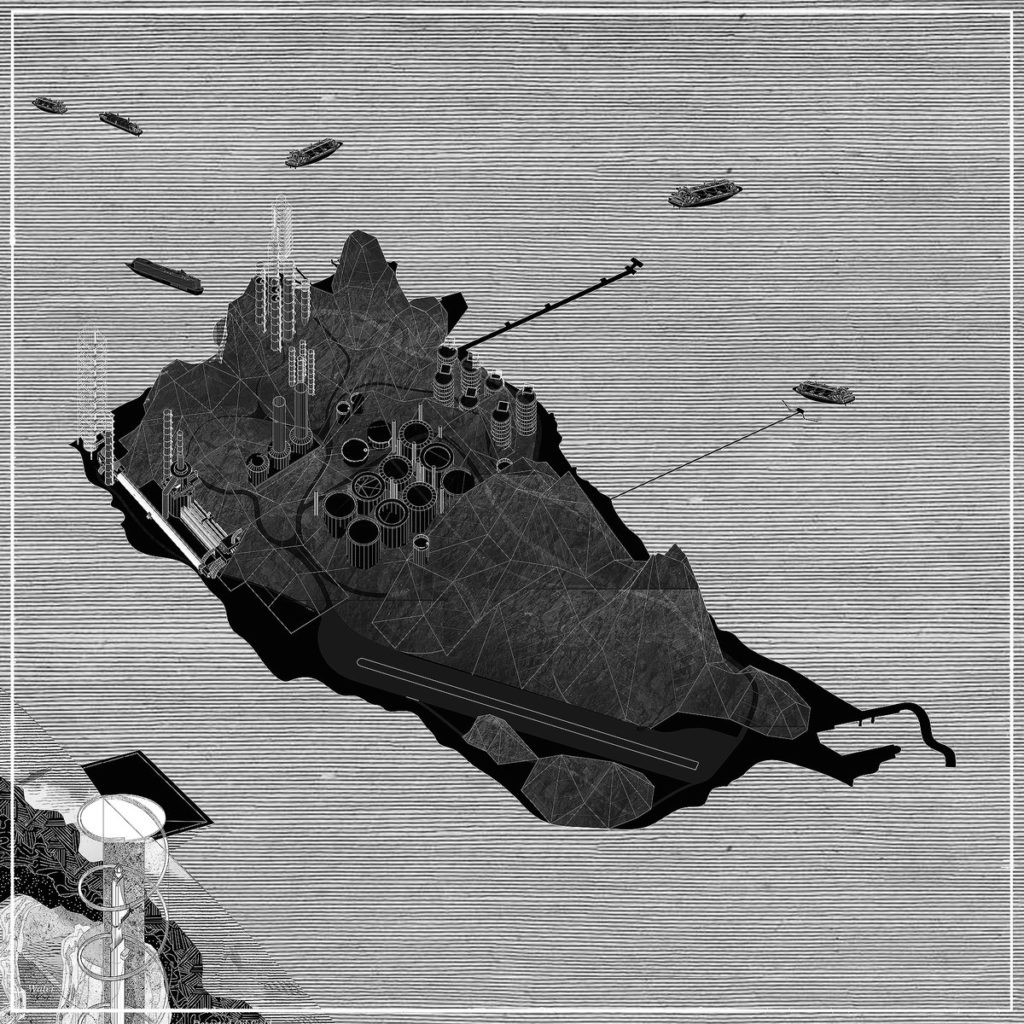 'Das Island, Das Crude' is one of three projects in the After Oil series. It extrapolates issues relevant to geographies of extraction at the site of Das Island, a major Emirati offshore oil and gas industrial facility. Since the first expeditions in 1953, the island has financed the urbanisation of Dubai and Abu Dhabi, with many of the country's iconic buildings being built from oil wealth. Although such resources are central to the urbanisation of the surface, the prevalent city-centric framing of urbanism relies on the abstraction – the 'designed' erasure – of such technological geographies, which are out of sight and external to urban representation.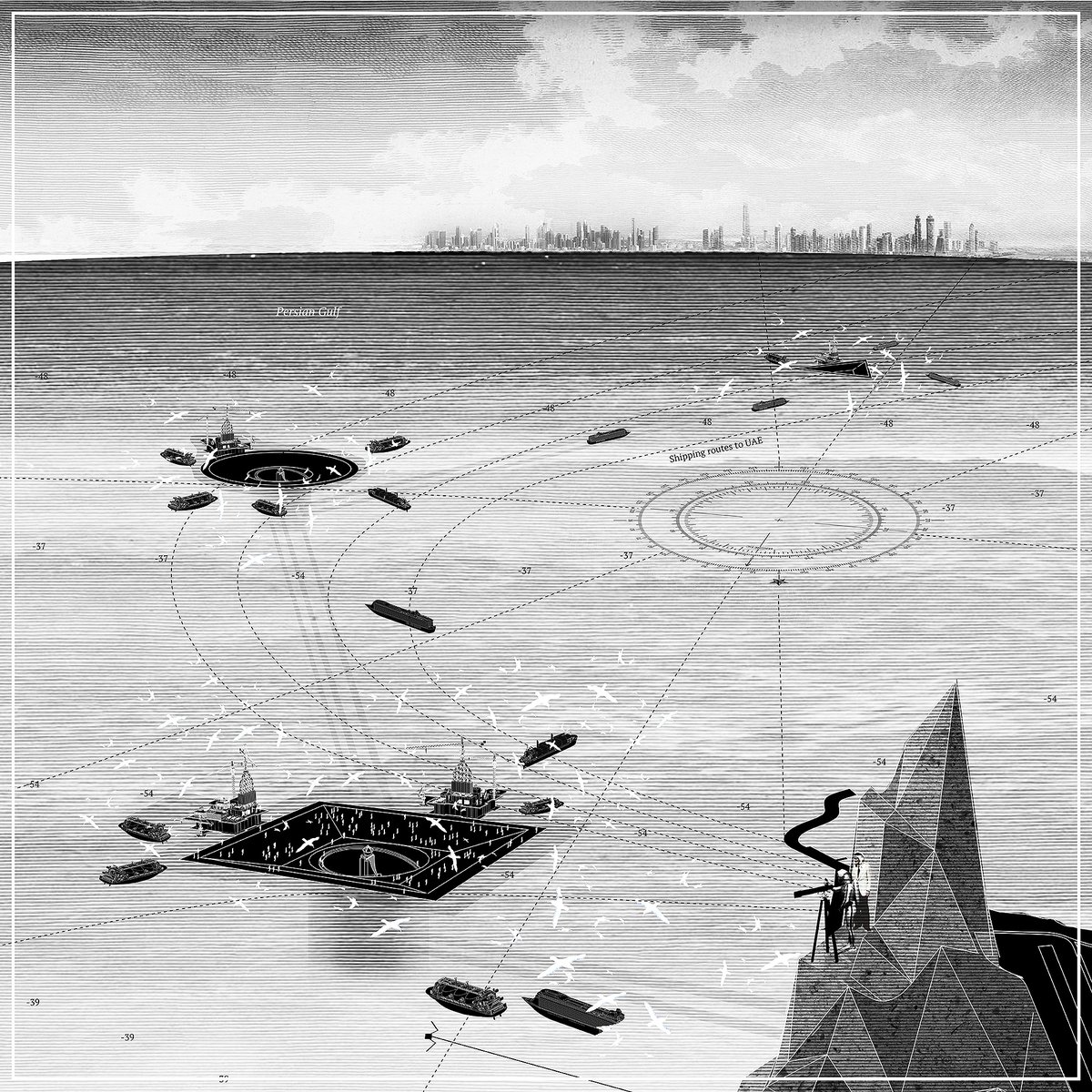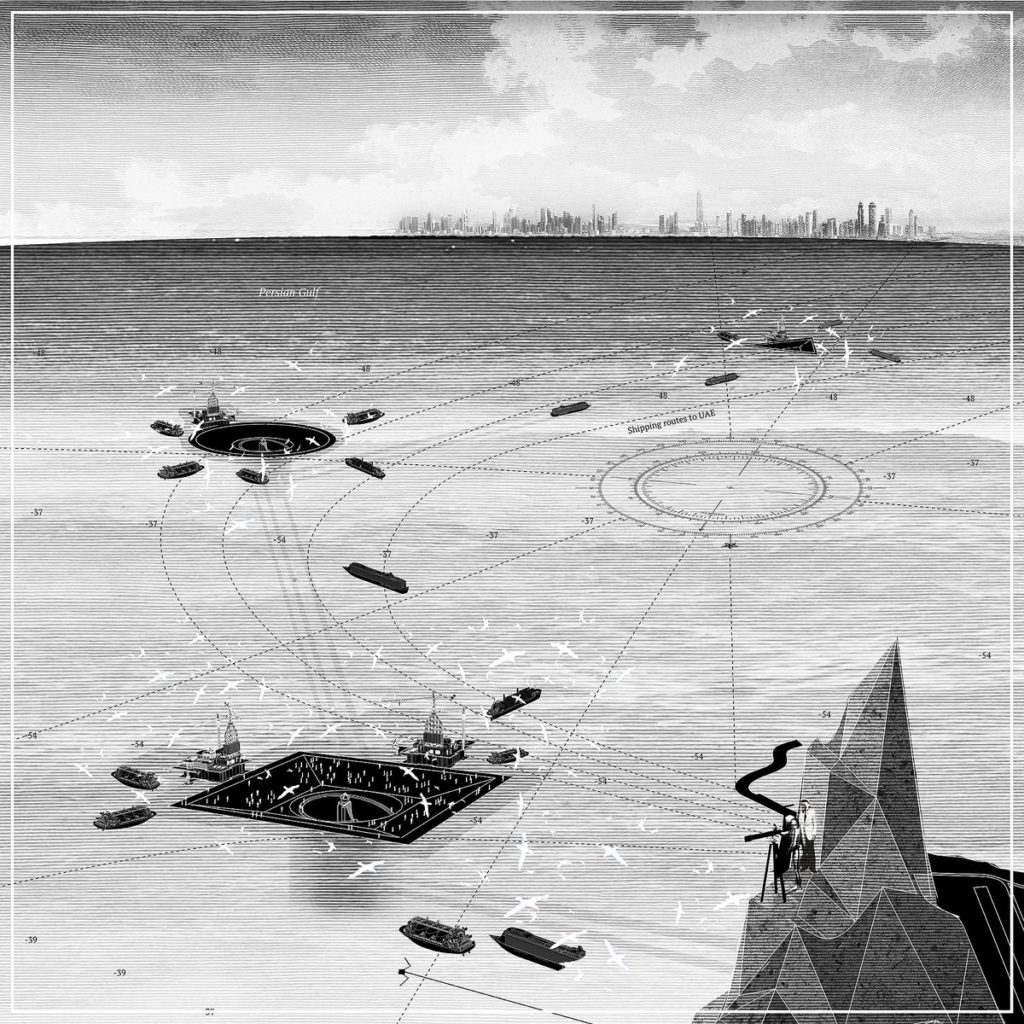 In response, Design Earth draws together the architectural and geological dimensions, to frame the urban transformations of Dubai and Abu Dhabi as fragments of narratives about the thickness of the Earth's crust. The sectional depiction of the territory illustrates the displacement of value in oil urbanism by situating architectural landmarks within exploited oil reservoirs. It also indexes the increasing height of these structures in relation to the depths and periods of extraction of the subterranean fields. Furthermore, accounting for all material by-products that accompany oil drilling, the project gives form to the volumes of excavated soil and stone. Such refuse matter is assembled into an artificial mountain, a landform monument to the age of oil.