Writing Prize 2020: Held Fast: SITE's Ghost Parking Lot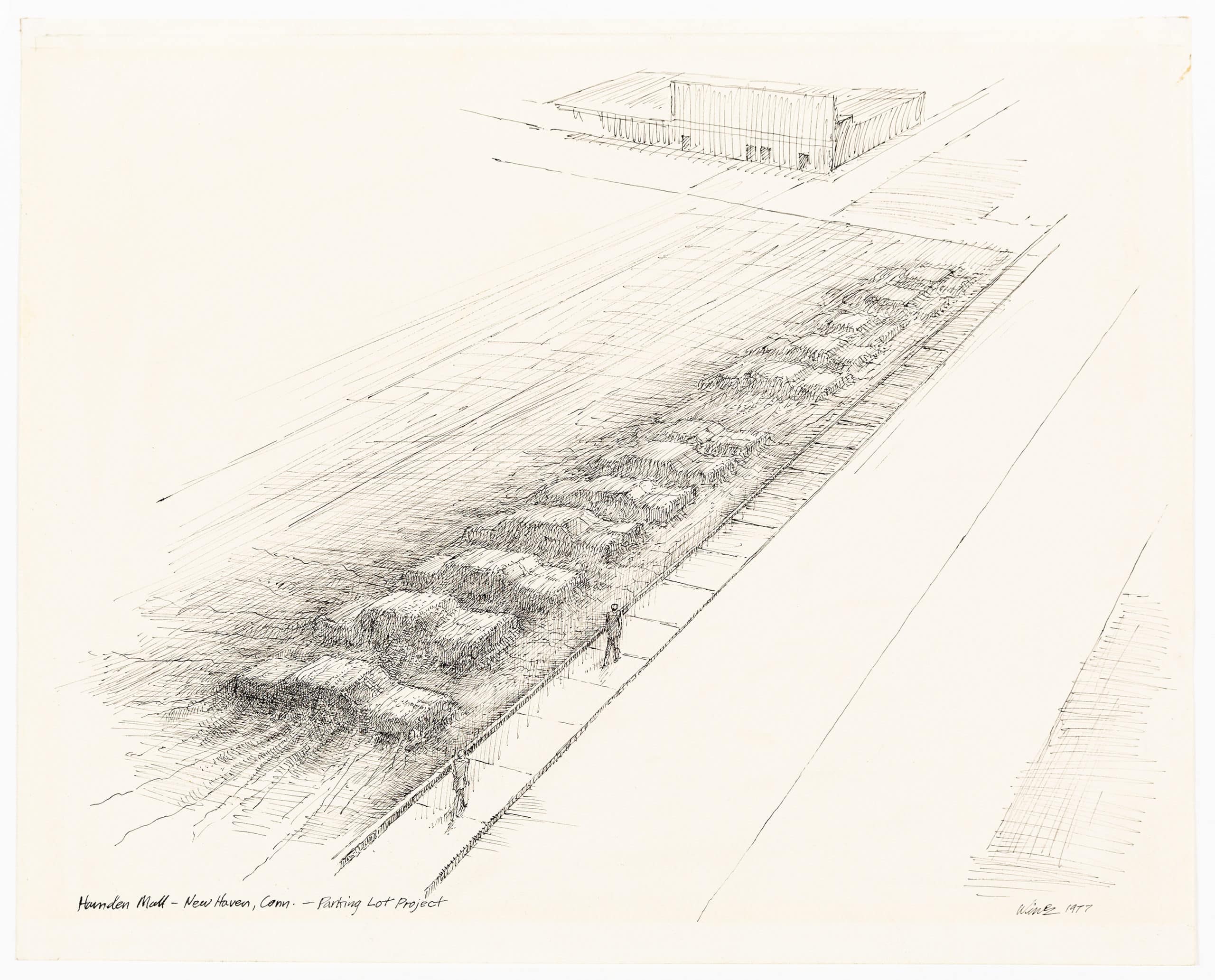 The scene might not appear unusual at first: cars are parked in a row near a commercial building with pedestrians passing on a sidewalk. On closer examination, though, the edges of the finely crosshatched cars appear softer than those of the building and roads. The cars seem to be draped in a kind of continuous cloth, like the ones that cover furniture or boats in off seasons. Even more unusually, the cars seem not to rest upon but rather to sink into the surface of the parking lot. The surface slopes upward around the cars, becoming the cloth that covers them. It looks thicker in some places, like a fishing net, as though to tether the cars to the ground.
In photographs of the 1977 Connecticut project, the opaque, thickened cars retain some of their boxiness and appear cartoonishly heavy with the coat of asphalt. By contrast, in the drawing, they seem lighter and almost translucent, veiled—ghostly. The drawn cars leave the substance of their surroundings uncertain as they lift up the parking lot, as if the ground is emanating from them yet unraveled by them. In this sense, the drawing conveys more of the process of the project than photographs can. The cars were reinforced and sandblasted in preparation for the asphalt coating: simplified and exaggerated in a process not unlike drawing.
Studying the drawing makes the photographs register differently, suggesting a delicacy in the asphalt coating as compared to the flat surfaces of the road and sidewalk. The drawing also prompts a reconsideration of the way elements with varying capacities for movement—not just cars but also people, plants, buildings and roads—tend to be drawn. The realised project is like a performance of drawing not only in its transformation of the cars but also in its slowing and abstraction of moving things relative to each other. The project was removed in 2003 to allow for more parking, which makes the drawing seem even more powerful: more the project and more ghostly, as though foreshadowing the disuse of shopping malls and eventually, even cars.
Anna Renken holds an MArch from Princeton and currently does research and editorial work in architecture.
This text was a prize winner in the short form category (≤ 350 words) of the Drawing Matter Writing Prize 2020.