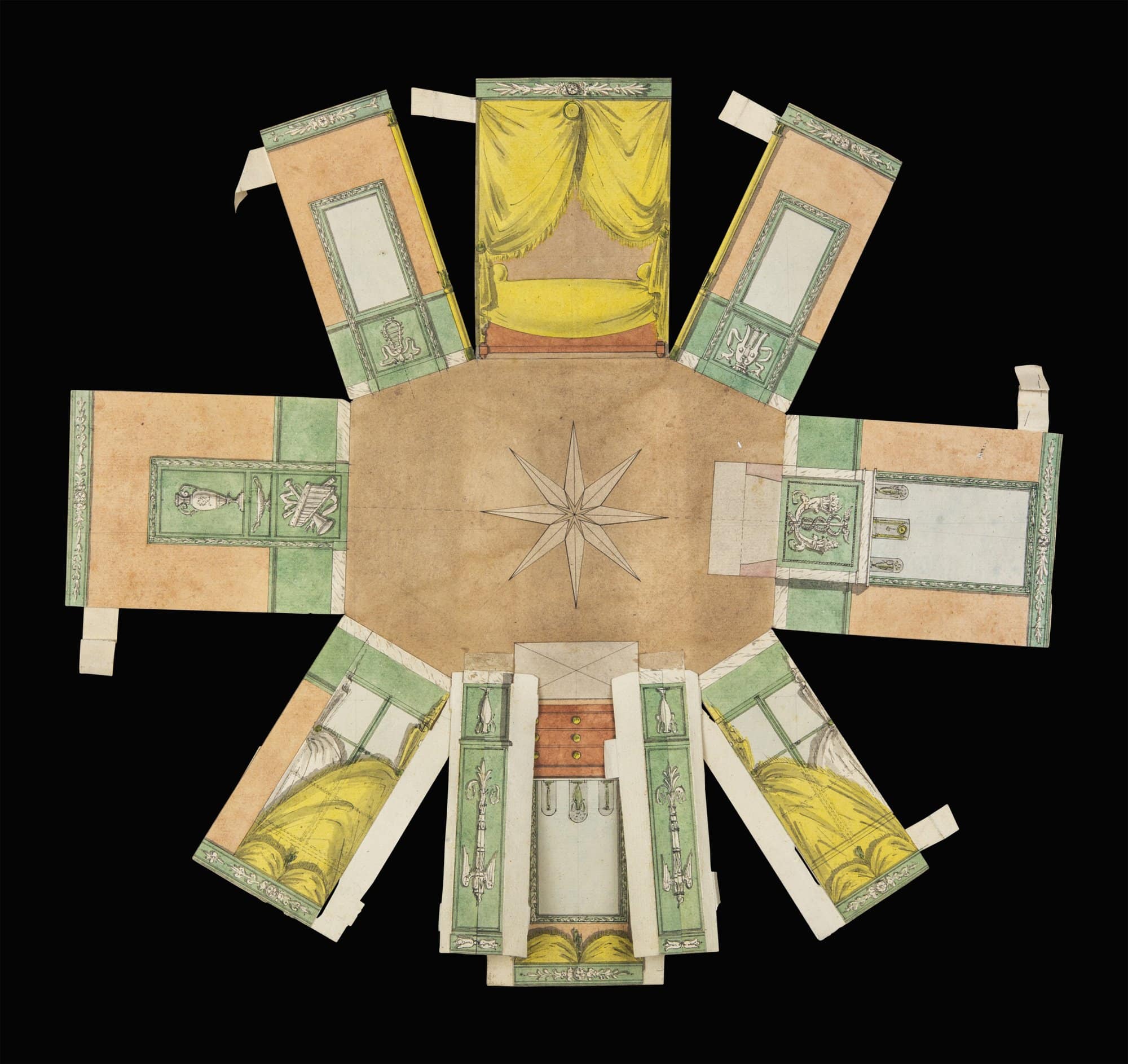 Republished to celebrate the release of Architecture through Drawing, edited by Desley Luscombe, Helen Thomas and Niall Hobhouse, published by Lund Humphries. Order your copy through our webshop or purchase directly from the publisher.
The square and compass have long been architecture's symbols of the trade, but practitioners sometimes used scissors to shape space. French architect Pierre-François-Léonard Fontaine made this cut-out paper model of an interior in or before 1804, the year in which his famous client, Napoleon, became emperor. It represents a simply decorated room coloured in shades of apricot and light green. Eight strips of paper (one with two flanking side strips) splay outwards like tentacles from the points of a star drawn on the wooden octagonal floor. When raised vertically, each strip shows a portion of the inside walls. The doorway is decorated with white stucco ornaments of vases and musical instruments. On the opposite strip is the fireplace and mantel, above which a large mirror is stationed behind a gilt-bronze clock and two vases under glass jars. On a cross axis to the entryway, an alcove with a bed covered in yellow silk is set between two mirrors. These reflect the view of two windows, just opposite, dressed with yellow drapes. Between the windows, a commode is tightly wedged between two green panels decorated with winged torches and vases. Described as a music salon because of the instruments on the wall, this unusually shaped space more probably represents a small cabinet or bedroom (beds were not a common feature of music salons). Paper models are rare among Fontaine's oeuvre. Though he designed many interiors for the elite of post-revolutionary France with his inseparable partner Charles Percier, interior projections and perspectival views were his forte. His views featured in their most famous publication, Recueil de decorations intérieures (1801–12). By contrast, this coloured model appears somewhat archaic – especially if we consider Robin Evans's claim that the 'developed surface', a term he used to describe a method of representing rooms with the walls folded out as adjacent surfaces, was primarily a phenomenon of mid-18th-century Britain. Favoured by Robert Adam in his domestic commissions, the technique 'became a way of turning architecture inside-out, so that internal rather than external elevations were shown'.[1] Fontaine kitted this model out with tabs. Linked and fully folded up, the drawing shows the walls of the room forming a hermetically sealed, dollhouse-like space.
Evans used the developed surface to argue that architectural drawing, far from being conceptually autonomous, was a historically and socially porous artefact that 'makes it possible to see some things more clearly by suppressing other things: something gained, something lost. Its power to represent is always partial, always more or less abstract. It never gives, nor can it give, a total picture of a project'. [2] Fontaine's model appears to show everything necessary for reconstructing an octagonal room from Consulate France, but excised is the issue of who the room was for, and where it was located (we can guess that it was probably for someone in the First Consul's entourage).
Another glance at the model shows a pointed interest in developing colour across a range of surfaces and materials. Fontaine – often considered the serious, 'less colourful' foil to the more creative Percier – loved painting in watercolours. He did countless scenic views of the events that transpired around him during his long career. Colour, too, contained one of his greatest secrets: his love affair with Sophie Dupuis. The daughter of an autodidact architect, Dupuis moved to Paris in 1792, where she worked at her uncle's bookshop honing her talents in colouring prints. She learned from her father, just as Fontaine had learned the importance of colour at the private architecture school of Pierre Panseron. [3] When Fontaine first met Dupuis, he suggested that she apply her talents to the plates of his and Percier's first book, published in 1798: 'I proposed … to provide her with all the work she could do, in colouring the frontispieces of our work on the Palaces and houses of Rome, which sold quite well … '. [4] The colouring job sparked the affair. On 22 January 1803, she gave birth to Fontaine's illegitimate daughter, Aîmée Dupuis, who was sent away to a countryside wet nurse shortly after birth. Fontaine never officially recognised Aîmée as his daughter, and though he paid for her marriage to Simphorien Louis Meunié, he was not an official witness at the wedding.
Should we remember Fontaine as a great architect or a bad dad? Even if he did not intend this model room for his secret daughter, it ended up as her keepsake. The folded model was found in the pages of a book among the family possessions of Aîmée's daughter-in-law, Félicie Meunié d'Hostel.[5] Drawings reveal as much as they conceal. They hide as much as they show. We could think of this in terms of the representational aporia at the heart of architectural drawing: the language of building and rendering will never make ends meet. Or, to borrow playground speak, you could say that every architectural drawing is a little bit of hide-and-seek.
Notes
Evans, Robin, 'The Developed Surface: An Enquiry into the Brief Life of an Eighteenth-Century Drawing Technique', in Evans, Robin, Translations from Drawing to Building and Other Essays, Janet Evans and the Architectural Association, London, 1997, p. 203.
ibid., p. 199.
Garric, Jean-Philippe, 'À L'ombre de PierreFontaine, Sophie Dupuis ou la couleur', in Garric, Jean-Philippe, d'Orgeix, Émilie and Thibault, Estelle (eds), Le Livre et l'architecte, INHA/Mardaga, Wavre, 2011, p. 41.
ibid., p. 44.
www.artcurial.com/fr/lot-pierre-francois-leonard-fontaine-pontoise-1762-paris-1853-dessinmaquette-projet-en-trois [accessed 17 May 2019].