Studio Mumbai's Tape Drawing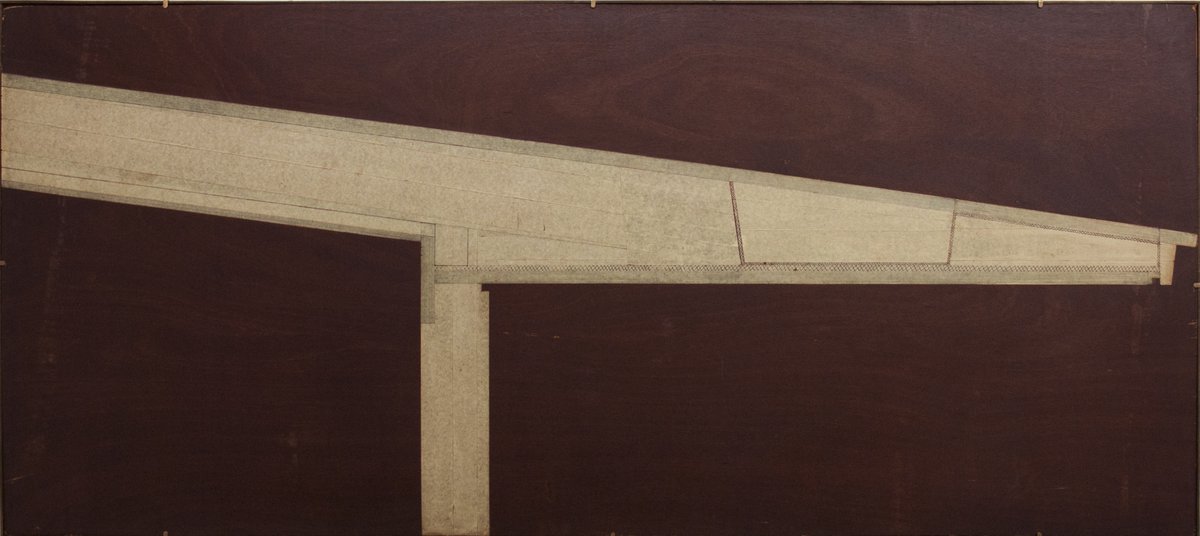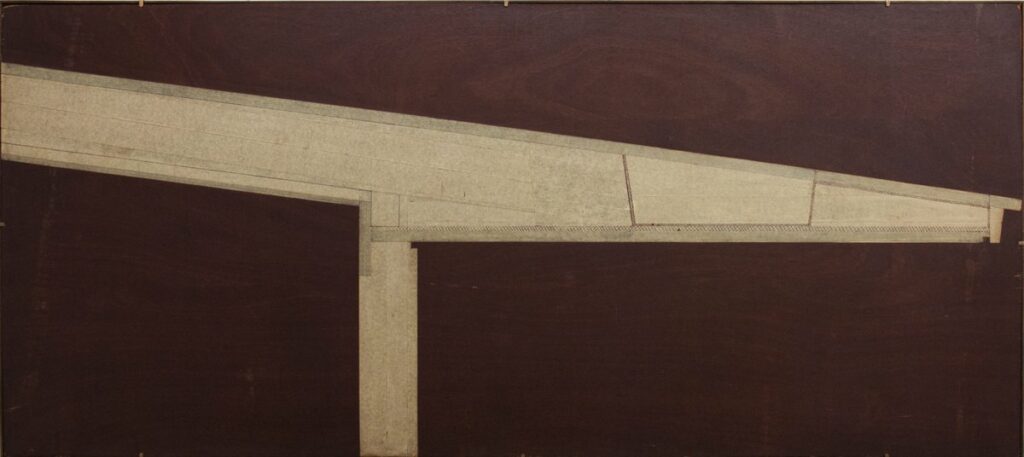 Rain falls from the sky as a five-month monsoon season sweeps across India. Often associated with abundance and blessing, rain is a sign of good prospects, particularly for Southwest Indian farmers who are dependent on rainfall for their crops.
The Saatrasta-Mahindra tape drawing embodies the term 'adapting to place', as the idea of tape on a plywood sheet stems from this rainfall and the need to find an alternative to drawings printed on paper which would often not withstand the conditions on site, as explained by architect Bijoy Jain of Studio Mumbai. Despite appearing modest at first glance, the drawing delivers a lot of information concerning the fabrication and workings of the Mahindra Unit's roof edge; namely the building components, layering of materials, and their proportion. The contrast in colours and grain of both the tape and wood, lends a tactile quality to the section, effectively combining practicality, purpose, and visual expression in a way that can be likened to woven tapestry. Interestingly, the use of line is achieved at the seams between each piece of tape, with textured block prints replacing what would usually be in-between spaces.
As the method of drawing has been influenced by site-specific conditions in the form of climate and topography, it might be suggested that opportunity has been born from limitation. Perhaps most importantly, however, the drawing represents the need to adapt and improvise – not only in the design approach but also in the methods used by design professionals when working in different contexts and with different communities. Apart from being a drawing that effectively communicates information on design detail, the Saatrasta-Mahindra tape drawing also conveys a narrative of place and process. Such drawings offer a timely reminder that not only does what we build need to be rooted in context but the way in which we design and draw too.
Irfan Safdag is an architectural designer and urban researcher currently based in London.
This text was entered into the 2020 Drawing Matter Writing Prize. Click here to read the winning texts and more writing that was particularly enjoyed by the prize judges.