The Ulysses Project: Architecture and the city through James Joyce's Dublin: Part II
This is part two of two posts pairing Freddie Phillipsons's drawings from The Ulysses Project with excerpts from James Joyce's landmark novel. The drawings are on display at the Irish Architectural Archive, Dublin, until 19 August 2022. The exhibition is part of Ulysses100, an international programme of events celebrating 100 years since the publication of the novel.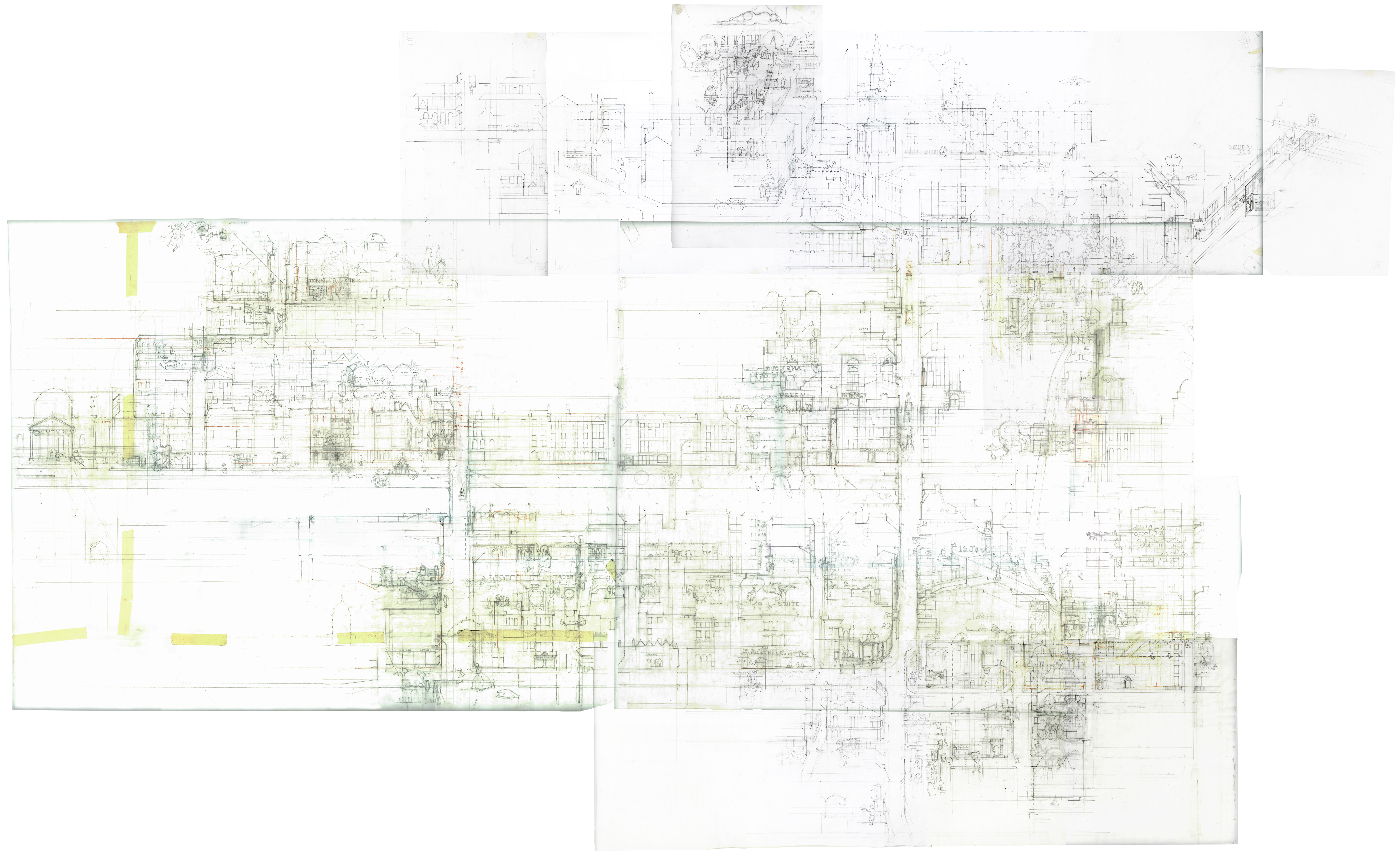 Houses, lines of houses, streets, miles of pavements, piledup bricks, stones. Changing hands. This owner, that. Landlord never dies they say. Other steps into his shoes when he gets his notice to quit. They buy the place up with gold and still they have all the gold. Swindle in it somewhere. Piled up in cities, worn away age after age. Pyramids in sand. Built on bread and onions. Slaves Chinese wall. Babylon. Big stones left. Round towers. Rest rubble, sprawling suburbs, jerrybuilt. Kerwan's mushroom houses built of breeze. Shelter, for the night.

No-one is anything.

Chapter 8, lines 485-92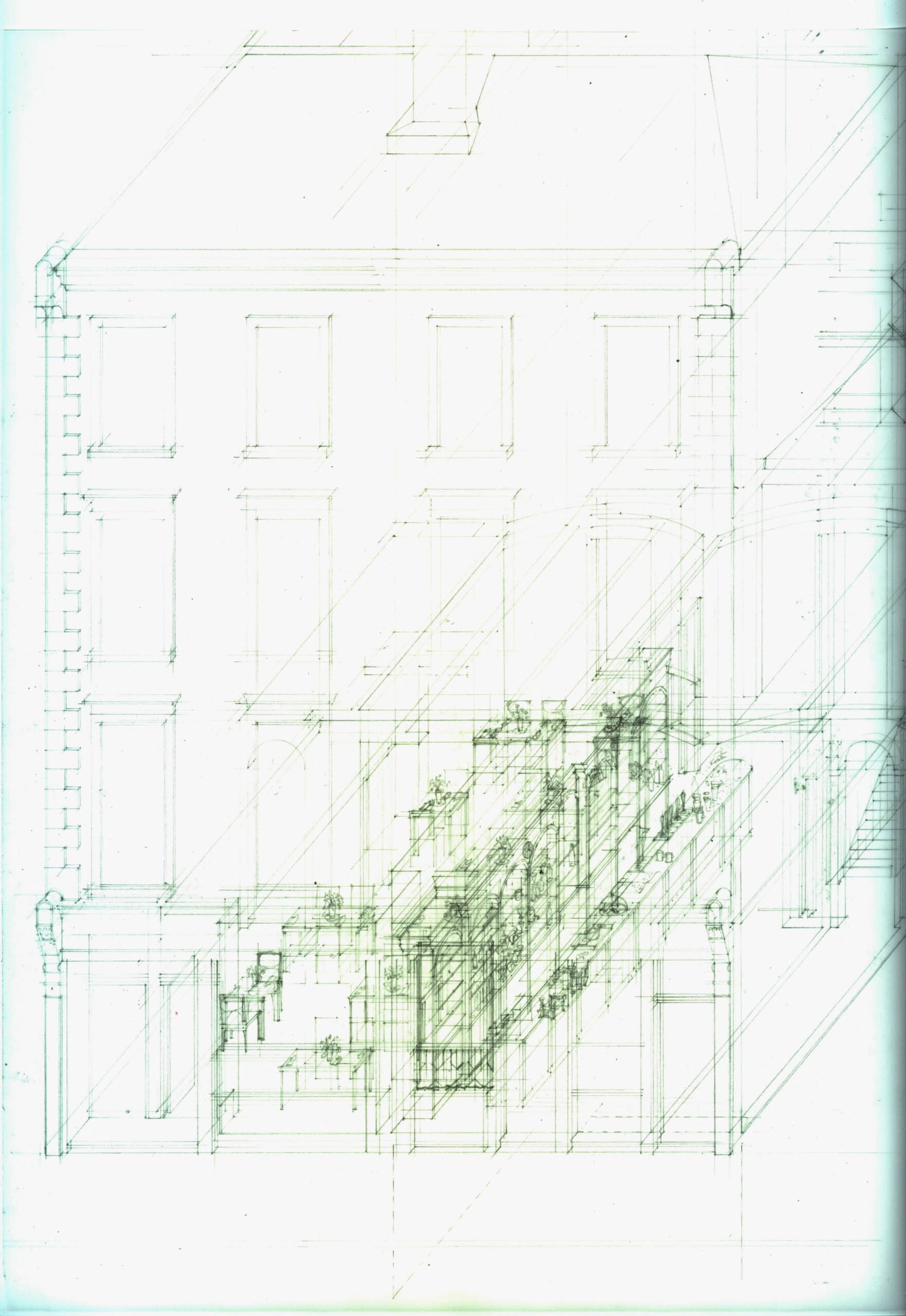 Miss Douce's brave eyes, unregarded, turned from the crossblind, smitten by sunlight. Gone. Pensive (who knows?), smitten (the smiting light) she lowered the dropblind with a sliding cord. She drew down pensive (why did he go so quick when I?) about her bronze, over the bar where bald stood by sister gold, inexquisite contrast, contrast inexquisite nonexquisite, slow cool dim seagreen sliding depth of shadow, eau de Nil.
Chapter 11, lines 460-5
What past consecutive causes, before rising preapprehended, of accumulated fatigue did Bloom, before rising, silently recapitulate?
The preparation of breakfast (burnt offering): intestinal congestion and premeditative defecation (holy of holies): the bath (rite of John): the funeral (rite of Samuel): the advertisement of Alexander Keyes (Urim and Thummim): the unsubstantial lunch (rite of Melchisedek): the visit to museum and national library (holy place): the bookhunt along Bedford row, Merchants' Arch, Wellington Quay (Simchath Torah): the music in the Ormond Hotel (Shira Shirim): the altercation with a truculent troglodyte in Bernard Kiernan's premises (holocaust): a blank period of time including a cardrive, a visit to a house of mourning, a leavetaking (wilderness): the eroticism produced by feminine exhibitionism (rite of Onan): the prolonged delivery of Mrs Mina Purefoy (heave offering): the visit to the disorderly house of Mrs Bella Cohen, 82 Tyrone street, lower, and subsequent brawl and chance medley in Beaver street (Armageddon): nocturnal perambulation to and from the cabman's shelter, Butt Bridge (atonement).
Chapter 17, lines 2042-58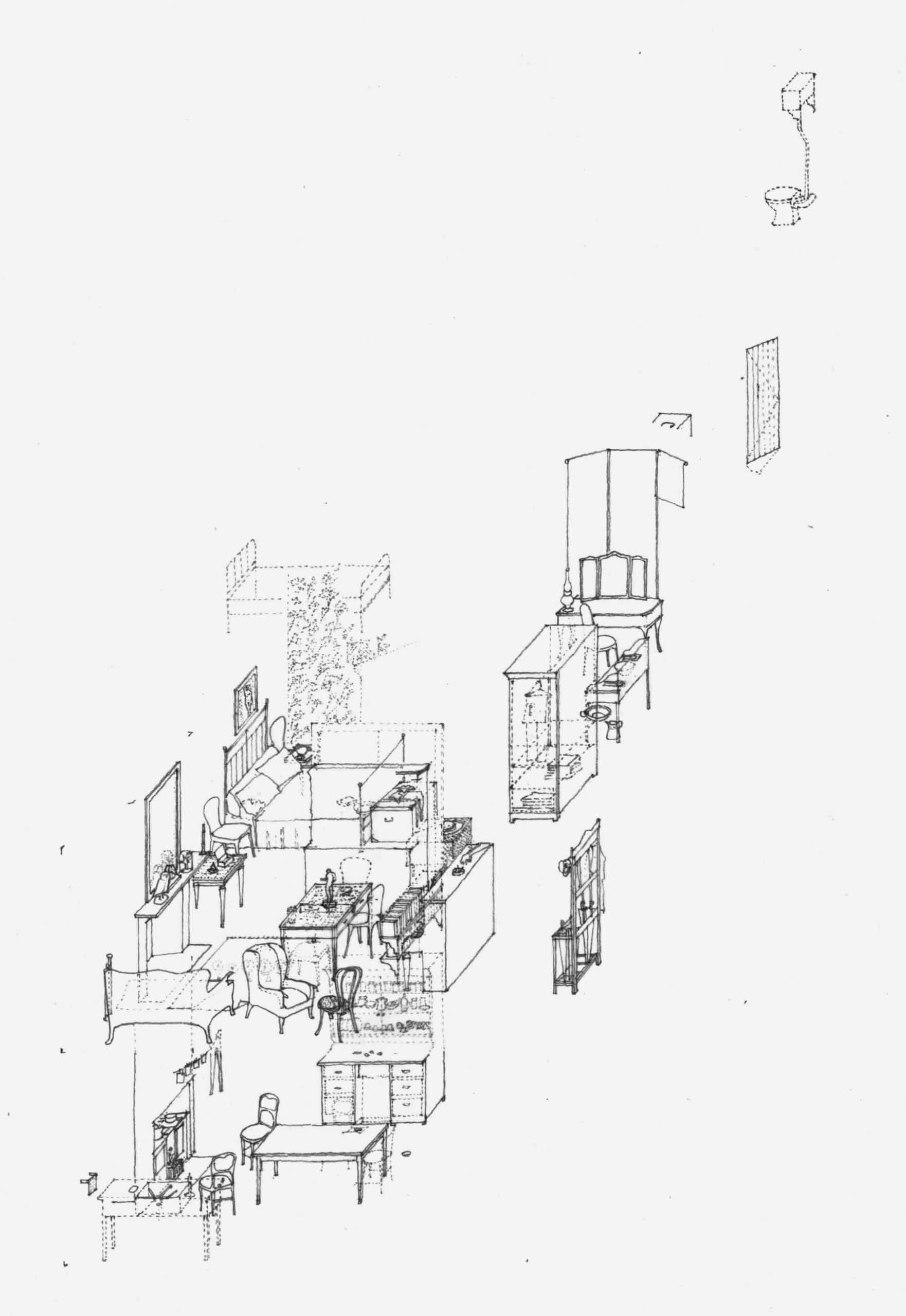 …because the smell of the sea excited me of course the sardines and the bream in Catalan bay round the back of the rock they were fine all silver in the fishermens baskets old Luigi near a hundred they said came from Genoa and the tall old chap with the earrings I dont like a man you have to climb up to to get at I suppose theyre all dead and rotten long ago besides I dont like being alone in this big barracks of a place at night I suppose Ill have to put up with it I never brought a bit of salt in even when we moved in the confusion musical academy he was going to make on the first floor drawingroom with a brassplate or Blooms private hotel he suggested go and ruin himself altogether the way his father did down in Ennis like all the things he told father he was going to do and me but I saw through him telling me all the lovely places we could go.

Chapter 18, lines 973-984
Notes
All excerpts reference The Bodley Head's 2007 reprint of the Hans Walter Gabler edition of James Joyce's Ulysses in 1986.