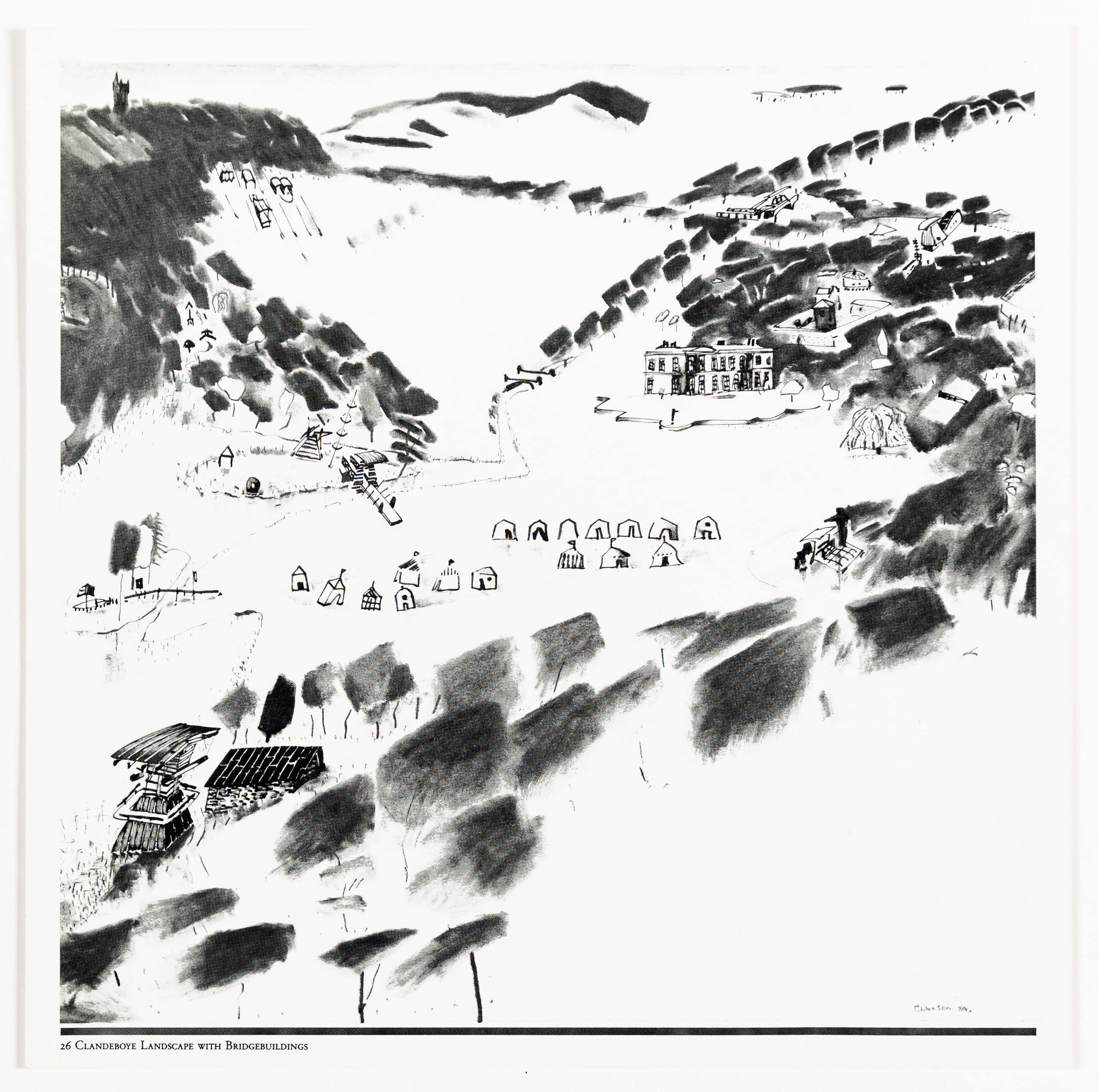 The seven Clandeboye drawings, each 35 × 35 cm and on A2 trace, were produced in 1984. The year is significant. Then the AA was busy maintaining a posture of indifference to Jenksian postmodernism, while the possibly visionary (at least in the case of architectural speculation) and certainly introspective 1970s had given way to a search for new modes of engagement with messy reality. This took on a variety of forms, either the grunge of neo-punk tropes or the new and glamorous horizon of Milan-Style, which at that moment had just evolved from 'Architettura Radicale'. Competitions (Millbank, La Villette, Münster Library) also provided access to the grand narrative of the city, or at least the reconstruction of the historic European city, then much in discussion.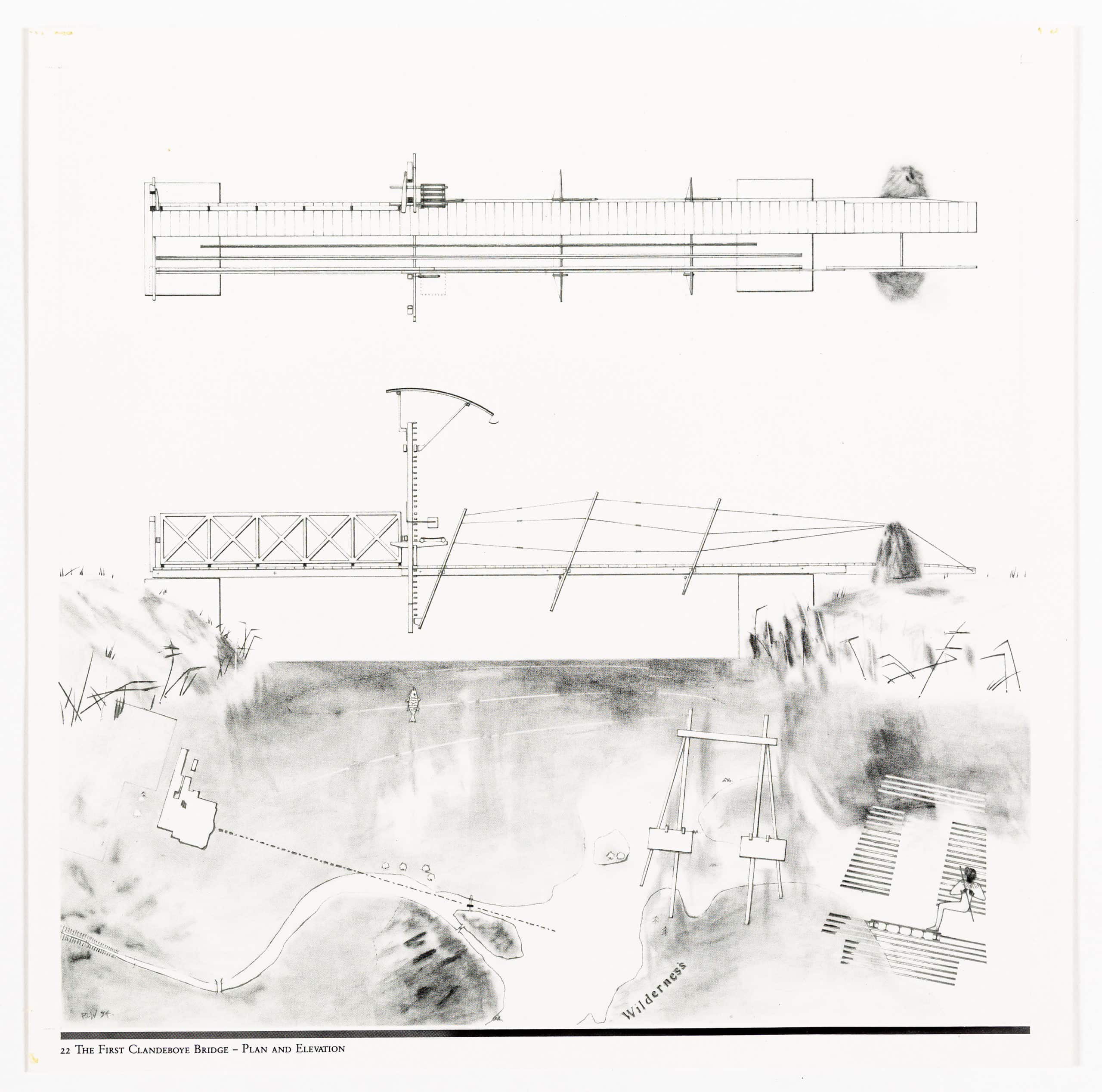 The Clandeboye works offered a quite different platform for research—that of innocent objects placed in the landscape. This time not an idealised landscape like my earlier Water House or Public Convenience drawings. In fact it was we who were innocent. I refer here to myself and my AA Diploma students who were set the task of envisaging structures (assumed to be self-authenticating) embedded in the super-green of Lord and Lady Dufferin's Northern Ireland estate. Our innocence was most extreme and most endangered as Lady Dufferin toured us in her imperial and battered Land Rover through the then troubled war zone of West Belfast.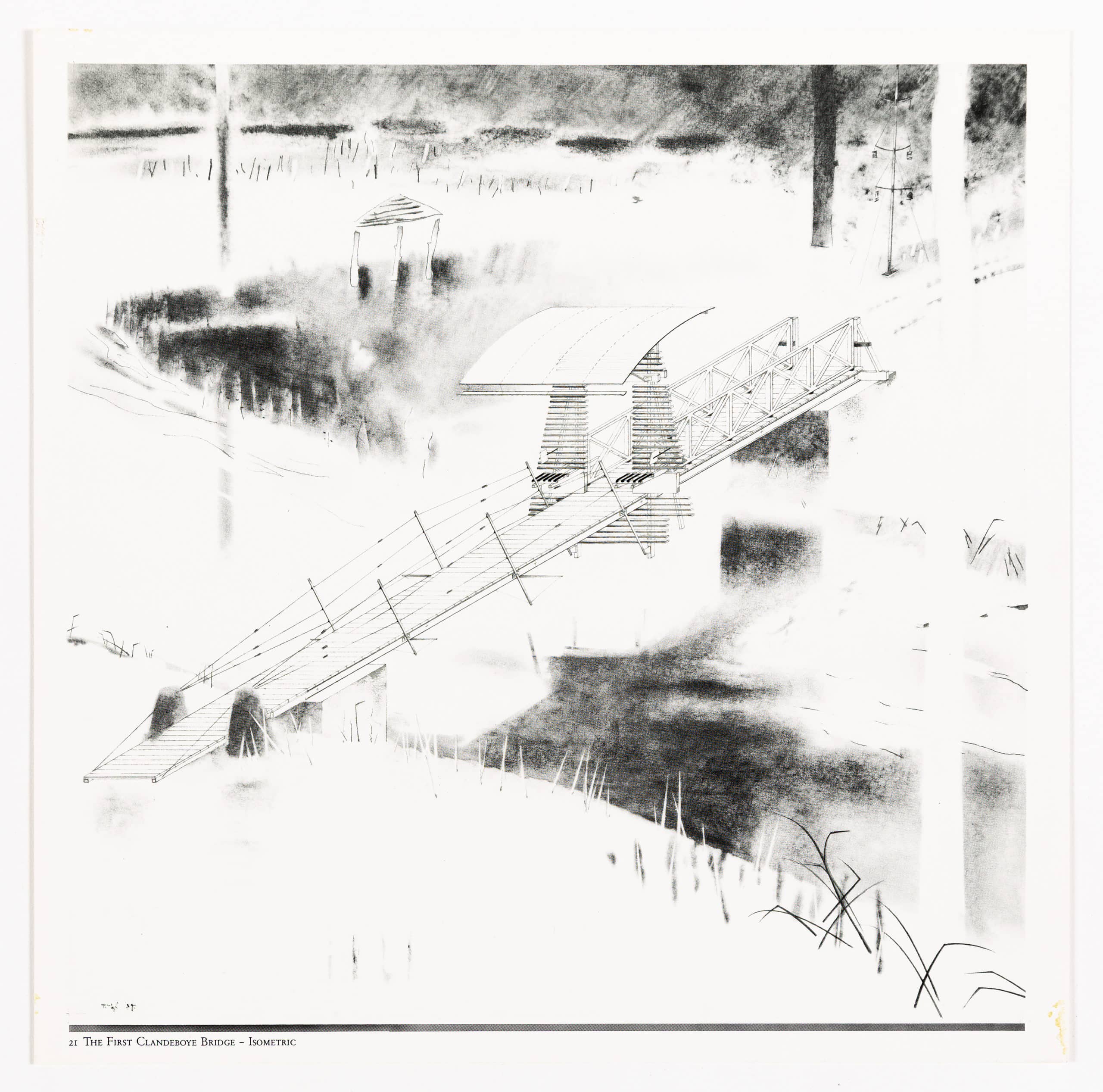 But our subjects were tectonic, not political: wooden roof structures balanced on sturdy stonewalls. It was AA Chairman Alvin Boyarsky who, with sponsorship in mind, made the connection to Lord and Lady Dufferin. Predominantly international, the students were indifferent to the colonial inheritance of stately homes, even to the walls and closets at Clandeboye, laden with trophies of Dufferin ancestor colonial conquests.
Croquet was played and gamekeepers visited. On these expeditions around the shamrock-shaped lake the Marchioness of Dufferin and Ava pointed out two bridges sadly in need of care. These became the subject of three of my Clandeboye drawings. The first bridge makes use of existing steel beams and concrete bases. On grounds of economy and expedience only the superstructure was proposed as new: a hybrid pair of handrails (one in tension, one with classical pretensions) meet at a hovering and roofed gateway. A phenomenological reading of 'bridge' would not prioritise function (crossing) but this suspended moment. Here two rustic seats cantilever dangerously over the water, for leg-dangling guests ambushing their hosts, or the Lord and Lady themselves in suspended conversation.
An isometric projection of this bridge (now in the collection of Lady Dufferin) is romantic in the extreme—the tectonic exactitude of wood and steel nestling into the chiaroscuro of reeds and reflections, even an echo of Japanese cloud-and-smoke technique.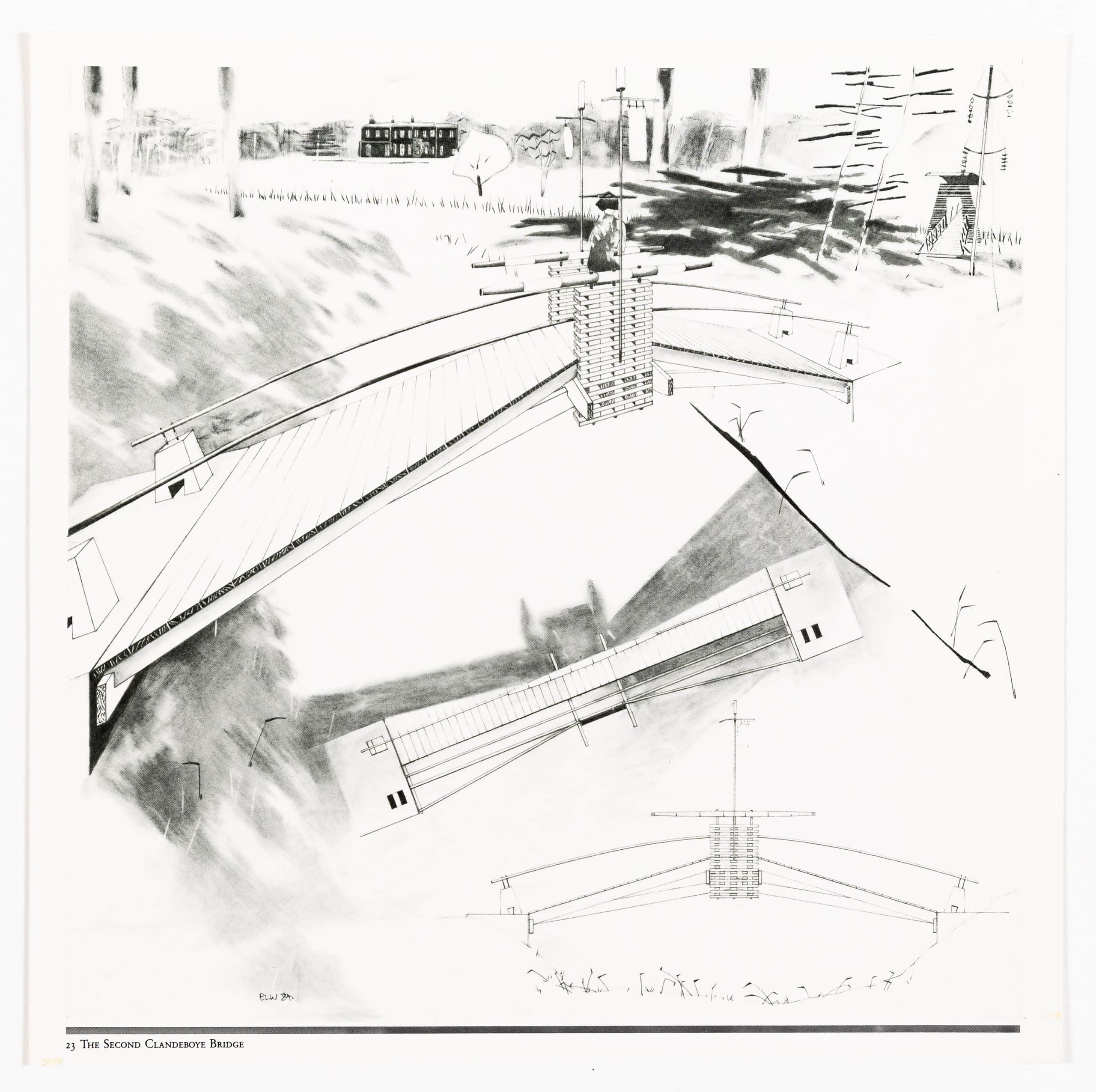 The second Clandeboye bridge, a few meters from the first, also takes its structural logic from existing concrete buttresses. Here sturdy 20 cm-high wooden transoms wedge and clamp a central station. The alternative title was 'The One Lady Bridge', and the Marchioness is seen hovering on axis with the distant facade of her Georgian house.
The two artist retreat drawings take their cue from an existing stone boathouse (to be used as an artist's studio). The resilient artist gets a retreat of stoic simplicity: earth floor and ladders up to an attic sleeping cabin. A central tower facilitates bodily necessities, also water tanks. What at first glance appears to be a wooden post-and-beam structure does have affinities with Japanese temple construction, but with tension and compression reversed. A tent-like skin is graffitied either by the resident, or disgruntled poaching rustics.
The cutaway isometric projection of the Artist's Retreat is drawn with a fine 6H pencil, documenting and locating a complex layering of wooden slats and beams. This drawing more than any other anticipates my soon-to-follow transition from architectural speculation to the actual construction of similarly enigmatic objects (Suzuki House, Bridge Watchers House, Münster Library).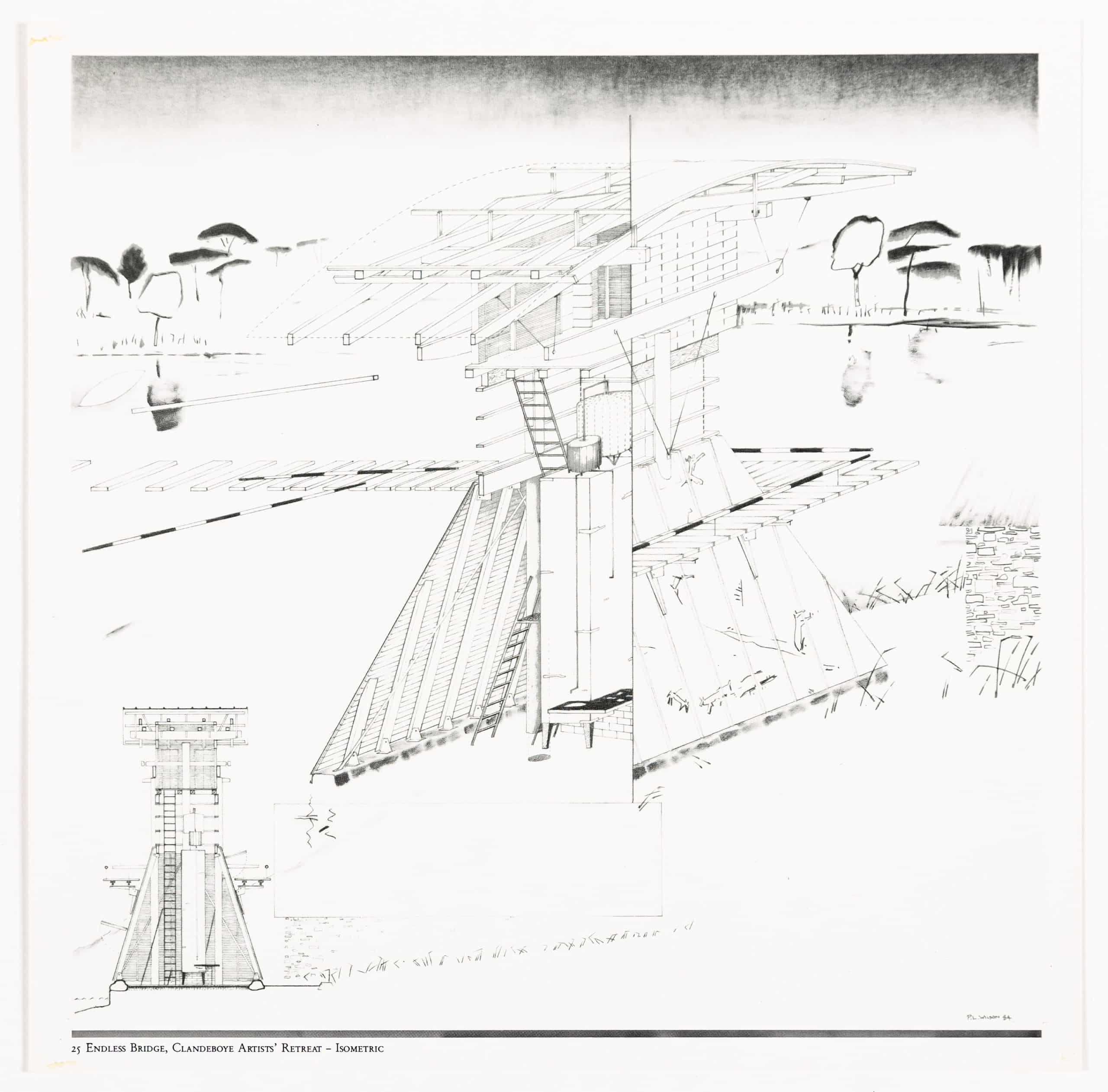 Two further drawings complete the Clandeboye set, a Gate House (now in the touring Alvin Boyarsky collection) and a summary birds eye view locating these Clandeboye estate proposals in relation to the main house and Helen's Tower on the horizon. In between are new facilities proposed by students (a Landscape Institute, Walled Garden interventions, Stable Yard Conference Centre, Galvanized Shed Dormitories). The two academic years of projects were exhibited at the AA in 1985, along with a publication, The Clandeboye Report: Contemporary Options for Clandeboye, County Down, Ulster.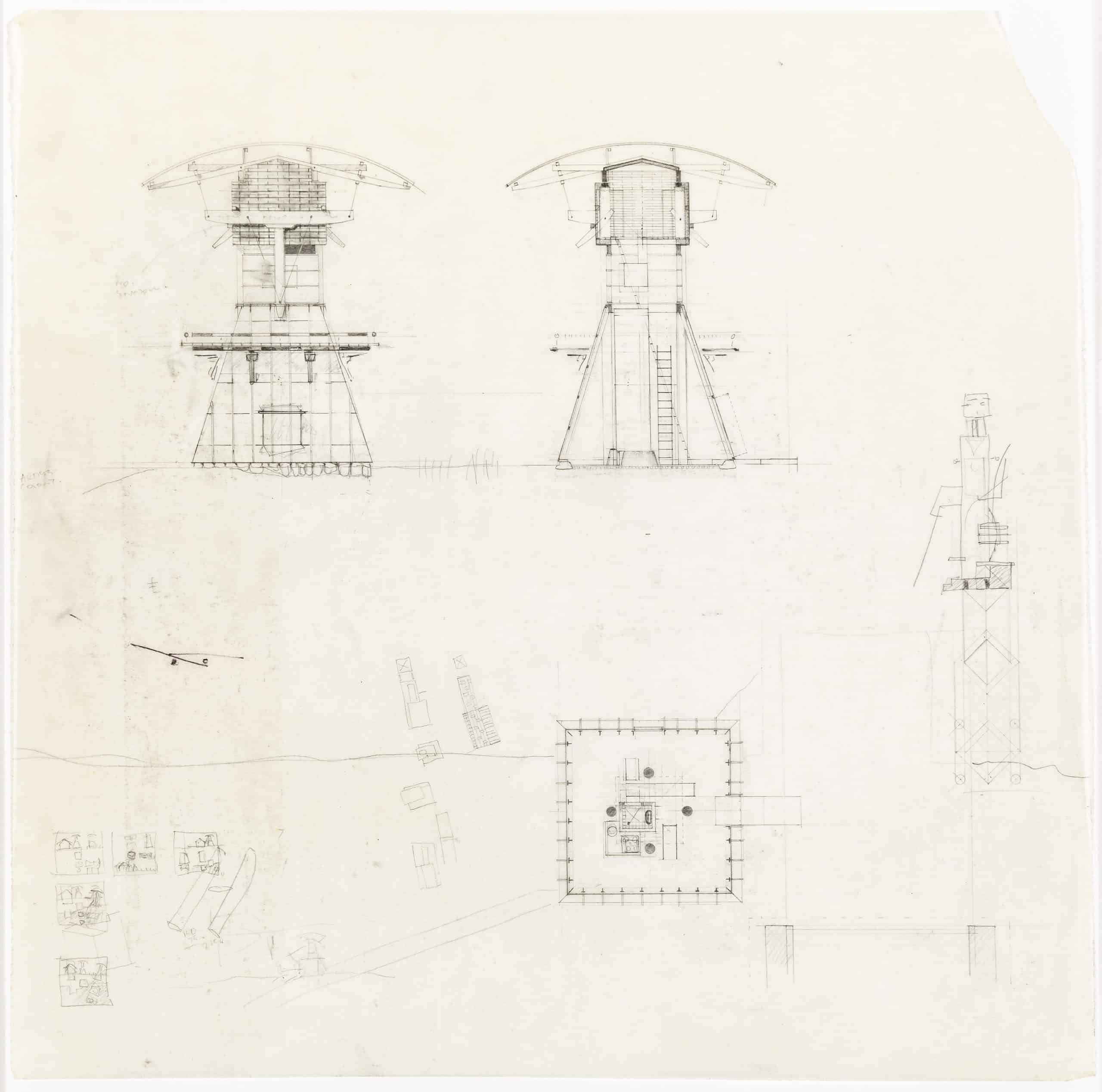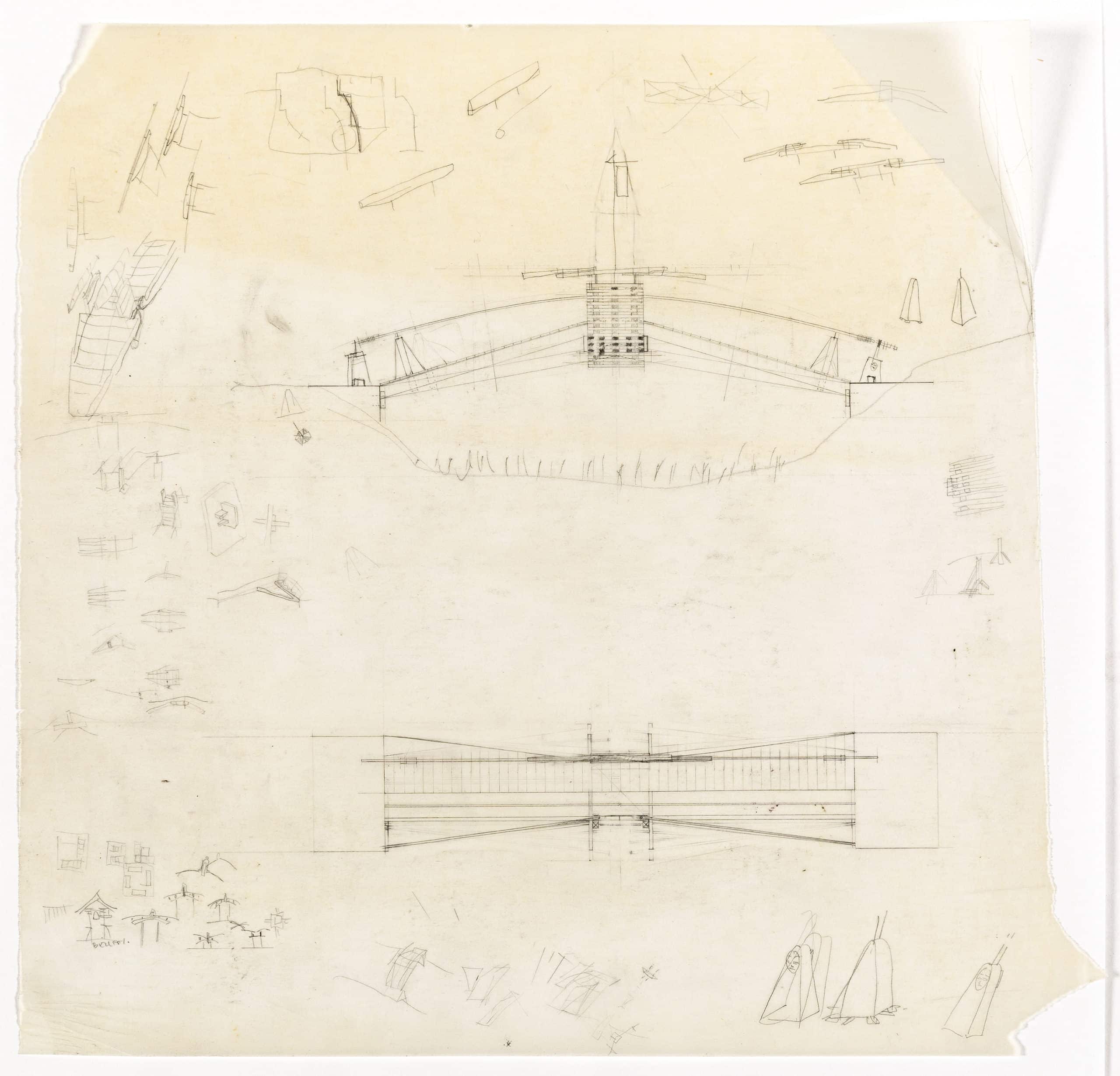 As is appropriate for works not built, the original six tracing-paper drawings have discoloured with time. In contrast the mountain of work-up drawings still manifest with freshness that tentative moment when ideas have not yet gelled into a conclusive statement. It is these I prefer to return to, each postage stamp size doodle on the margin of a page suggesting (in the sense of Borges) a path not taken, and yet each emerging plan laden with an obsessive pre-digital graphic precision.
This Clandeboye series was the concluding work in my 1984 'Bridgebuildings and the Shipshape' exhibition and publication – AA FOLIO IV.
Peter Wilson will be speaking at Architectural Fictions and Other Stories: Dalí / Duchamp at the Royal Academy on 17 November 2017. For further details see Evening Talks at the Royal Academy.