The Urban Fact: Aldo Rossi, Student Housing, Chieti
– Kersten Geers, Stefano Graziani and Jelena Pancevac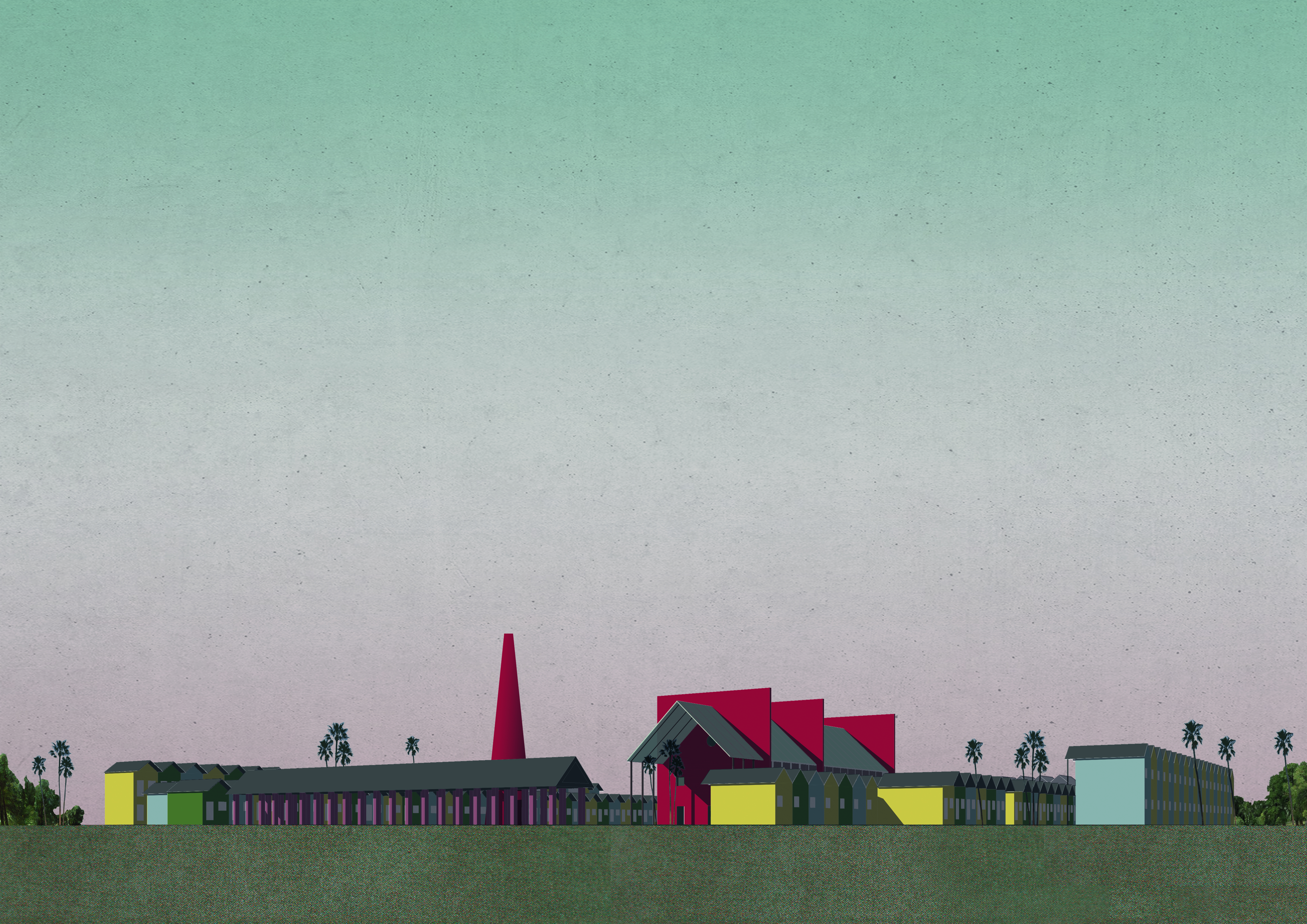 The 1976 competition for student housing was part of a development scheme for the recently founded D'Annunzio University, a joint initiative by the neighbouring provinces of Chieti and Pescara in the Abruzzo region of southern Italy. The town of Chieti is located 200km northeast of Rome, on the ancient main artery that connects the capital to Pescara, the nearest port on the Adriatic coast. In the postwar period, and peaking in the 1970s, increased migration from the hinterland to the coastal towns led to extensive urbanisation and land speculation around this corridor. The urban expansion of Chieti became detached from the historic centre, as it developed along the infrastructure network – the established railway as well as the newly built Chieti-Pescara highway and Abruzzo airport. The new university campus was to be located in the midst of this greater metropolitan area, next to the highway and surrounded by scattered industrial facilities, agricultural fields, and sprawling residential suburbs.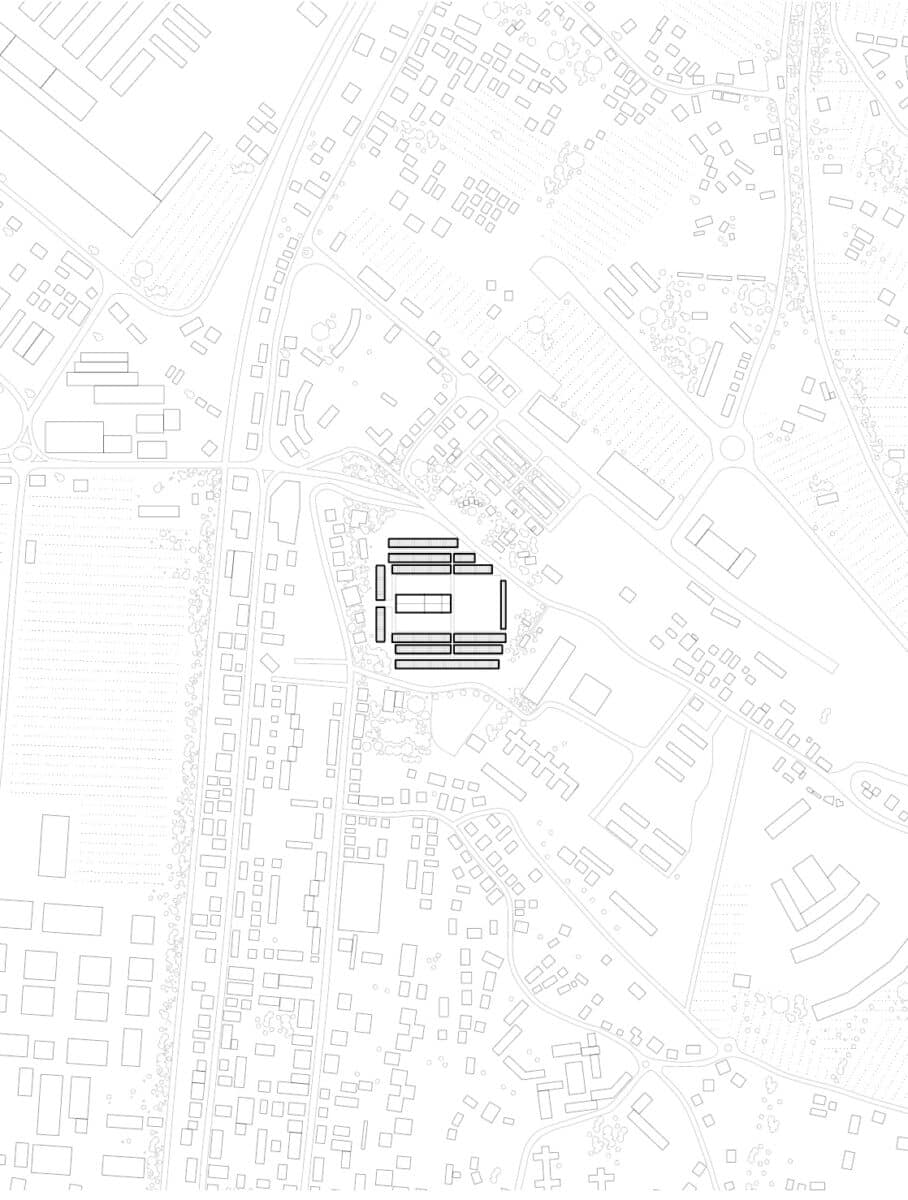 Aldo Rossi, together with Gianni Braghieri and Arduino Cantafora, proposed 'a miniature town' with an urban layout made up of two kinds of units: student houses and a communal building. The student houses are envisaged as identical units, over one or two floors, each comprising an entrance porch, one room and a bathroom. While these units have the defined form of a pitched-roof house with square windows, their structure is flexible as they can be made 'of anything, from brick to iron, wood or prefabricated parts'. Parallel rows of these units enclose the irregular site on three sides, while on the fourth side a pitched-roof portico with a colonnade of square pillars marks the entrance to the compound. The communal building stands opposite the portico, on the central axis. Similar to the residential units, it has a pitched-roof house typology — only now enlarged in scale, with a rectangular plan and a large central atrium lit from above. This central building was to contain all the public services, including a canteen and meeting rooms for the students. Providing for a possible future expansion of the campus, it could be extended along its axis by simply adding sections of a pitched-roof metal structure. The walls of this metal structure could be infilled with blocks, or bricks, or prefabricated granular concrete; alternatively, some portions could be left open, and the structure covered with a glass roof to make a palm house. These different sections would be divided by square walls, larger than the roof section, and pierced with a single round attic window. Further on, in front of the communal building, stands a truncated conical brick chimney for a thermal power plant.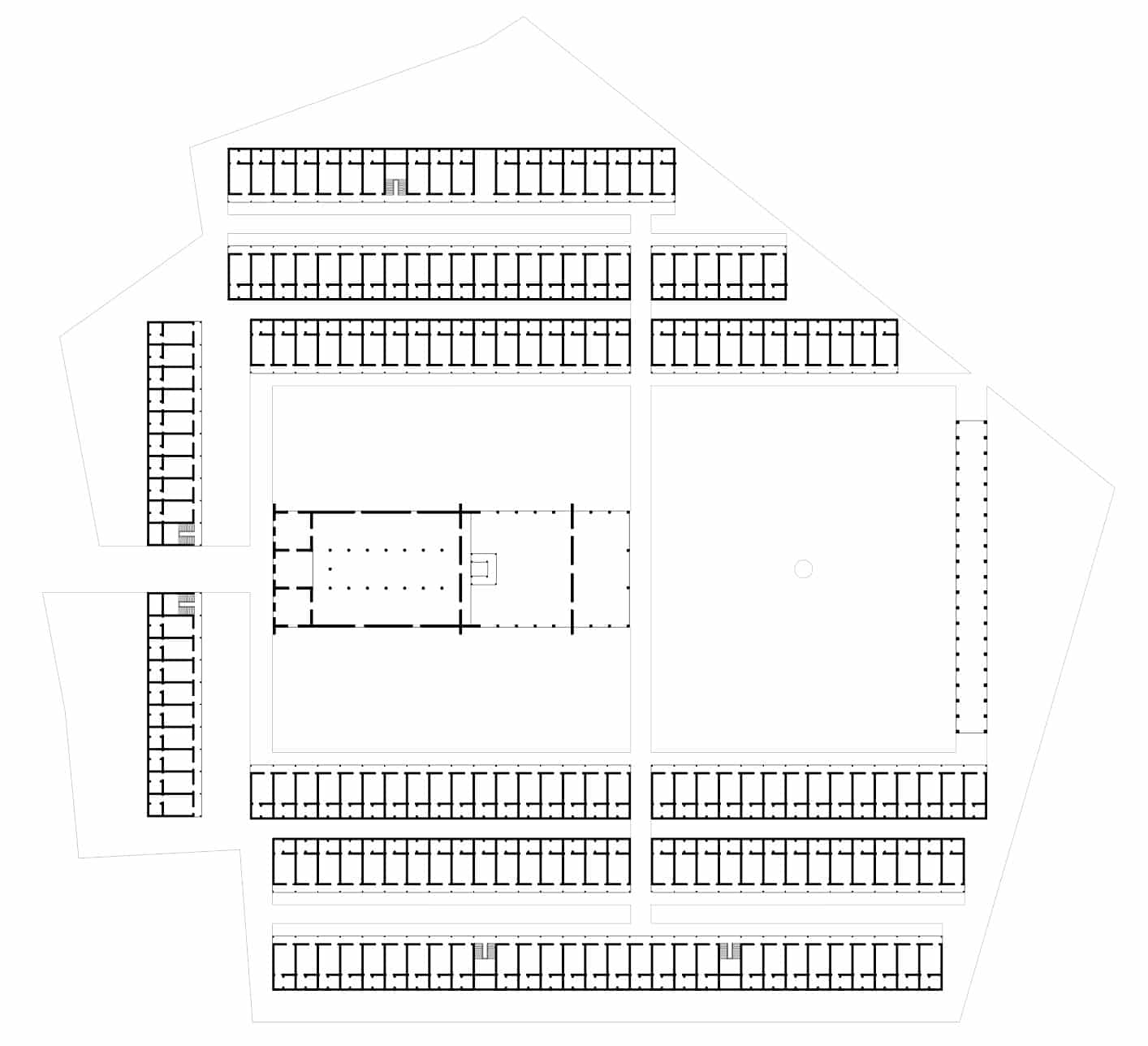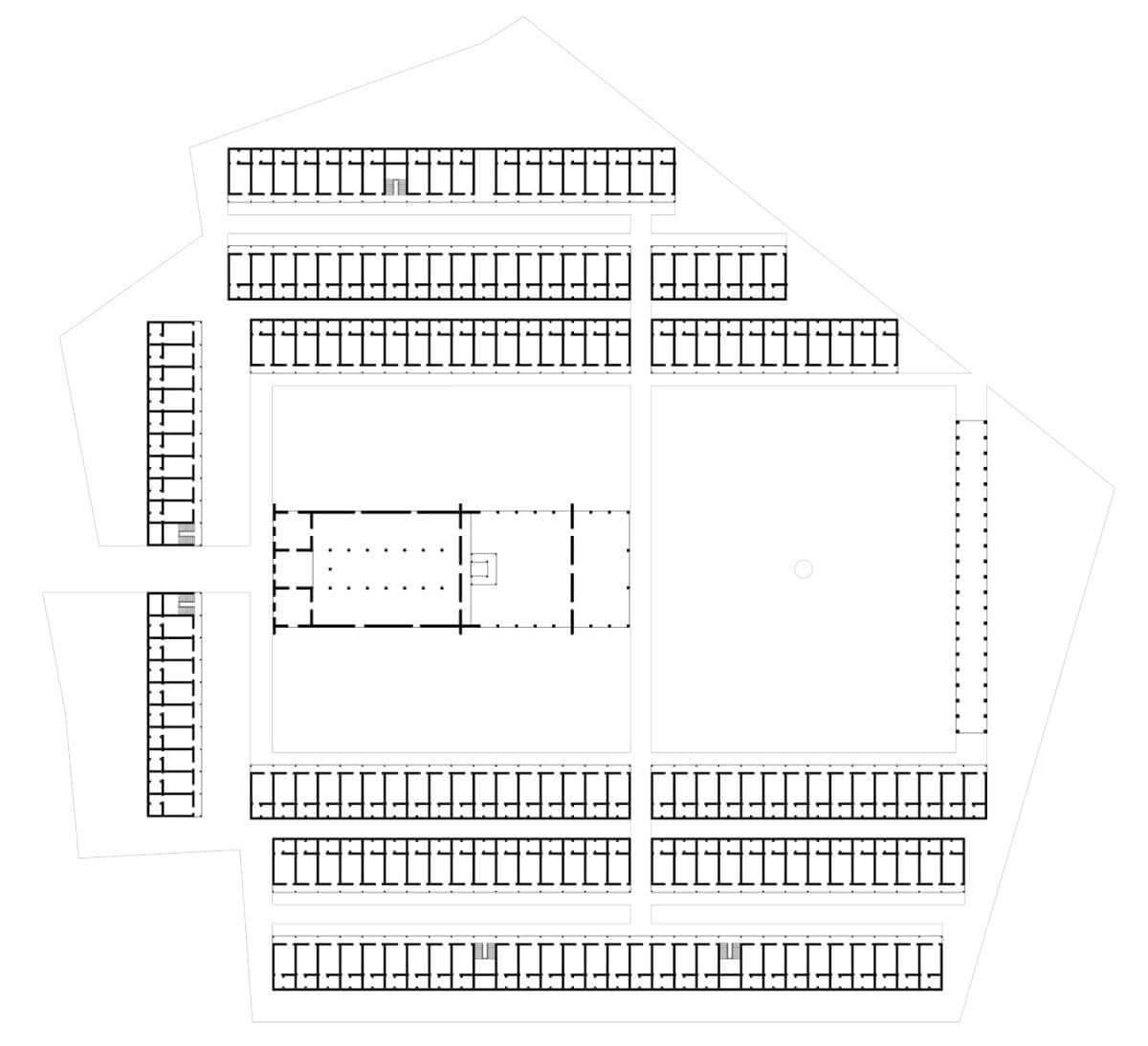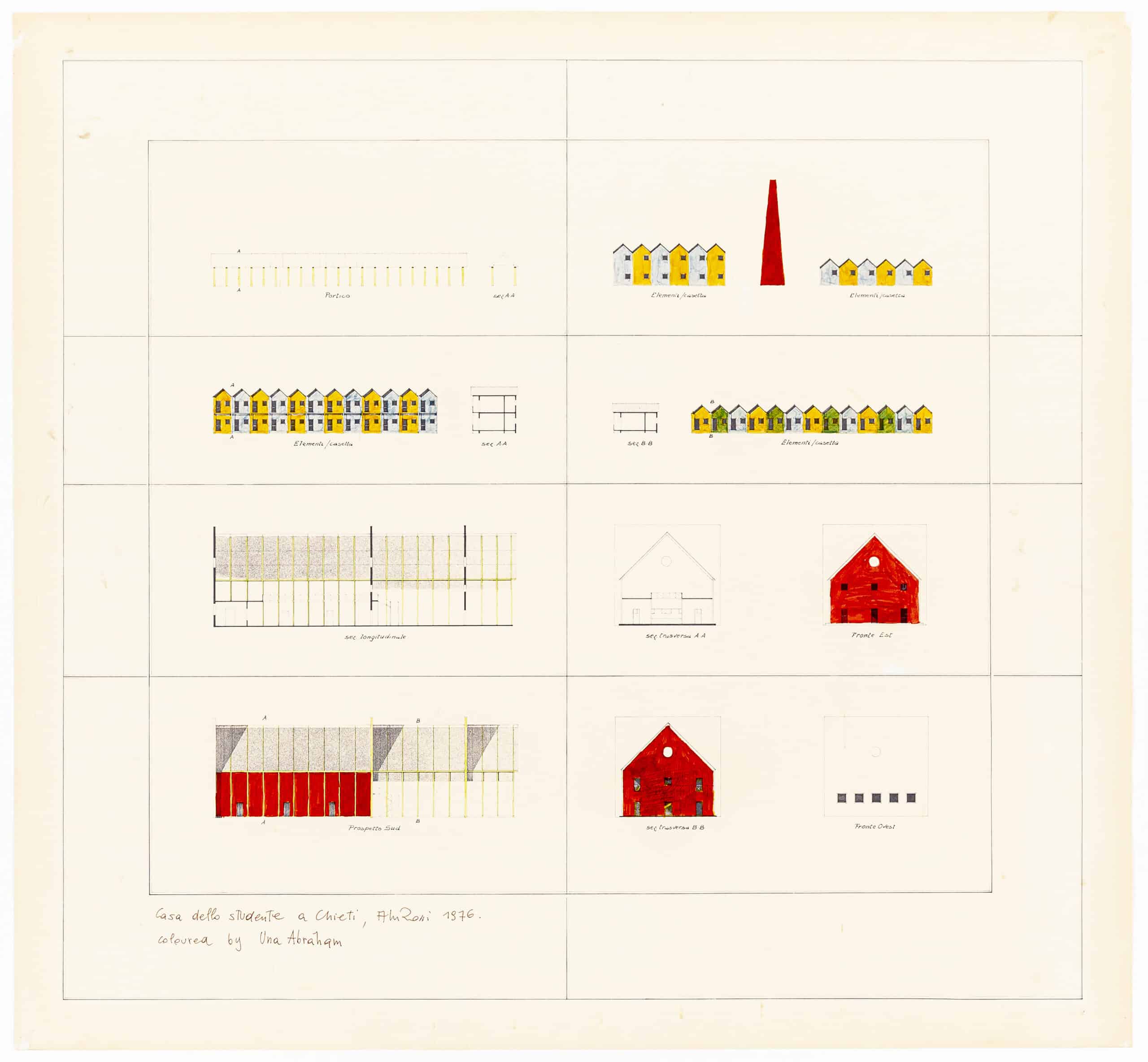 Extracted, with permission, from The Urban Fact: A Reference Book on Aldo Rossi edited by Kersten Geers and Jelena Pancevac, with photography by Stefano Graziani, published by Buchhandlung Walther König © 2021. Available here.