Writing Prize 2020: The Anatomy of an Oyster Theatre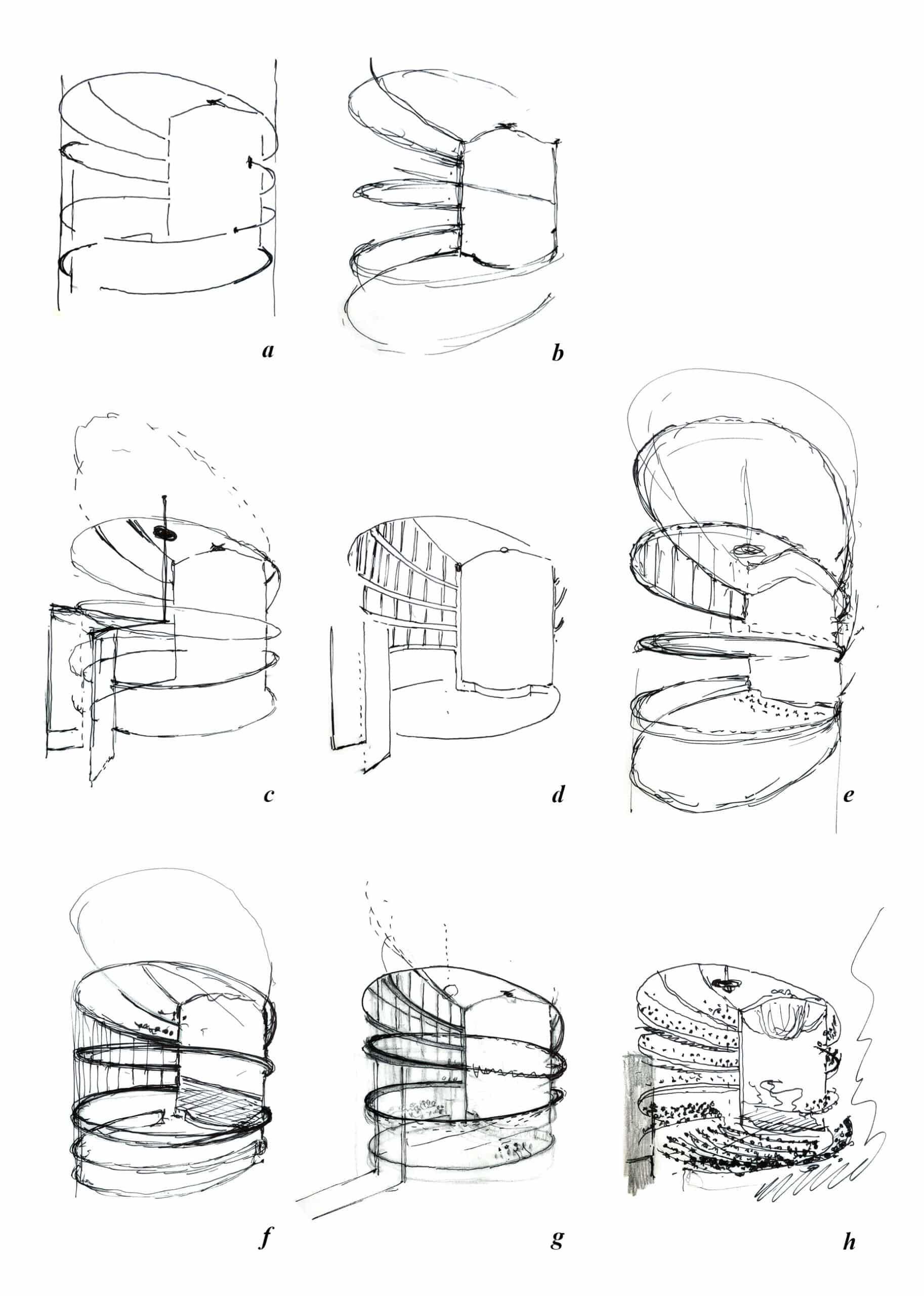 In the beginning, there was only a shell. An empty shell. But we could already sense the contours of its elliptical shape, its multilayered protective envelope, stratified, laminated, like the bark of a tree (a). Slowly, the outer flaps of the carapace would move away from each other, vertically sweeping the space around as if to swallow a bit of it (b). At some point, a pair of tangential planes appeared, framing some kind of aperture facing the dilated hinge which formed the backdrop (c). Within the breadth provided in between the overlaid oval hoops as they were stretching themselves out, a series of vertical divisions arrayed, drawing endless sequences of adjoining cells (d).
Later on, when the diaphragm of the shell seemed to have reached its acme, a cluster of tiny dots showed up on the inner side of the bottom flap (e). We were not exactly sure what or who they were; it looked a bit like an impromptu gathering of nosy heads who would have just gotten the scoop on something that had yet to come. And from that moment on, the floor and the ceiling of the shell started to move closer again from one another. And the flat plane which hinged them both together suddenly grew into a volume, giving way to an extra floor, an elevated platform, shrunken, circumscribed, the same width as the backdrop it leaned on (f). Boxes multiplied along the superimposed elliptical galleries, hugging each other tightly. In the vastness of the shell's belly, everything suddenly felt homely, velvety. Amplitude strangely gave way to coziness (g). And then, there we were. Obscurity brightened, unveiling hundreds of tiny dots. Everywhere. In every one of those duplicate sheltered boxes up there, down there. On the shell's bottom flap, horseshoe-shaped crowded surface. Even on the stage, which came to life in symbiosis with the hinged scenery (h). Whether actors or spectators, the tiny dots cohabited in this comforting microcosm, suspended in time. In this shellfish time capsule, hollowness became inwardness. Coldness transformed into warmth. Void converted into nest. Vacancy became intimacy. A shared intimacy, a lair of togetherness.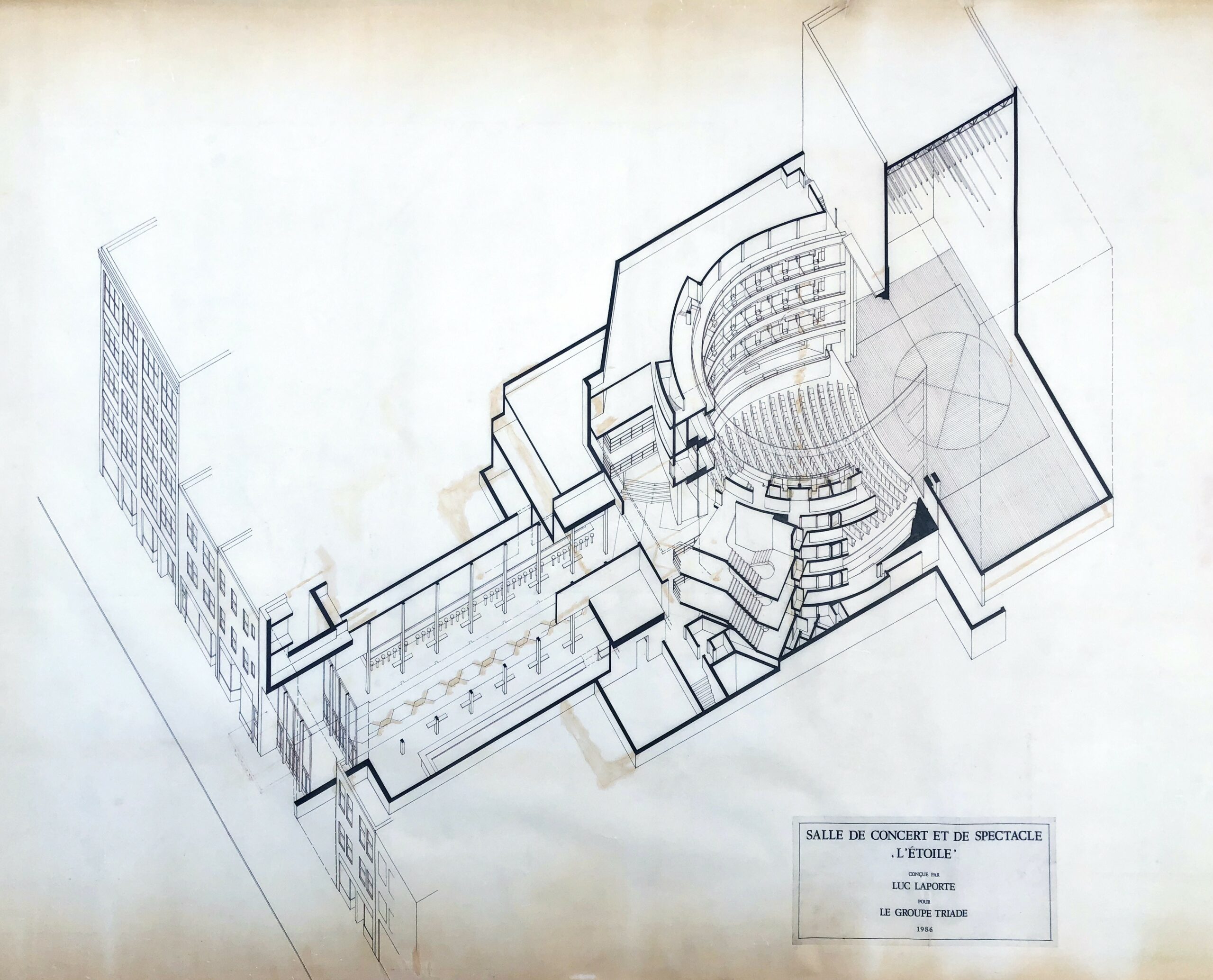 His architecture studio was located at 264 rue du Carré St-Louis in Montreal, where his ideas and beliefs still rest on paper sheets and hard drives, on the walls and shelves, in memento boxes and drawers. This studio was an extension of his home, just like his work was an extension of his life. He would come down at night to work and would go back up to sleep in the middle of the day if he felt like it. He lived there alone for the biggest part of his life. The inner space was prude and discreet, reminiscent of the modesty and clemency embodied by an oyster-like domesticity. He liked solitude, and the silence of the tiny inner courtyard enclosed between the back of the house and the volume occupied by his atelier, a former stable. Quite an astonishing silence, for that matter; a quiet plot of land caught in the midst of a hectic city centre. But he also liked this urban frenzy teeming with restless souls. And sometimes he would host big, festive dinners in the studio. Today, it almost seems like everything remained untouched as if he had never left the place. Models and archives of built and unbuilt projects remain alive in this space-time capsule.
Luc Laporte had named his 1200 seat amphitheatre project Théâtre de l'huître ('The Oyster Theatre'). To him, the oyster embodied a protective arena, a safe space, an almost unassailable entity, an autonomous and independent character. But his clients thought the name was not convenient for what they intended it to be: more than just a spectacle venue, it was envisioned as a place destined to become a landmark, a sign of recognition in the city. The project was indeed meant to be directly connected to the street through an impressive lobby space outspread along an axis that led to the auditorium volume. In fact, it was much more than a lobby. It would be open all day, even if no shows were scheduled: it would be a welcoming café where people could have a bite, as well as a bar where they could discuss business or gather with friends. The lobby played the role of a lively hyphen between the world of spectacle and the daily flow of passersby. It was meant to pull theatre culture out from its microcosm to make it a part of the urban pace and space. [1] Hence the will to merge the outside and the inside through spatial ramifications, connecting volumes. The conceptual party had less to do with the closeness of an oyster and more with the outgrowths of a starfish.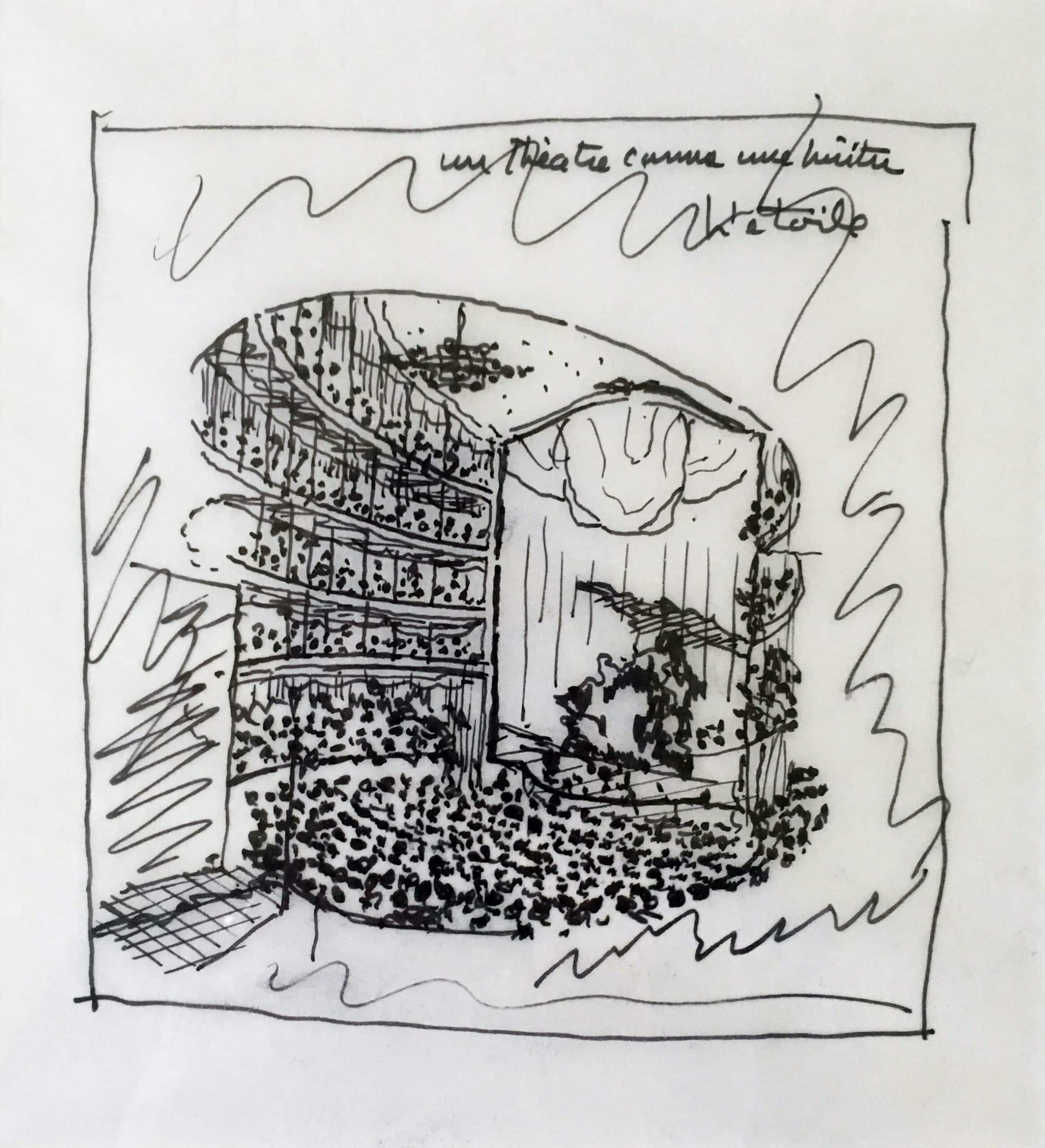 L'huître thus became L'Étoile. But the oyster remained. There from the very start, the sketch Un théâtre comme une huître, 'A Theatre Like an Oyster', corresponds to what is termed the 'core drawing'; the one which crystallizes critical areas of the design and evokes the distinctive features of an overall form that will subsequently resurface. [2]
Laporte was twenty-six years old in 1970 when he traveled to Europe for the first time. Every following year, he would spend a few weeks in Paris or somewhere in Italy, sometimes in Germany. He would compulsively visit theatres and Baroque operas. He must have seen dozens of them. He was obsessed with La Fenice de Venezia, to a point where he once went back to scrupulously measure its interior dimensions. Undoubtfully, the théâtre à l'Italienne and its typical horseshoe typology pervaded his creative mind.
Thereby, in its most achieved tridimensional expression, L'Étoile obviously epitomizes every element featured in the oyster sketch: the vastness, tallness of the central space, enhanced by the stacked galleries and boxes and, at the same time, the self-contained and cozy atmosphere generated by the natural encounter of the U-shaped volume and stage shaft. Although less poetic, more static, this much detailed axonometric rendition materializes the architectural language held in latency within the oyster.
He would have wanted to live in Paris in the 1900s. He was struck, fascinated by the civility of its places, whether they were Parisian brasseries, Viennese cafés, Italian trattorias — open to all, accessible at street level. He dreamed of Montreal with such mythical amenities. He dreamed of Montreal with a vivid social urbanity, a frantic cultural scene. He dreamed of Montreal with a grand concert hall.
Emilie Banville is a Montreal-based architect currently pursuing a double doctorate in Museology at the Université du Québec à Montréal and in Architectural History and Theory at TU Eindhoven.
This text was a prize winner in the long form category (1000–1500 words) of the Drawing Matter Writing Prize 2020.
Notes
Description freely adapted from a promotional text found in the archive, written in French in 1987
Vocabulary term pertaining to 'genetic criticism'. See: Biasi, Pierre-Marc de. « Pour une approche génétique de l'architecture ». Genesis (Manuscrits-Recherche-Invention) 14 (2000) : 13-65.