Hugh Strange Architects: Drawing Matter Archive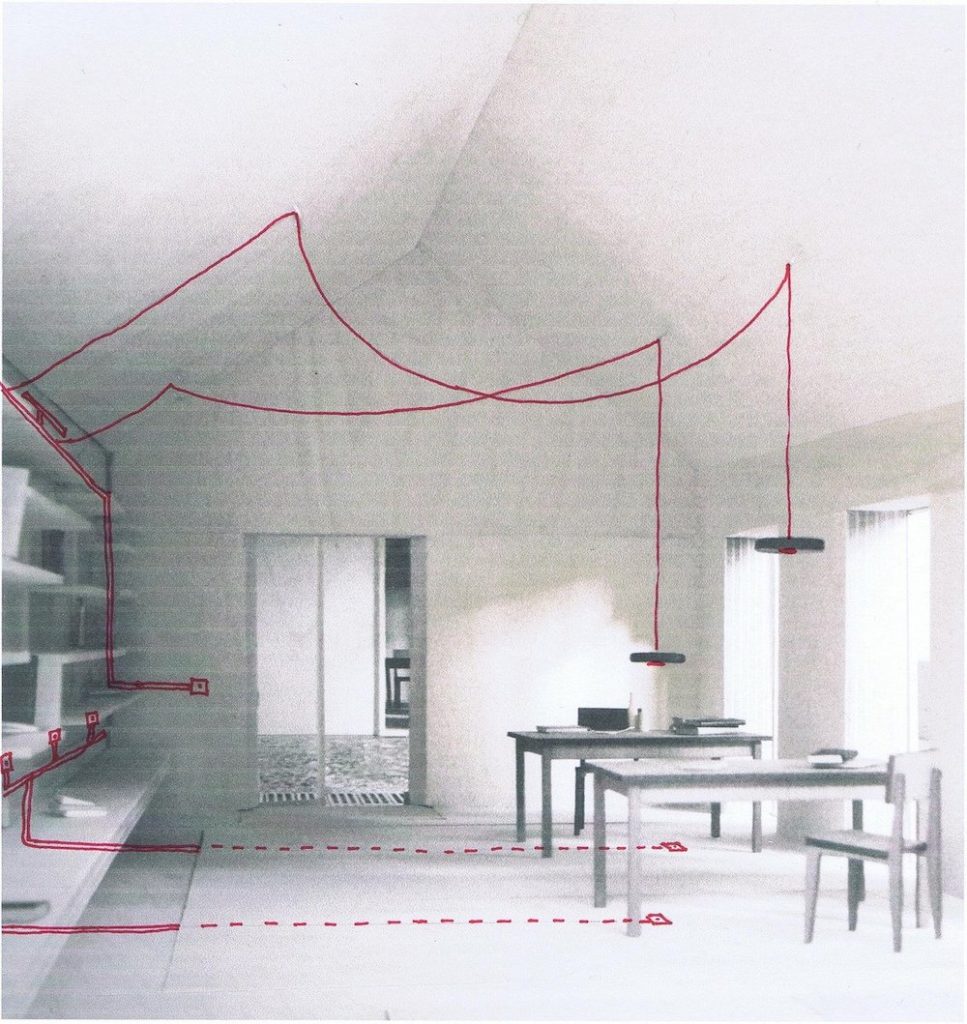 We worked on the design of the Drawing Matter Archive in Somerset from September 2011 through to completion of the building in February 2014, providing a building of two halves with a studio space for day-to-day working and an adjacent space for the storage and occasional display of the clients' collection of architectural drawings. Rough cardboard models, exploring site relationships and the overall layout, led to rough cardboard models that tested internal spatial configurations, this time at a higher scale. As time went on, these models were replaced by more precise wooden models that could better describe the character and detail of the internal spaces. That the building was to be constructed in monolithic cross-laminated timber allowed us to model at scale in thick plywood in a manner remarkably close to the end building. In parallel to these models, and despite the plan form appearing simple in the extreme, computer drawings were endlessly sketched over in pencil on drafting paper – or more precisely, greaseproof kitchen paper, which we found to be cheaper and just as good.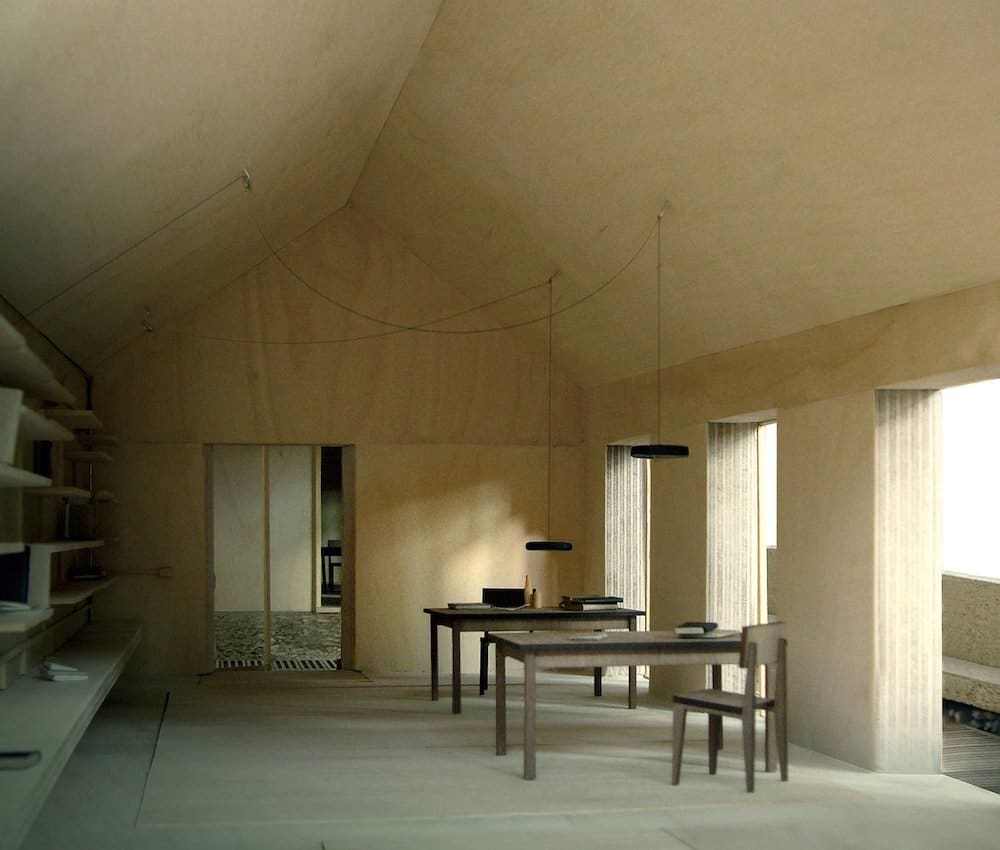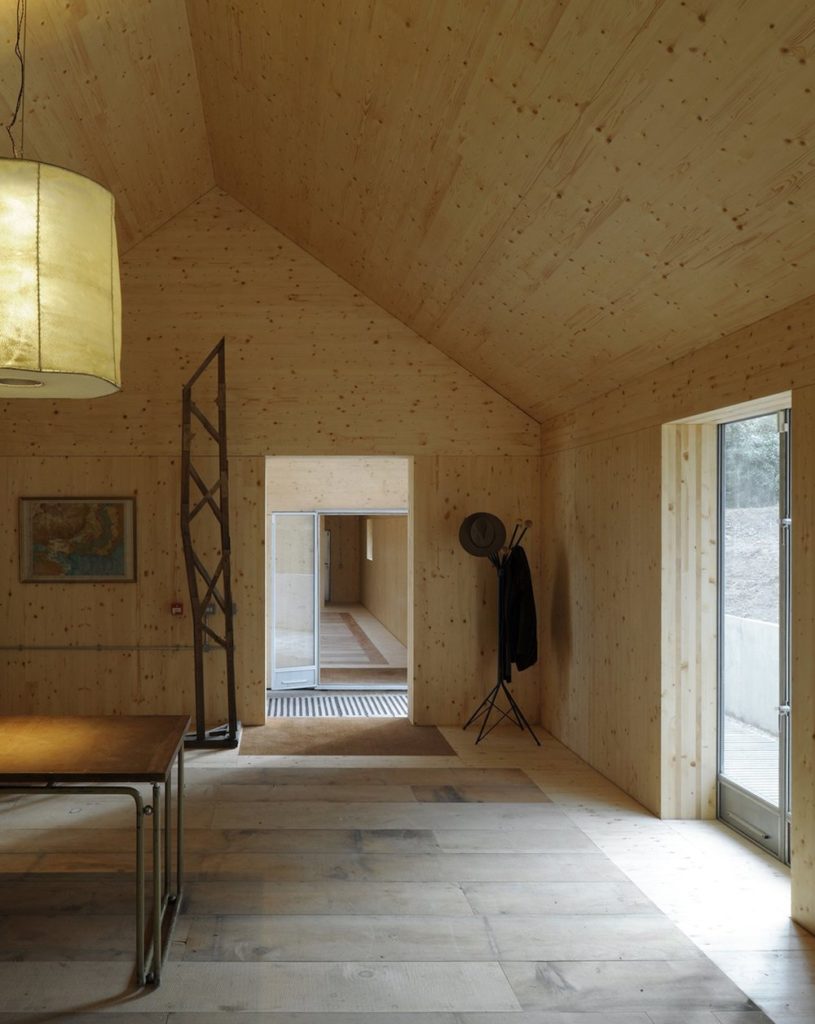 The two types of working merged when I started sketching in pencil and felt tip over the photographs of the models, sometimes on the greaseproof paper, and sometimes straight onto the photocopies. These weren't presentation drawings for the client, but ways of thinking through the pragmatics of construction, while considering the spatial consequences of these decisions. This form of drawing became particularly useful as we explored the relationship of the secondary and tertiary elements of the building with the mass timber structure. Here a key strategy developed whereby galvanised steel elements, generally linear and off-the-shelf, were face-fixed to the timber. This seemed to show a certain respect to the extraordinary thickness of the timber, and eased site works where, in lieu of chasing and chiseling, elements were simply screwed in place. Galvanised steel windows and doors, steels supporting the 'in-between' roof, and rainwater goods are all externally fixed in place. Internally the layout of the electrical system is made clearly legible: conduits and sockets line the walls opposite the windows, running above and below the shelving, cables and conduits stretch out to switches, lights and floor sockets.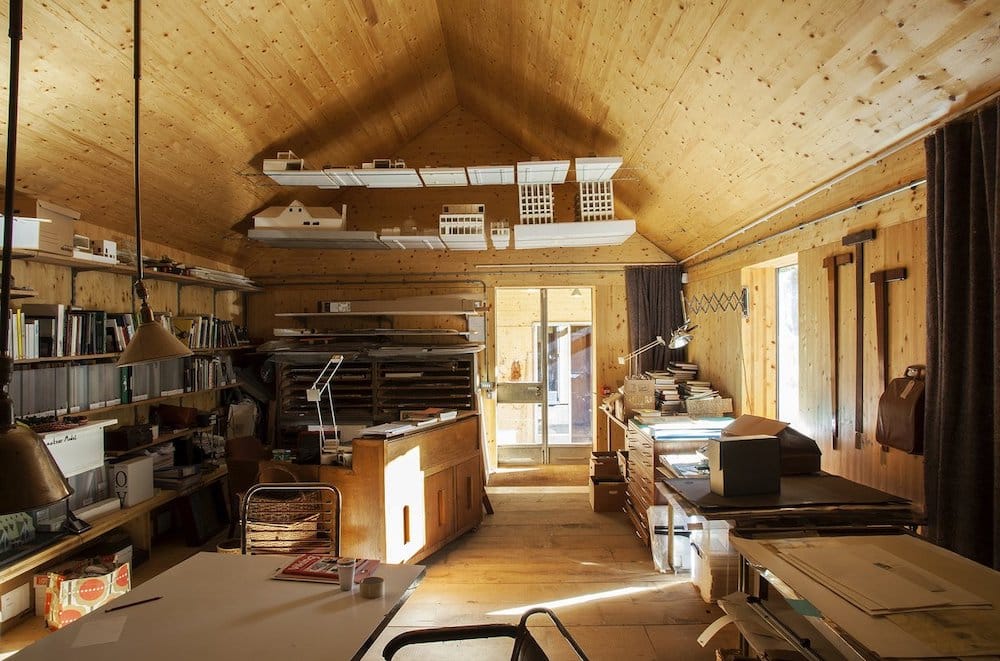 Significantly, these drawings helped to establish a strategic character to our thinking in relation to the construction, such that individual decisions flowed on from a broader attitude to how the building would be put together. Architecturally, the rigour of this approach, as unwavering as possible in its application, was kept in check through the warmth and tactility of the interior spaces, together with the self-effacing 'farm-ness' of the exterior. The technique of 'model-drawing' seemed to suit this twin approach better than either one or the other.