S.A.U.L. 4th Year: De Rerum Natura / In the Manner Of
– Gerard Carty, Elizabeth Hatz and Fionn O'Leary
In the Autumn of 2019, tutors Elizabeth Hatz and Gerard Carty visited the Drawing Matter archive with their fourth-year students from the School of Architecture and the University of Limerick (SAUL). Below is a record of their visit and its place in the context of the fourth-year studio.
Tutors interested visiting the archive or collaborating with Drawing Matter can find more information, here.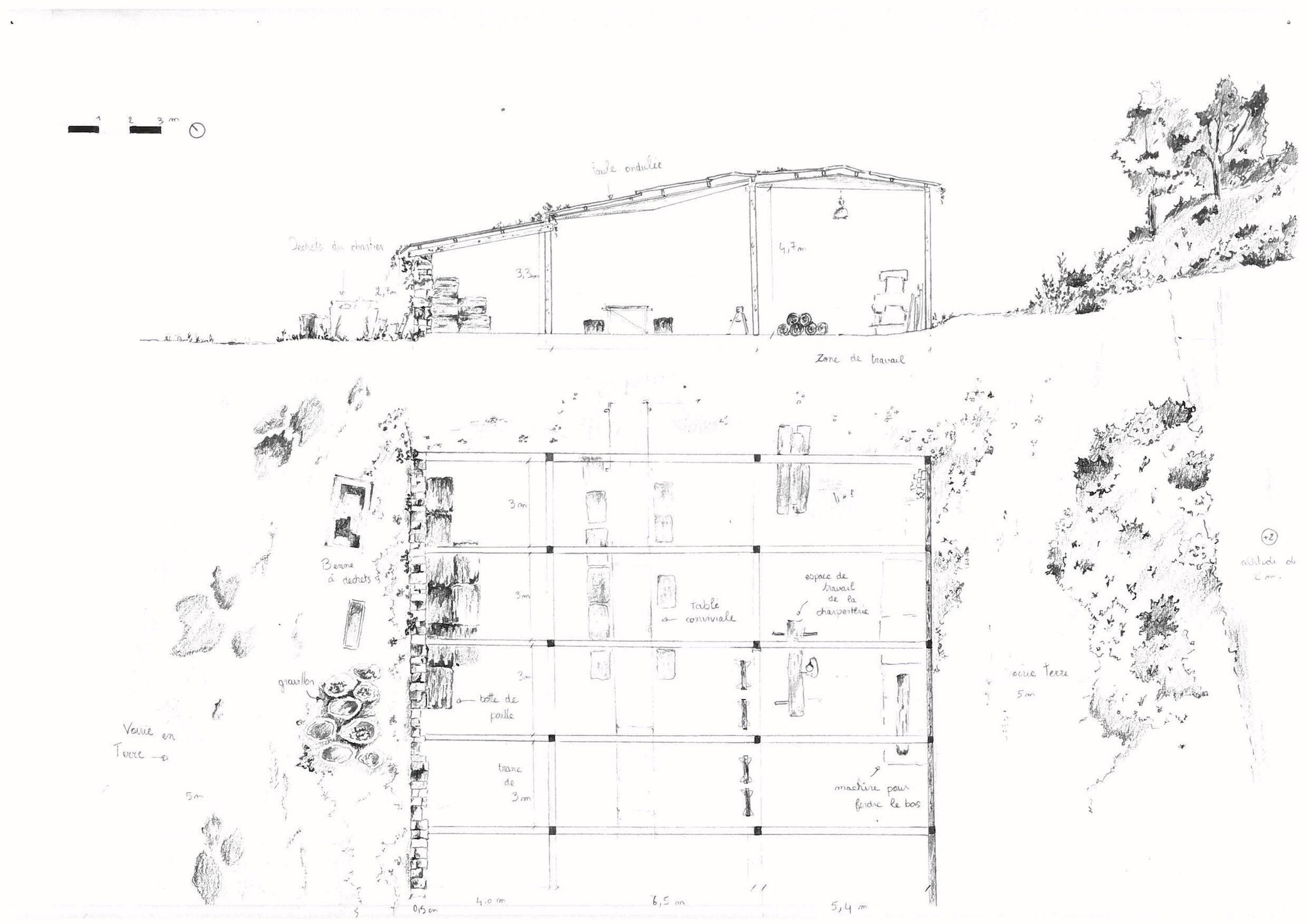 Elizabeth Hatz: De Rerum Natura
An obsession with drawing is the fuel for architectural thinking and acting. Drawing is beyond, and in anticipation of making – but perhaps, at times, equivalent to it. Drawing is Form. Thinking is Form. Form is a stance to being. Facing architecture in the Anthropocene gradually erodes the understanding of the city and nature as two separate entities. We are well beyond resorting to simplifying dichotomies, finding ourselves inside an intricate weave of interdependencies instead. Every act has a consequence on every other act, minor or major, for life on earth. Architectural culture is totally entangled in the process, whether ready to acknowledge it or not.
This shift will imply a whole set of changes to what we have taken for granted and will probably cause a 180-degree turn in how we even comprehend value and time. Worshiping speed will change into an appreciation of slowness, and the celebration of newness into a care for repair, re-use and longevity. Inventive creativity will lie in alteration and re-working, rather than in quests for originality. The routine use of artificial light will be replaced by the intelligent celebration of daylight, and respect for water will replace the wasteful tapping of natural systems. Above all, a gradual awareness of the power of butterfly wings, will urge thinking about the weight of permanence, the persistence of architecture and the material obduracy of place. Drawing is a way of slowing time, of observing, sensing, musing, nurturing, provoking and speculating.
The idea of progress, as we have understood it, has been drastically altered and the upcoming situation can hardly be handled just through new technologies or green economies, but will above all require celebrating cultural richness and social inclusiveness. Educating, tending, caring, reflecting, musing, reading, cultivating, walking, observing, recuperating, collecting, altering will be far more relevant verbs than producing, consuming, keeping the wheels spinning, wasting. The idea of economy and the idea of work will face up to their most fundamental challenges. The most direct way of entering this new era as an architect, is by taking time – to observe, to read, to reflect and to draw, draw, draw, draw.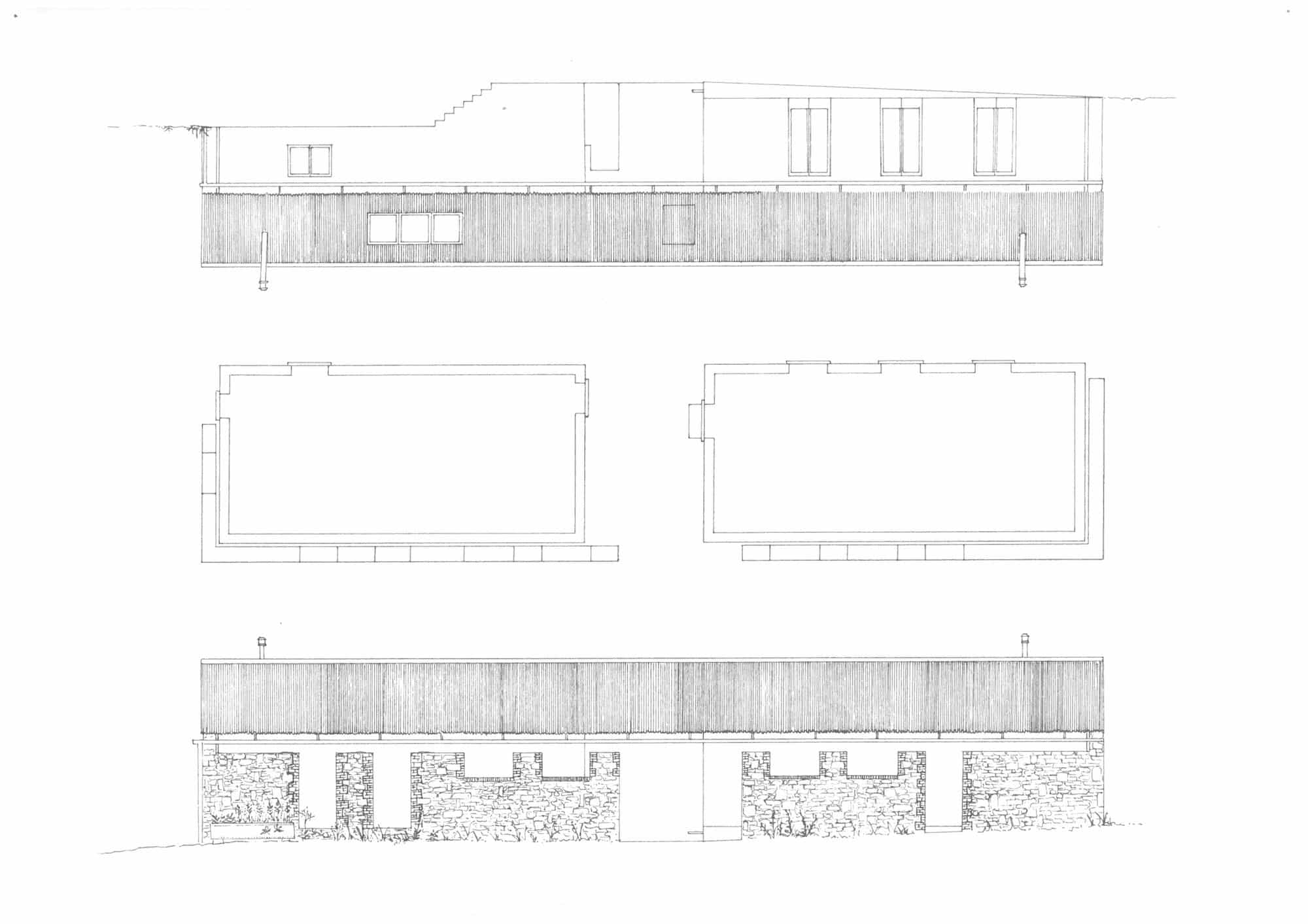 EH: In the Manner of
In the autumn of 2019, students at the School of Architecture at the University of Limerick, Ireland, were asked to choose a drawing by one of the following authors:
Leonardo da Vinci, Florian Beigel and Philip Christou, Superstudio/Adofo Natalini, Alberto Ponis, Shin Egashira, François Soufflot le Romain, Cassius Goldsmith, Walter Pichler, George Cook, Peter Märkli, Edward Blore, Marie-José Van Hee, Tony Fretton, Aldo Rossi, John Hejduk, Alexander Brodsky, Claude Lorrain, Gio Ponti, Lina Bo Bardi, Mario Sironi.
The students were asked to get the drawing printed on thick off-white paper and to pin it up in front of their desks. In the Manner of this drawing, we asked the students to 'portray' the Nature of the Grounds at Cleeve's, an abandoned former flax factory in in the centre of the city of Limerick, addressing its rooms, borders, hills, waters, structures, traces, trajectories, trees, shadows, lines, proportions, characters, walls, vegetation, contraptions, and so on. They were asked to enter a state of obsession in order to keep both overview (helps to see and structure) and close contact with the subject (necessary to make a 'portrait'). In addition to the drawings represented in the list, we recommended to investigate further to see other works by the same artist.
Fionn O'Leary: In the Manner Of Superstudio
Upon initial submersion into the architectural qualities of the post industrialisation at Cleeve's Factory, Limerick, what became apparent was the versatility of space and how dereliction allowed nature to re-occupy the site. Taking inspiration from Superstudio's drawing (below) I was left with the idea of representing the site as a series of built-up layers. I think this concept accurately portrayed the atmosphere of Cleeve's.
Hand drawn on a thick cream watercolour paper, the drawing is built up by the following sequence of layers:
The ground – each crack and crevasse formed in the carpet like pattern of cast in-situ concrete is represented by
various shades of graphite.
The vegetation – the evolution of time is visible throughout the site. We see nature grappling to find space to thrive. It is striking to see how much space has been reclaimed forming a rich untouched, bio-diverse microclimate.
The infrastructure – the astonishing buildings facing you upon entering the site take centre stage. The drawing portrays them as the darkest elements displaying how powerful they are.
The topography – demonstrated through an array of section lines, a sense of scale is created.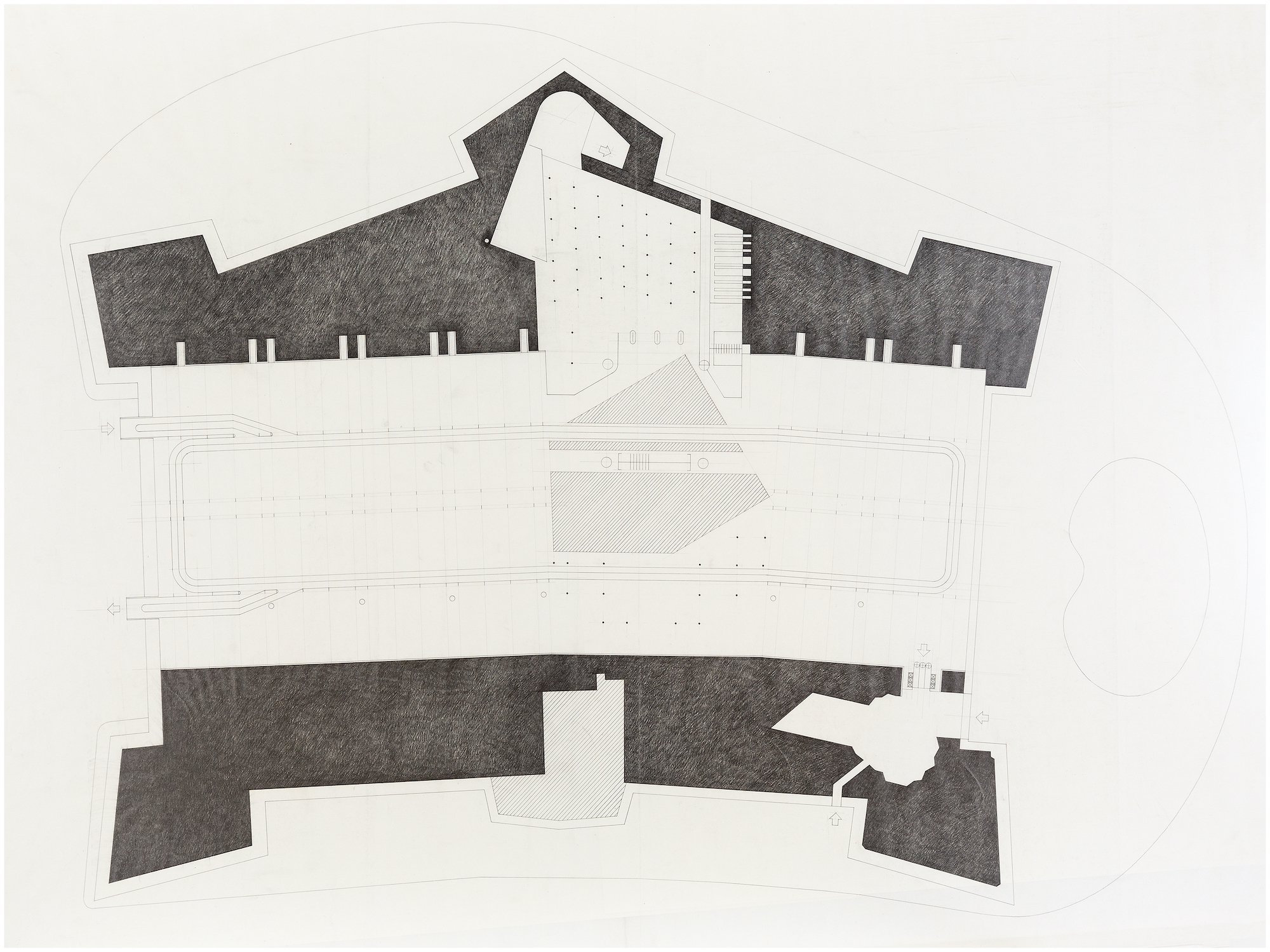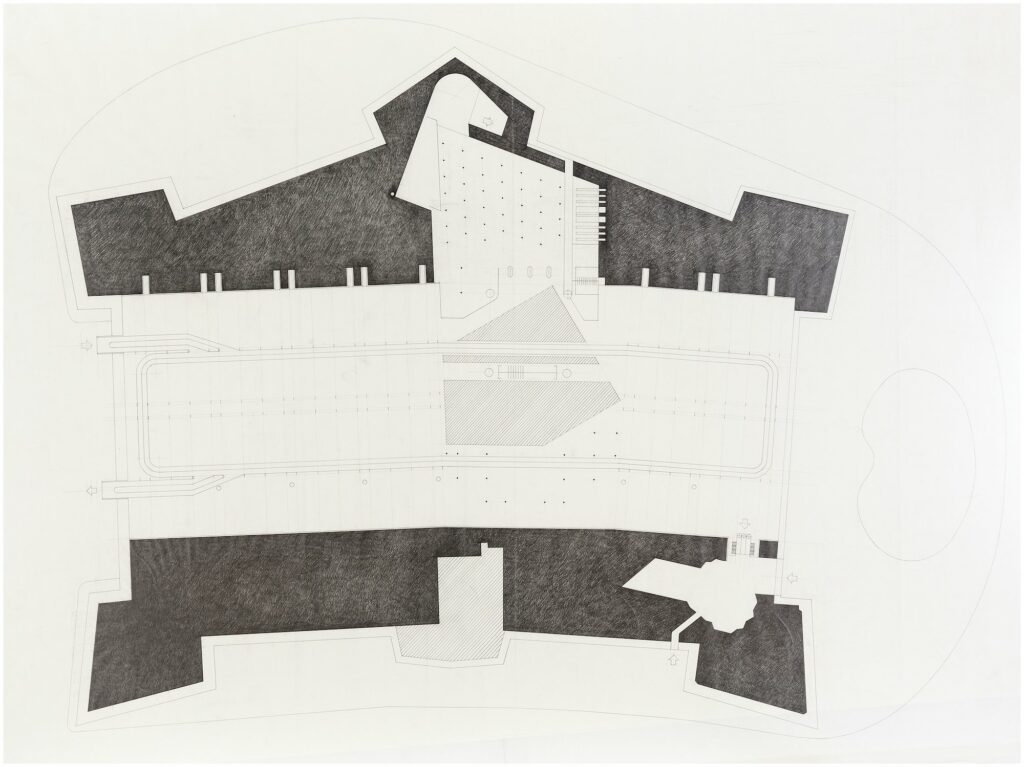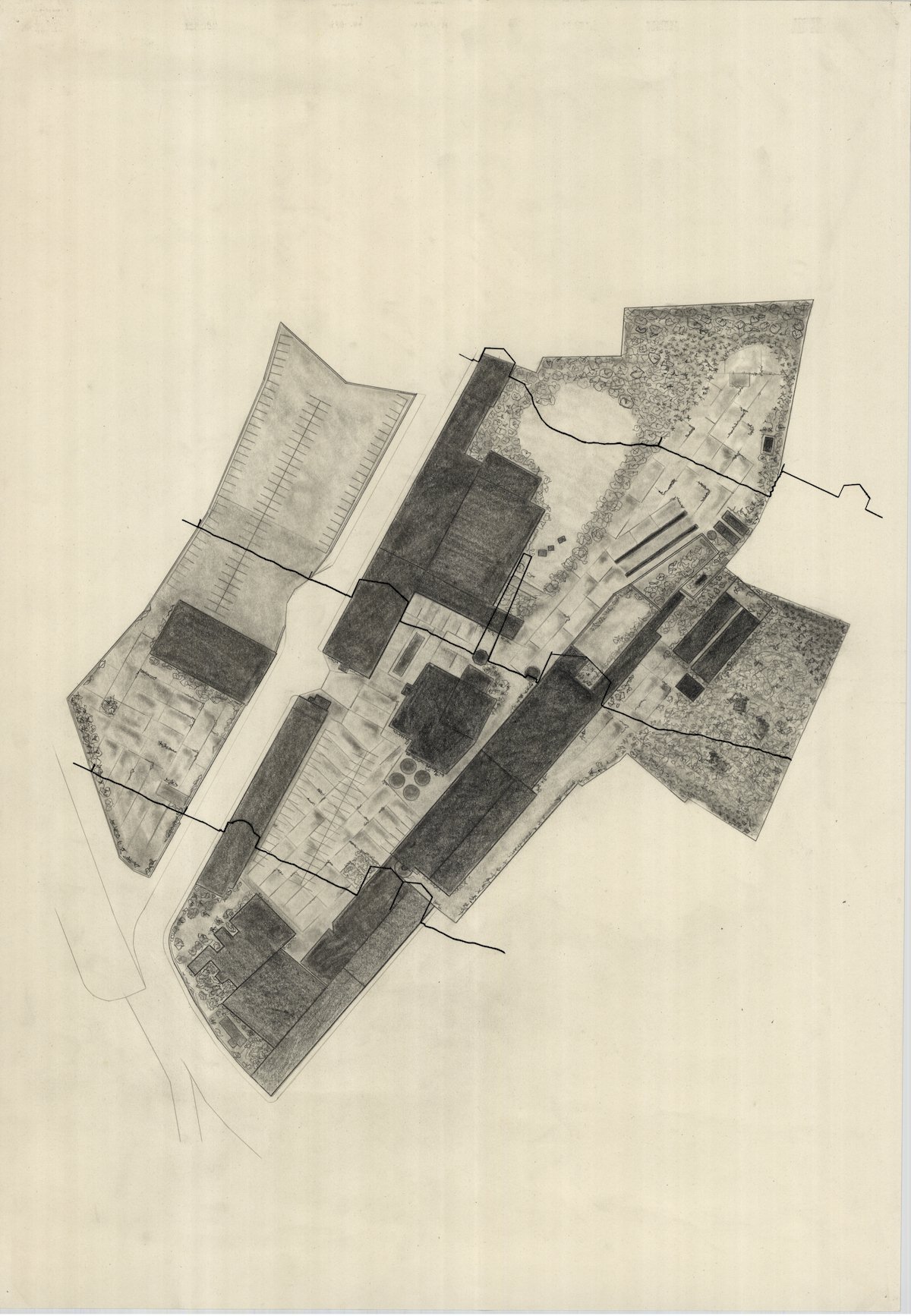 Gerard Carty : The Drawing Matter archive, an impression
Drawing Matter is a world within a world, located in the middle of a farm in Somerset, the world of drawing, archiving, storing, managing overlap with worlds of making, constructing, crafting of materials and, of course, farming.
A cluster of buildings, not altogether conventional nor homogenous, gather in a shallow valley before it spills out into open countryside.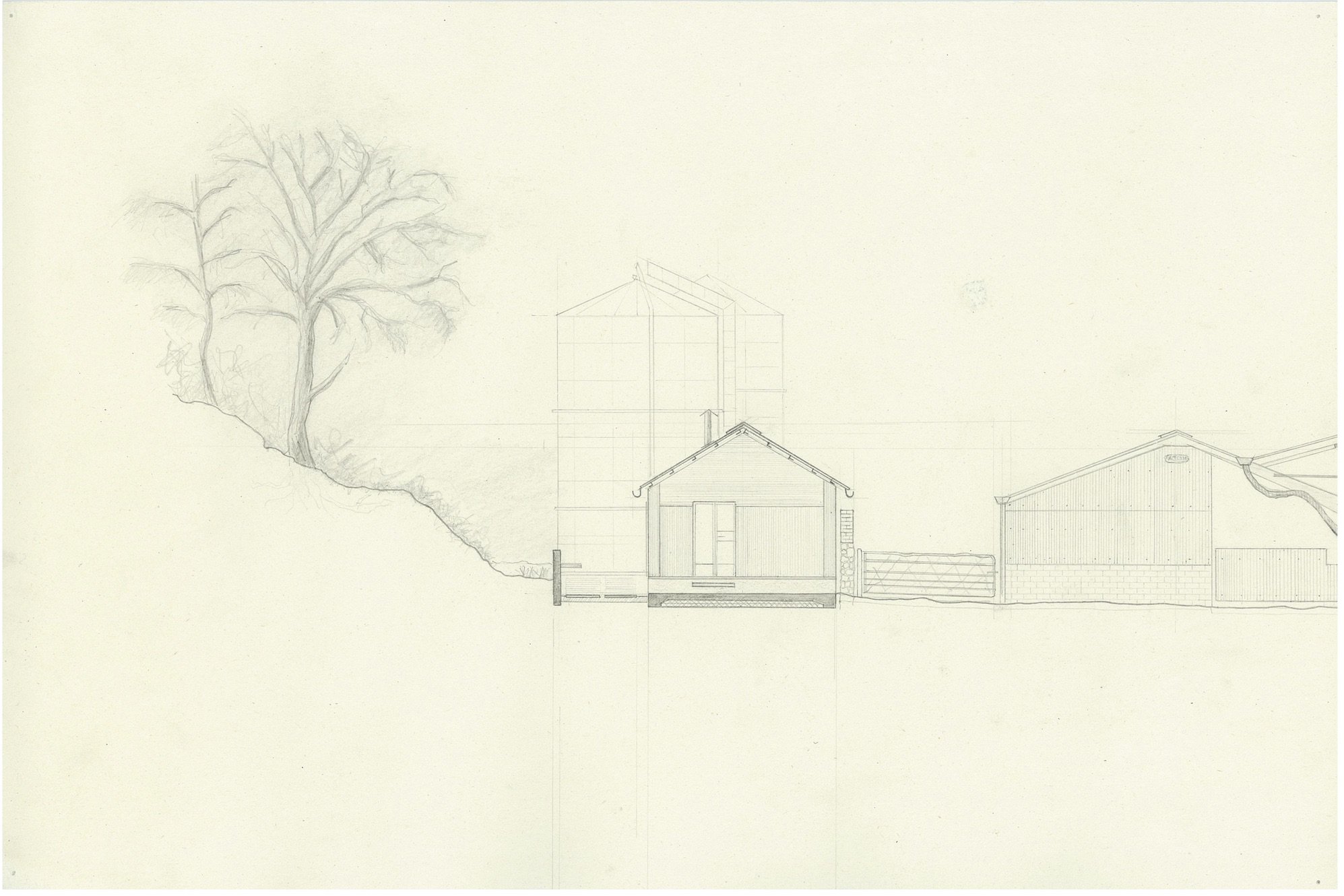 Interventions here are deliberate, evaluated, poised, waiting, the next move informed by the last, or by a previous one, or two, or perhaps even more paces back from the present, always in flux, always responding, the decisions about each intervention carefully evaluated, until a point where it becomes sure, necessary.
The archive sits as silent witness to this change and busyness in the world that embraces it.
Time is material here, felt deeply in constructions, like characters pressed up together in a huddle, in dialogue, in communication, agreeing, arguing, above all in a state of change.
Time is material in the archive, compressed, expanded. Drawings of Lebas, Barry, Labrouste, Giles Gilbert Scott, rub shoulders with Ponis, Pichler, Natalini/Superstudio, Fretton, Siza.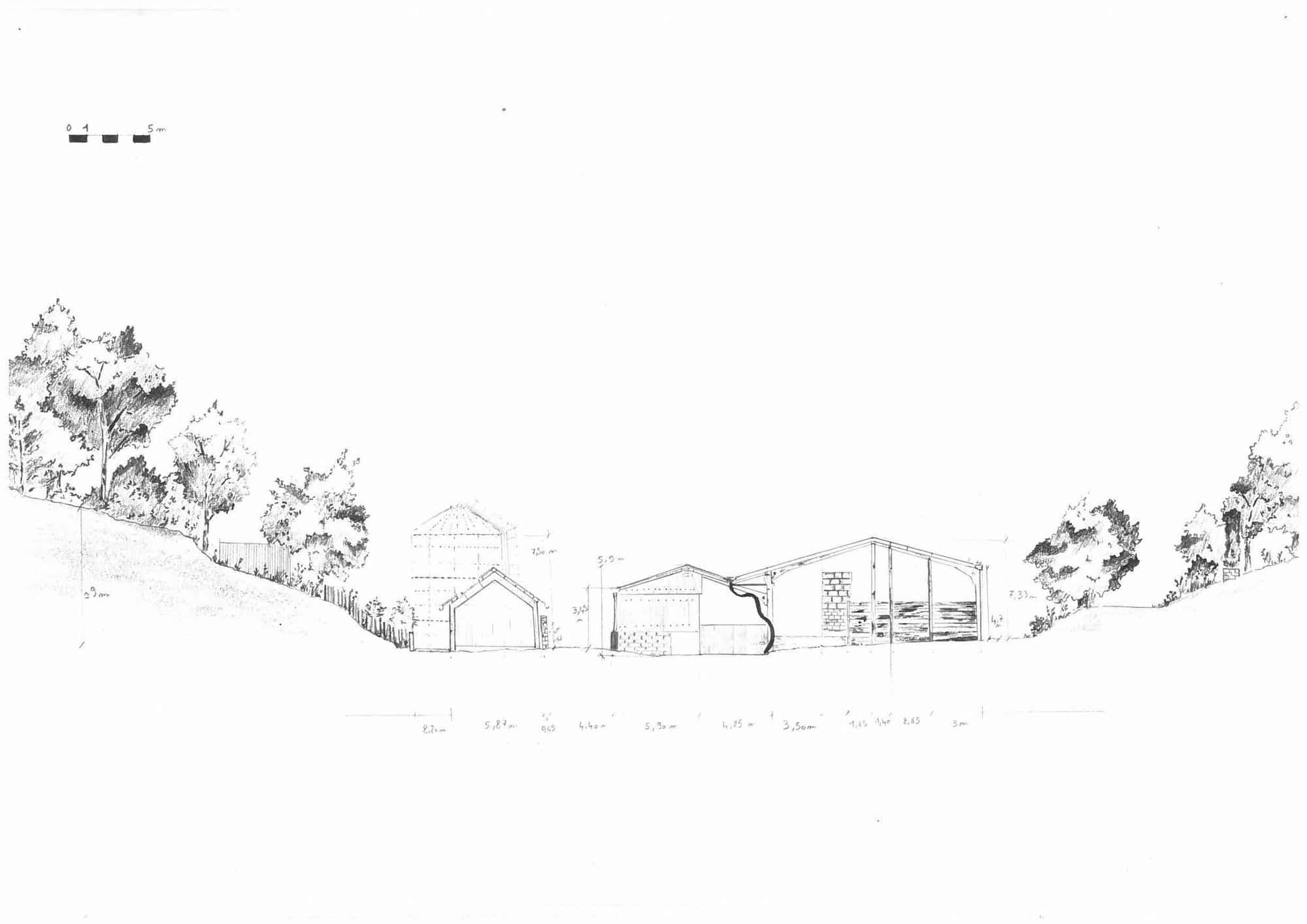 Being present on the farm brings us close to nature and climate, we are inside, we are outside, sometimes we are at many points between these two extremes, enclosed in the body of the archive, cut away, removed, or eating outside under cover of an open shed.
The functions of living dictated by this place are urgent, minimal, enough that we are confronted with questions about how we inhabit, should inhabit, connecting more to the outside in the world, more open less hermetic.
Drawings are material things here, a currency, relatable one to one, the human hand sifting, folding, turning, the eye roving, examining, bending, telescoping.
It is by being here, we understand, for example, that drawings of Superstudio display their conception, in contrast to their perceived superhuman message, a mechanical, abstract world, betrayed by a hand still wedded to craft and making, still expressing the need for the human in a world described as almost remote from human scale.
These feelings can only be provoked by being present, grounding oneself here, spending three days with our students in the changeable autumn weather, reaffirming our commitment to the importance of drawing in the making and realisation of ideas necessary for architecture.